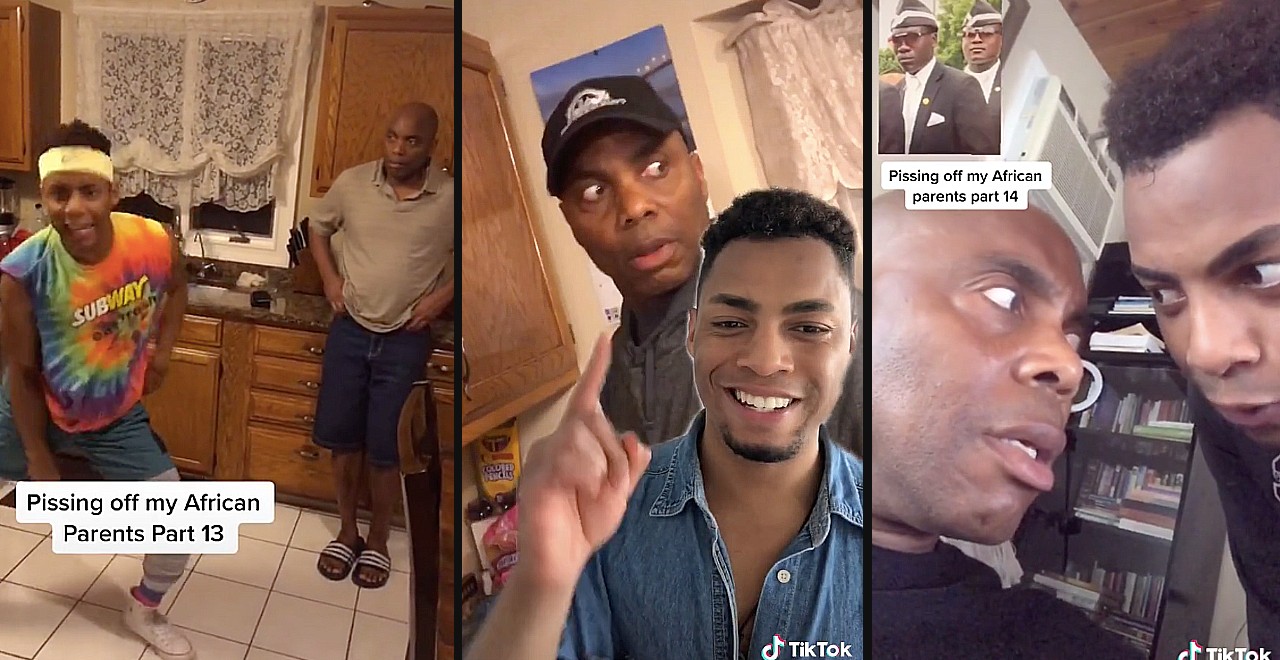 Credit: Tiktok/youngyosa
There comes a time in every kid's life where they discover the joy of pushing their parents' buttons. It might be something as simple as touching the thermostat, or maybe you found that gluing stuff to the ceiling is a fairly harmless way to make everyone lose their minds. 23-Year-old Uyi Omorogbe found a brilliant way to get priceless reactions out of his dad in a TikTok series he calls "Pissing off my African Parents," and the internet cannot get enough.
With nearly two million subscribers on the video-sharing site, Uyi and his dad have captured the hearts of the internet. Uyi ruffles his dad's feathers fairly frequently, but his methods are wholesome. Most videos feature the 23-year old loudly and abruptly singing as if he's just been informed that he scored an audition for America's Got Talent but only has 10 seconds to complete his submission. His dad's look of complete dismay says, "I can't legitimately punish him for this because he isn't technically doing anything wrong, but I probably shouldn't have taken him to see My Chemical Romance during his formative years."
Yes, Uyi's pranks are probably annoying, but they're for a good cause. The 23-year-old didn't set out to build a TikTok audience for himself, he did it to raise awareness about his company. The young entrepreneur started a fashion company called Naso, which not only creates stylish looks but donates to causes that fund economic and educational organizations in Africa. Despite what we may see on TikTok, Uyi and his dad have a great relationship. In fact, Uyi's dad is a key piece of inspiration when it comes to Naso, which uses fashion to honor both the African and Western elements of Uyi's background.
During Uyi's senior year, he visited the town in Nigeria where his dad grew up. In an interview with Buzzfeed, Uyi recalled the eye-opening experience. He explained, "I came across the school that he attended, his primary school, and I was shocked at what I saw. It was a place with no desks, no chairs, no windows, bathrooms. No student should be learning there, no teacher should be teaching there."
In 2018, Uyi raised money through Kickstarter, selling clothes, and earning enough to rebuild the school he visited. Now, using his TikTok stardom, he hopes to continue raising funds through Naso sales and providing more assistance to Nigeria and beyond.
Though his dad was initially irritated with the videos, he has softened a bit since seeing the responses. "I mean, it looks like I annoy him a lot, but I only do it once every few days so that I can get a good reaction out of him," Uyi explained.
With Uyi's little sister behind the camera, these TikTok videos have truly become a family affair. And from the looks of it, things are just getting started. "It's definitely opened up a lot of doors, and a lot of celebrities have been fans of the content and stuff, so it's been awesome," he said.
Pestering with a purpose, now that is a form of advertising I can get behind.