New Research Shows Video Games Can Help Kids Level Up In Real-Life Skills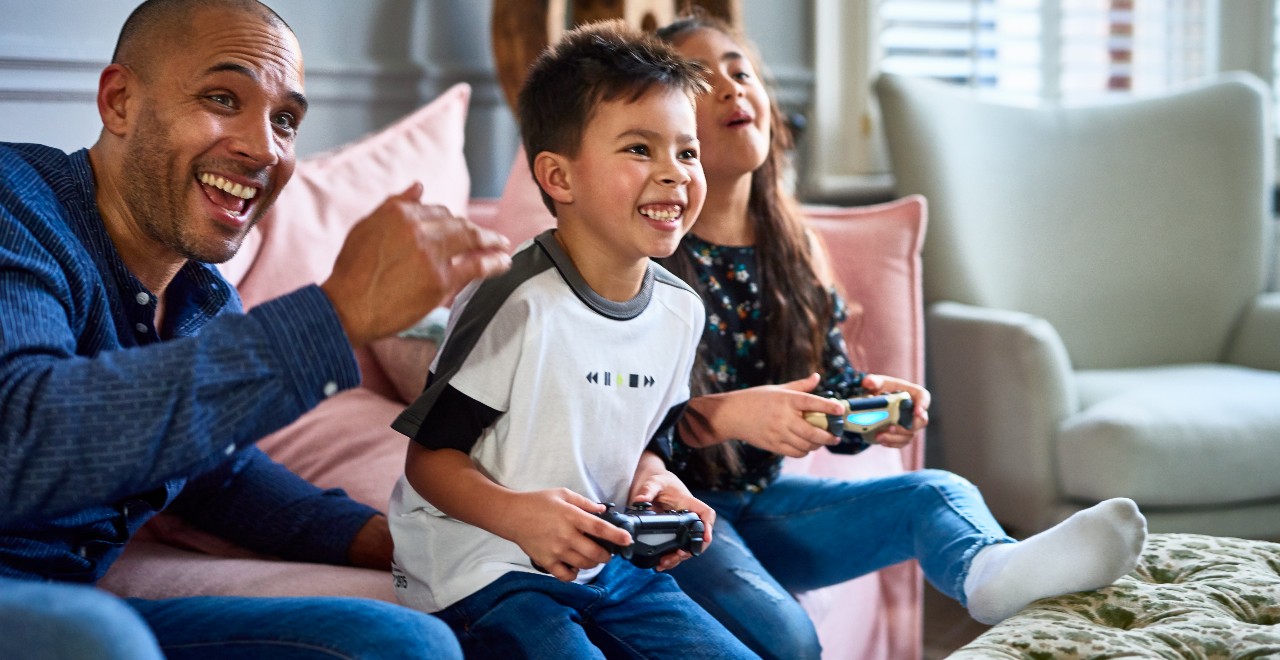 Video games are a well-loved pastime of kids and adults alike. Especially during COVID times, a little escapism is what we all need right about now. Screen time is harder than ever to limit, given that everything from school to entertainment is found, well, on a screen. Most of our kids' recreational activities are on hold indefinitely, so letting them spend a bit more time than usual playing video games is par for the course. We know that playing video games with our daughters can improve their sense of happiness and wellbeing, and games like Fortnite can help improve kids' problem-solving skills. Recently, there's been some more good news on the video game front thanks to a study from the UK's National Literacy Trust.
Video games are far from a mindless hobby. Chances are, you have at least one kid who has at one point spent up to 70% of their day telling you about Minecraft or Roblox – these games are both engaging and fascinating, driving kids to want to learn more about the simulated worlds they love so dearly. According to the study, 4 out of 5 kids reported reading materials related to video games at least once a month. Whether it's a blog post, fan fiction, in-game communication, or books, there is no shortage of reading in the world of games. In fact, 1 in 3 survey-takers credited video games for making them better readers. Whether or not they were correct about their improved reading ability, it's clear that video games at the very least improved their confidence in their reading skills.
In addition to encouraging kids to read, video games were also shown to help kids become better and more creative writers. 3 in 5 kids who played regular video games reported writing something related to video games at least once a month. The fact that so many of these pieces of writing (fan fiction, video game scripts, even game reviews) required kids to think creatively not only helped them refine their writing, but helped them expand their imagination.
Between November and December of 2019, 4,626 kids ages 11 to 16 from across the UK participated in the study. While the researchers didn't evaluate reading ability, they did focus on interest. A challenging part of literacy for kids is getting them excited about reading, but this aspect of reading and writing is essential – improvement only comes with repeated practice. The UK study highlighted video games as an important entry point to literacy for kids, allowing them to practice reading and writing skills happily and willingly.
Another aspect of the study explored video games as a vehicle to teach kids empathy. What better way is there to practice putting yourself in someone else's shoes than actually doing it? By embodying various characters through video games, kids are forced to think as if they had the motivations and struggles of a completely different person. Kids noticed that these skills transferred to real-world situations, with 2 out of 3 kids reporting that video games helped them imagine being someone else.
With more and more studies exploring the merits of video games, it's becoming increasingly clear that they are far from the mindless time-wasters they were previously thought to be. Video games have the potential to provide benefits that extend far beyond a screen, from increased confidence in literacy to the ability to better empathize with others. Especially during quarantine, video games can also provide a much-needed boost to kids' mental well-being by allowing them to immerse themselves in a story. So go ahead, give your kids a little extra screen time without the guilt (**this conclusion was definitely not written by your kid, we promise).
Happy gaming!
P.S. Join our gaming league for dads once your kids are finally in bed.