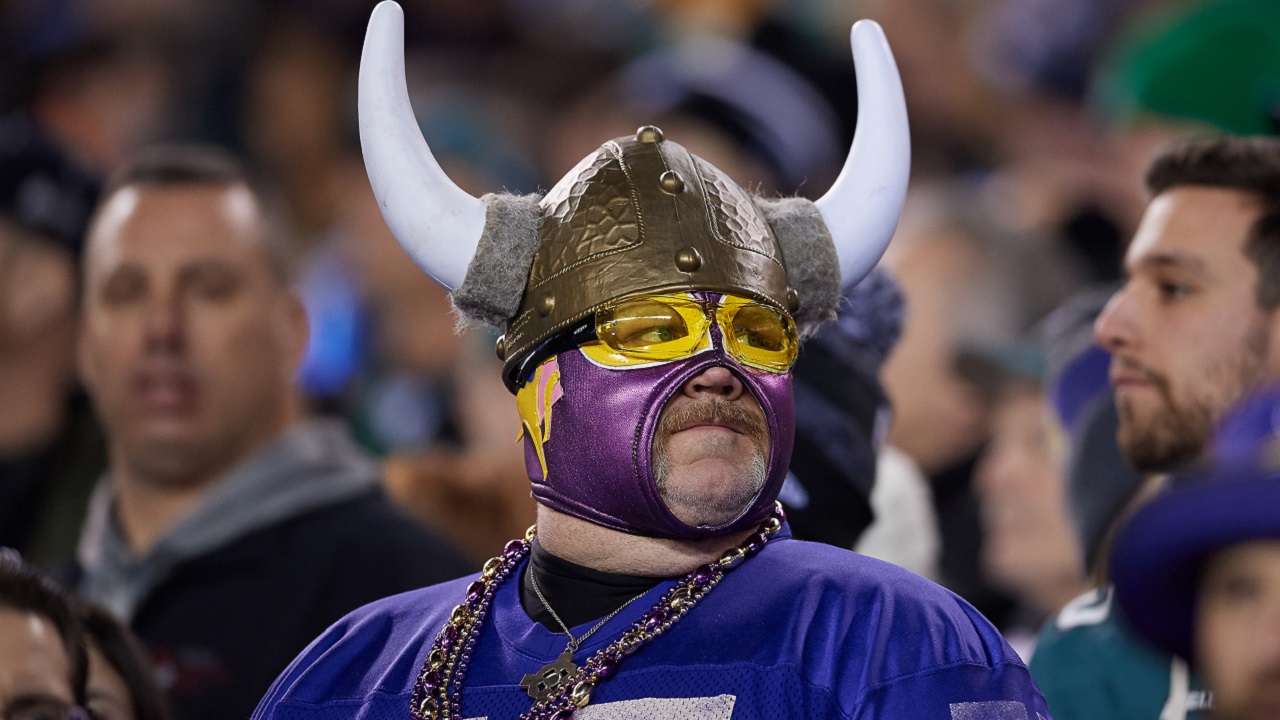 Credit: Robin Alam/Icon Sportswire via Getty Image
Apparently they're still bitter
Vikings fans thought they were in heaven after the Minneapolis Miracle, but after being severely beaten down in the NFC Championship game and being deprived of a seemingly pre-ordained hometown Super Bowl, they are in Hell. And they're planning to take Eagles fans with them.
After being pasted by Philadelphia and their backup quarterback, Vikings fans are eager to get revenge on those Eagles fans who are flying into Minnesota for the big game by doing whatever they can to make sure those fans don't actually make it to the stadium.
And you thought Eagles fans were mean!
Philly fans are on their way to the Twin Cities to root for their squad in Super Bowl 52, and if their well-deserved reputation is any indication, they don't plan to come quietly.
Adding insult to injury, Eagles fans will soon flood the streets of Minneapolis.

Area AirBnB owners must be bracing themselves.

Winner is coming. #FlyEaglesFly

— The Dad Briefs™ (@SladeWentworth) January 22, 2018
They best be ready though, because they're not going to be welcomed with open arms. Because Vikings fans are out for revenge for the things Eagles fans did to them last weekend, and we don't just mean on the field.
I've never heard so many horrific stories from Vikings fans who were subject to unsolicited hot dog, beer, battery throwing Eagles fans beyond the verbal abuse. One guy just told me he's been treated better in 3rd world countries. Yes it was scary for them

— Mark Rosen (@KFANRosen) January 22, 2018
A website called The Daily Snark caught wind of Minnesota Vikings fans hatching a nefarious plot on social media in an attempt to ruin the Super Bowl for fans of the team that shattered their championship dreams. How?
Apparently a couple of morning show DJs made a rather nefarious suggestion…
I liked the suggestion on @BDandG963 this morning, where everyone signs up to be a Uber/Lyft drivers and drop Eagles fans off at random locations.

— Gina (@Peril_in_Pink) January 23, 2018
Knowing what I know about morning show DJs, that… actually seems a lot like something they would do.
And if their tweets are to believed, Vikings fans are on board with the idea.
So who wants to become an Uber drive with me JUST for the Super Bowl so we can drop Eagles fans off at entirely wrong places?

— Kendra Nichols (@Kendra_Susan) January 23, 2018
https://twitter.com/jetpack/status/955890479572377602
Going to sign up as a Uber Driver just so I can drop Eagles fans off at random places...

— ɖǟʋɨɖ ʟǟռɖֆȶɛɨռɛʀ (@deltalima21) January 23, 2018
The odds that these degenerates would actually follow through on their schemes are, obviously, quite low, but can you imagine spending a fortune on Super Bowl tickets and on transportation to the Twin Cities, only to be thwarted by some purple-clad troglodyte who is sad that your laundry beat theirs?
And these bitter Vikes fans aren't stopping at Uber. They're also thwarting out-of-towners looking to crash in Minneapolis via AirBnB.
PSA: don't let any philly fans rent your home via Airbnb!!

— julia (@ju_juondabeat) January 22, 2018
Any Minnesota resident that Airbnb's their place to an Eagles fan deserves to get punched in the face.

— Matt Capelle (@mrcapelle) January 22, 2018
Airbnb's website is probably crashing right now from the number of Minnesotans taking their homes off the market from Boston & Philly fans. #PHIvsMIN #SuperBowl

— Nikki Muehlhausen (@NikkiKARE11) January 22, 2018
I guess I can see pulling your listing if you'd rather not assist your rivals, but yanking a confirmed reservations is messed up!
According to #Eagles @reddit, folks in #Minnesota are cancelling @Airbnb for @Eagles fans?! Have any of you been cancelled? #GrowAPairAlready pic.twitter.com/YfedvfhP23

— Philly Influencer (@PHL_Influencer) January 25, 2018
Apparently Vikings fans aren't just upset that the Eagles beat them in the NFC Championship game, they're also angry that Philadelphia is known for having the meanest fans. They may no longer have a shot at winning the Super Bowl, but if these two plans come to fruition, they're definitely going to be giving the Eagles fans a fun for their money.
Thankfully, not everyone is on board with this spiteful behavior.
Like seriously, people. Enough with the low-hanging fruit. "Our team lost so let's attack the winning fans" is so old and boring, no matter the cities involved.

— Sarah Baicker (@sbbaicker) January 23, 2018
Something tells me this bad blood isn't going away anytime soon. At least not until these two teams meet again. The worst thing about this? We're losing sight of the true enemy: Patriots fans.