Voted 'Dullest Man in the UK', This Dad Has Collected Over 9,000 Beer Cans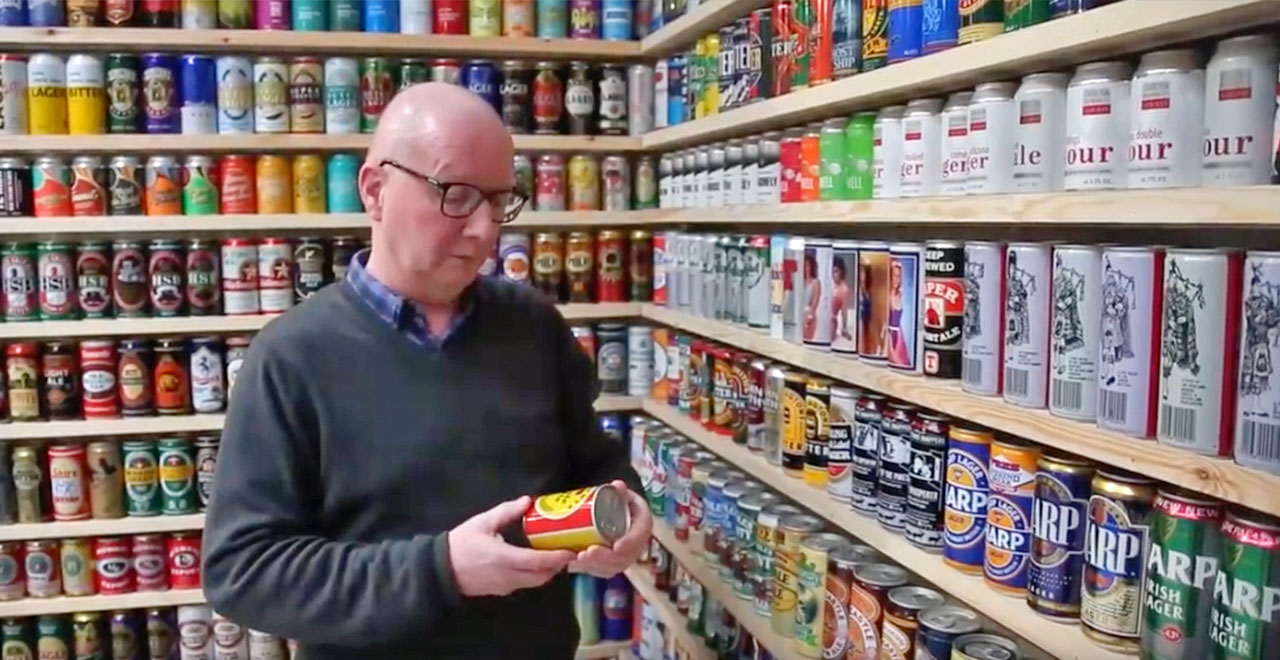 Nick West is a pretty average guy.
A father of two and now recently retired, Nick is so notably average that in 2015 he appeared in a book titled "Dull Men of Britain" which showcased 40 of the dullest men living in the UK.
Now several years later, Nick is finally getting the individual recognition he so rightly deserves.
A newspaper in Scotland ran a poll to once and for all determine the absolute dullest man in Britain and Nick received over 20% of the votes, more than enough to claim the title.
So what could possibly make people think Nick West is so incredibly dull you ask?
It's his hobby.
Since Nick was 16 years old he has been collecting one thing: beer cans.
No, he wasn't cashing in the refunds, but instead amassing one of the largest collections of these shiny metal canvases known to man.
According to an interview the DailyMail, Nick says it all began when he saw a news report in 1975 on collectors in the US scooping up the discarded containers. Shortly after his wife, then girlfriend bought him a book on collecting.
Now 40 plus years later with a collection topping out at over 9,300 cans, Nick has finally decided to cash in and cash out. He has sold about 6,000 pieces of his prized art to private parties and has also donated 1500 cans to a local museum that will keep them on display.
While that may seem like a lot to give up, that still leaves the can connoisseur with over 1500 in his personal collection, allowing him to now move to a smaller home with his wife.
It was with his wife Deborah's help that Nick says he was able to realize his dream, telling the Mail "I drank the beers and stouts and Deborah would drink the lagers."
My Beercan of the day #1. Possibly my favourite ever design. 340ml flat top for export to US. pic.twitter.com/PsTiLmJajl

— Nick West (@Canfan75) April 4, 2016
Some of us appreciate beer cans 365 days a year! pic.twitter.com/It0Ee5U19C

— Nick West (@Canfan75) January 24, 2017
Happy beercan appreciation day! pic.twitter.com/e5T3UEELNh

— Nick West (@Canfan75) January 24, 2018
While his oldest can dates back to 1936, there are plenty of modern masterpieces as well. The craft beer boom has not only created many different beverages, but a myriad artistic and unique containers to go along with them.
Extremely strong contenders for best looking new cans 2016 pic.twitter.com/BMV3BcxK3l

— Nick West (@Canfan75) March 30, 2016
Best looking new can so far this year (and there's been a lot). Why did I have to go to US for it though?@GuinnessIreland pic.twitter.com/Awtkkwdcls

— Nick West (@Canfan75) October 22, 2016
Part of the reason Nick is hanging it all up is due to that craft beer surge. With so many new breweries and offerings, Nick was collecting up to 600+ cans a year as opposed to only a few hundred.
Spot the difference?! pic.twitter.com/ffiVZM5jh8

— Nick West (@Canfan75) September 1, 2014
"Deborah grew to resent the hobby because I had a small collection when I met her but it's had a massive impact on our lives."
Nick says after making his wife move to a larger home just to accommodate the massive collection, they are now in a much more suitable home and settling in to retirement.
As for his new title of Dullest in the UK, Nick seems ok with it.
"I'm never going to be most handsome or tallest so I'm quite happy with my mantle of dullest man."