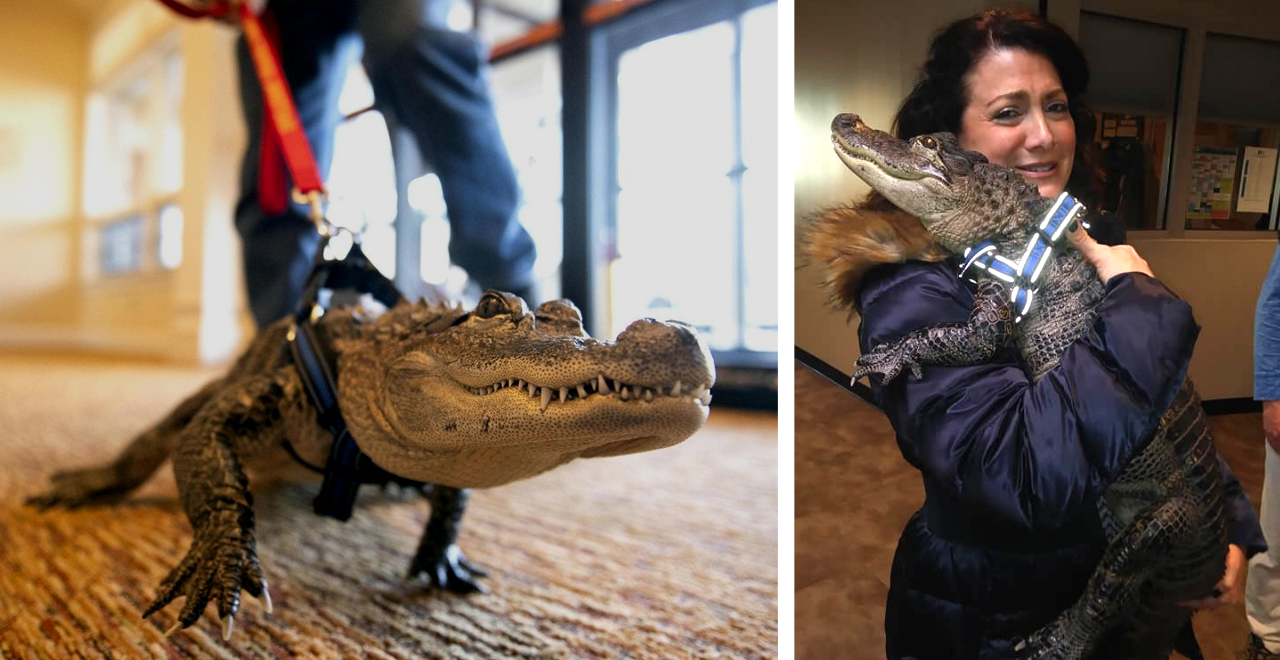 Credit: Twitter/SunSentinel Facebook/Joie Henney
When you hear about emotional support animals, you probably imagine a furry little animal who's excited to assist people with emotional or mental health disorders. You'll recognize them by their signature vests which allow them to go places pets normally wouldn't be allowed like college campuses and restaurants. Of course, while a friendly pup is usually the norm when it comes to these service pets, some people prefer a more scaly variety of animal.
Meet Wally. The first emotional support alligator.
An emotional support alligator? Yep, and Wally's even cool with people petting him https://t.co/MVWQHXSMdt pic.twitter.com/3PZ1oNnSWL

— South Florida Sun Sentinel (@SunSentinel) January 19, 2019
Wally was rescued by Joie Henney, 65, in 2015 when the little gator was only 15 months old. Since being domesticated (or as domesticated as a 5-foot-long carnivorous lizard can be), Wally and Henney have developed a legendary, albeit unusual friendship.
In Henney's words, Wally "is a big teddy bear." In fact, Henney describes the giant reptile in many ways to be similar a dog. He loves to cuddle next to a warm body, has never bitten anyone, and is surprisingly wary of cats. After only a month in Henney's care, Wally was following him around the house wanting to be petted and held.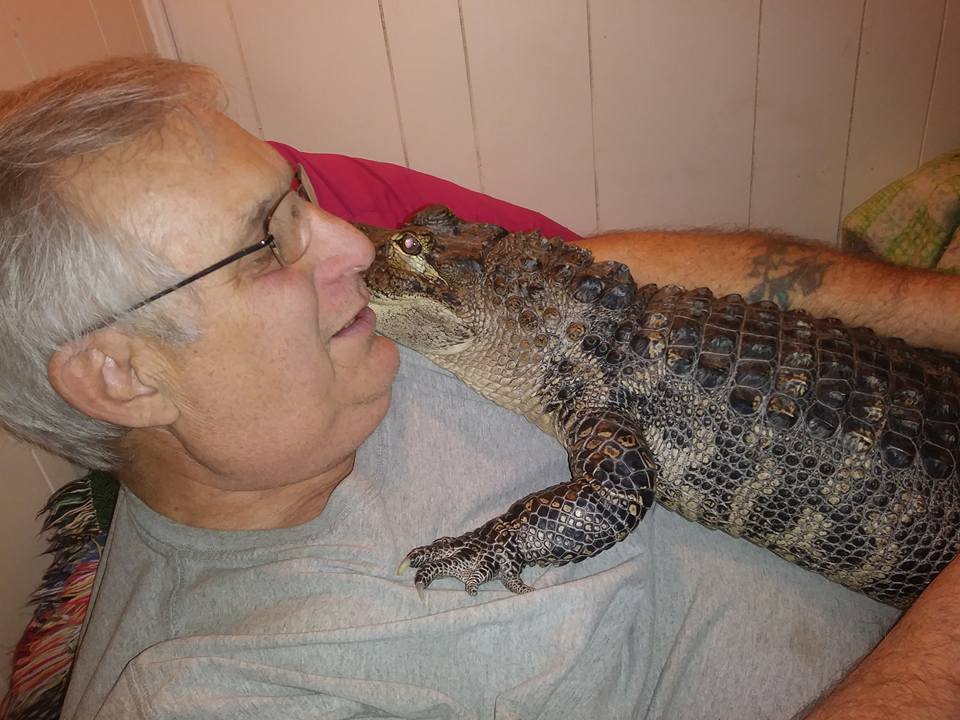 Seeing an opportunity for people to learn more about aquatic reptiles, Henney began taking to Wally to school and senior homes. Interestingly enough, Wally loved the social interaction and people began to grow just as fond of him as well. Kids with developmental issues, in particular, were drawn to the unique experience of interacting with a real alligator.
Wally, an emotional support alligator visits senior homes and is just like a dog, according to his owner…https://t.co/5s0iOK3tSX pic.twitter.com/EblfiTepxP

— AJC (@ajc) January 18, 2019
With the bevy of positive responses and Wally's inherently laid back demeanor, Henney thought it would be a good idea to register his as an official service animal so he would be given access to more places and meet more people.
So, despite only dogs and small horses typically qualifying for service dog status, Walley received his very own service animal certification and vest in December 2018! Wally can officially go wherever he wants.
Joie posted the official document on Facebook: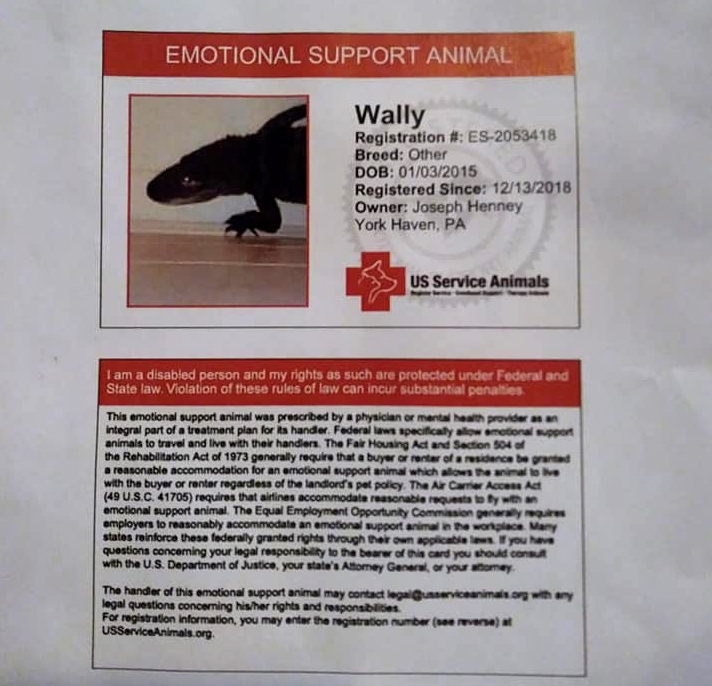 Henney and Wally's walks around town last a majority of the day now due to the little gator's celebrity status. Everybody seemingly wants to come out and show their new scaley friend some love.
Despite all the support, plenty of folks online still think anyone willing to foster a live alligator in his home must be off his rocker.
Henney isn't just some random guy from Florida, though. He hosted "Joie Henney's Outdoors" on ESPN Outdoors from 1989 to 2000 where he handled plenty of animals more dangerous than Wally.
He fully recognizes how strange it is to live with a giant predator, though.
"I'm not normal," he told the York Daily Record. "They aren't for everyone."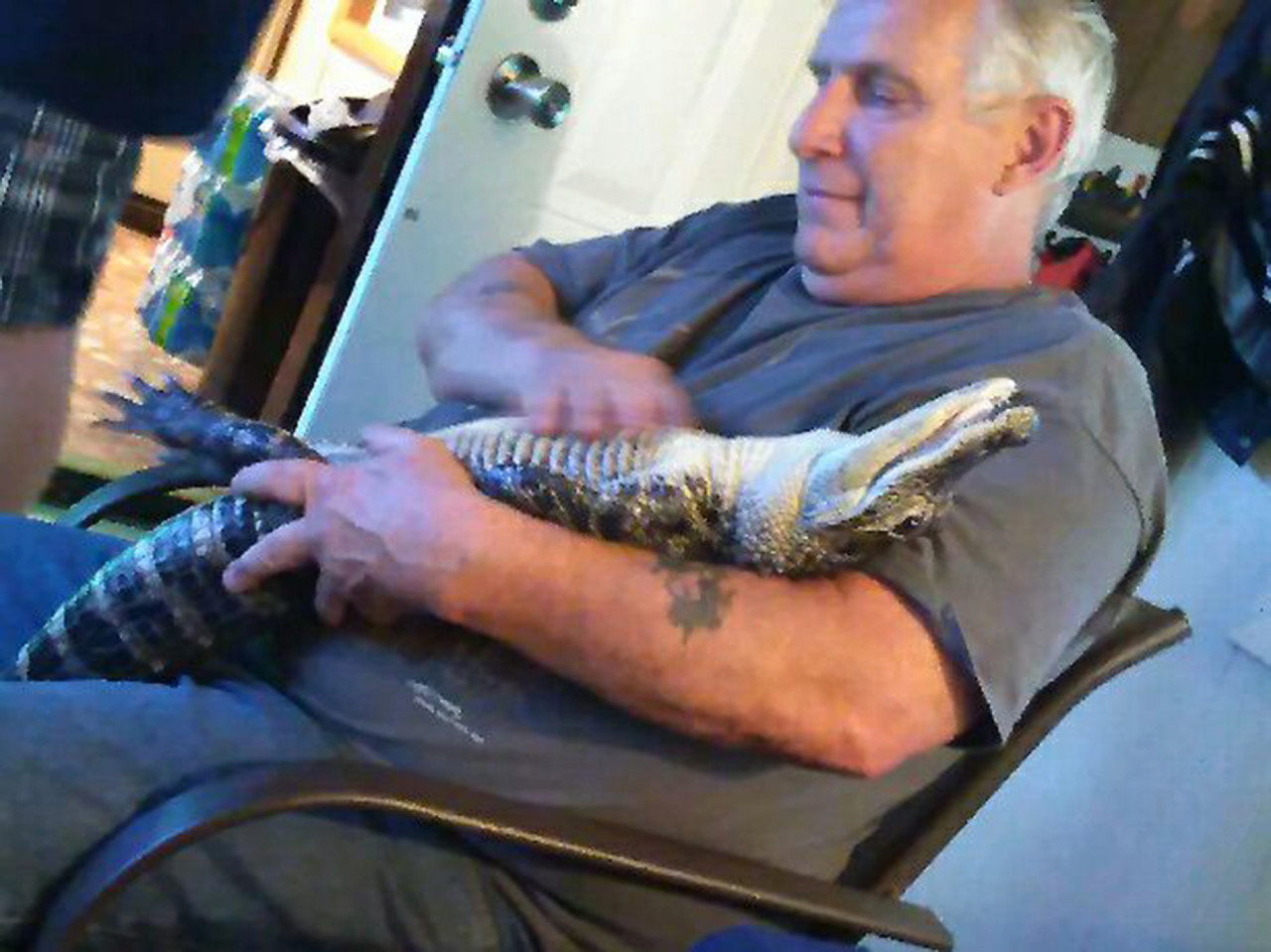 Love him or hate him, Wally is living his best life meeting new folks, eating chicken wings, and snuggling under piles of blankets every day.
"Wally's never bitten me," Joie said, "and he's never tried to bite anyone. He's pretty laid back."
Keep it up, Wally! You'll undoubtedly remain one of the most popular support animals around.