Dad's Heartwarming Twitter Thread About His Daughter With Down Syndrome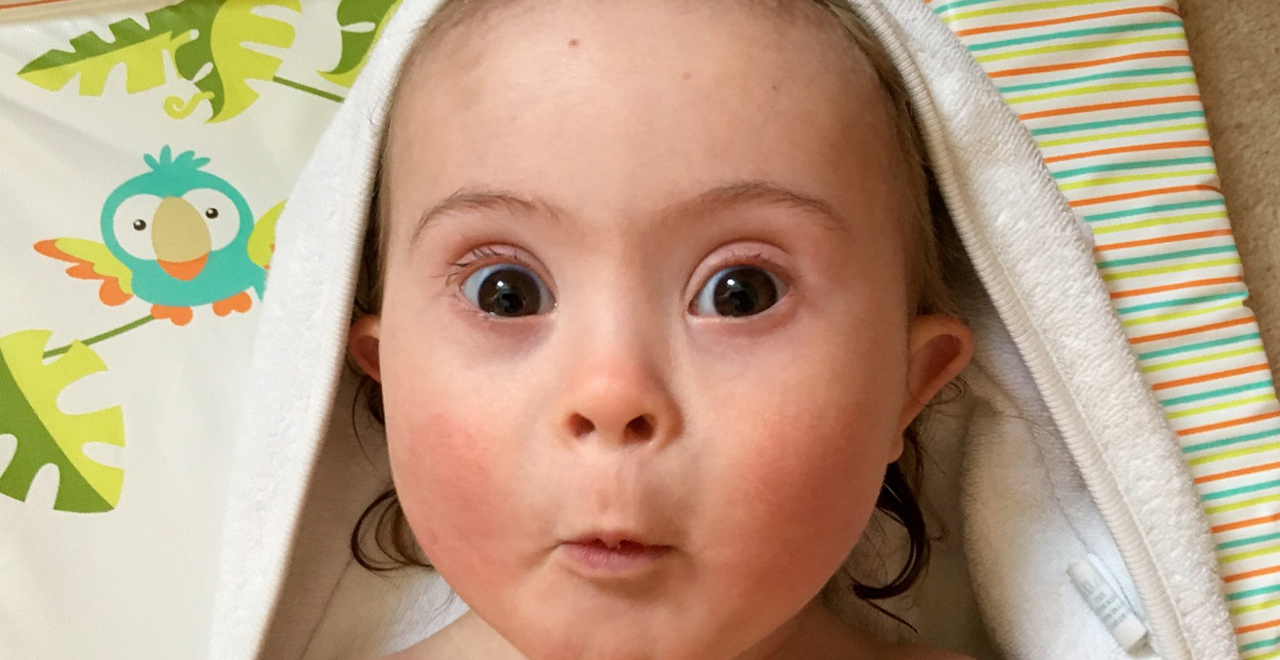 On February 21st, British Dad, Jason Kneed posted on Twitter, "My child has Down Syndrome, what can I expect?" while sharing a beautiful photo of his daughter Rosie and her huge smile, he continued with "This. 100% this."
"My child has Down's Syndrome, what should I expect?"

This. 100% this. pic.twitter.com/vo0Bu0Eoxp

— Jason Kneen (@jasonkneen) February 21, 2019
Since posting, he's had over 8,500 retweets and almost 90,000 likes. He followed up with some more adorably cute photos of his young family:
Following the outpouring of support, Kneen said that he was "totally NOT ready for a child like Rosie." And finished with "ANY child can be brilliant & wonderful and amazing." He also shared the health battles his daughter has fought, including pneumonia, and the pure joy she brings to their family.
As a response to a previous tweet that mentioned Dwayne 'The Rock' Johnson and his movie Moana, he got a reply from the film star with "Uncle Maui loves ya".
Look at this lovely cookie. Stay strong Rosie! Uncle Maui loves ya????
What can I saaaaayy except you're welcome ???? https://t.co/C9kuzPfCKQ

— Dwayne Johnson (@TheRock) February 23, 2019
Then the story made it to the local press:
Rosie made it to print too!

Also it's "Zeb" NOT "Zep"! #expectthis #wouldntchangeathing #LeaveNoOneBehind pic.twitter.com/kj7Pgp1fpM

— Jason Kneen (@jasonkneen) February 27, 2019
Since his original post, there has been an outpouring of love from what Kneen has called 'Rosie's extended DS family'. There have been lots of lovely photos of beautifully smiling kids with Down Syndrome from around the world.
I share your Joy Jason and your initial pain. I too struggled initially (despite knowing in advance) yet my little superstar ended up being the youngest ever gymnast to represent GB at 3 years old. Achievement has no boundaries. Every day I feel blessed. ❤️ pic.twitter.com/wKOtGCvrRa

— Marc Howens (@HowensL) February 23, 2019
Mine too. She's a huge inspiration! pic.twitter.com/11b4oWIuqs

— Neil Markham (@NeilMarkham1) February 23, 2019
This kind of positive news story and public display of happiness, resilience, and joy is exactly what we all need a little more of, especially on social media.
Want to hear another good story to brighten your day? Check out how this community learned sign language to befriend a deaf toddler.