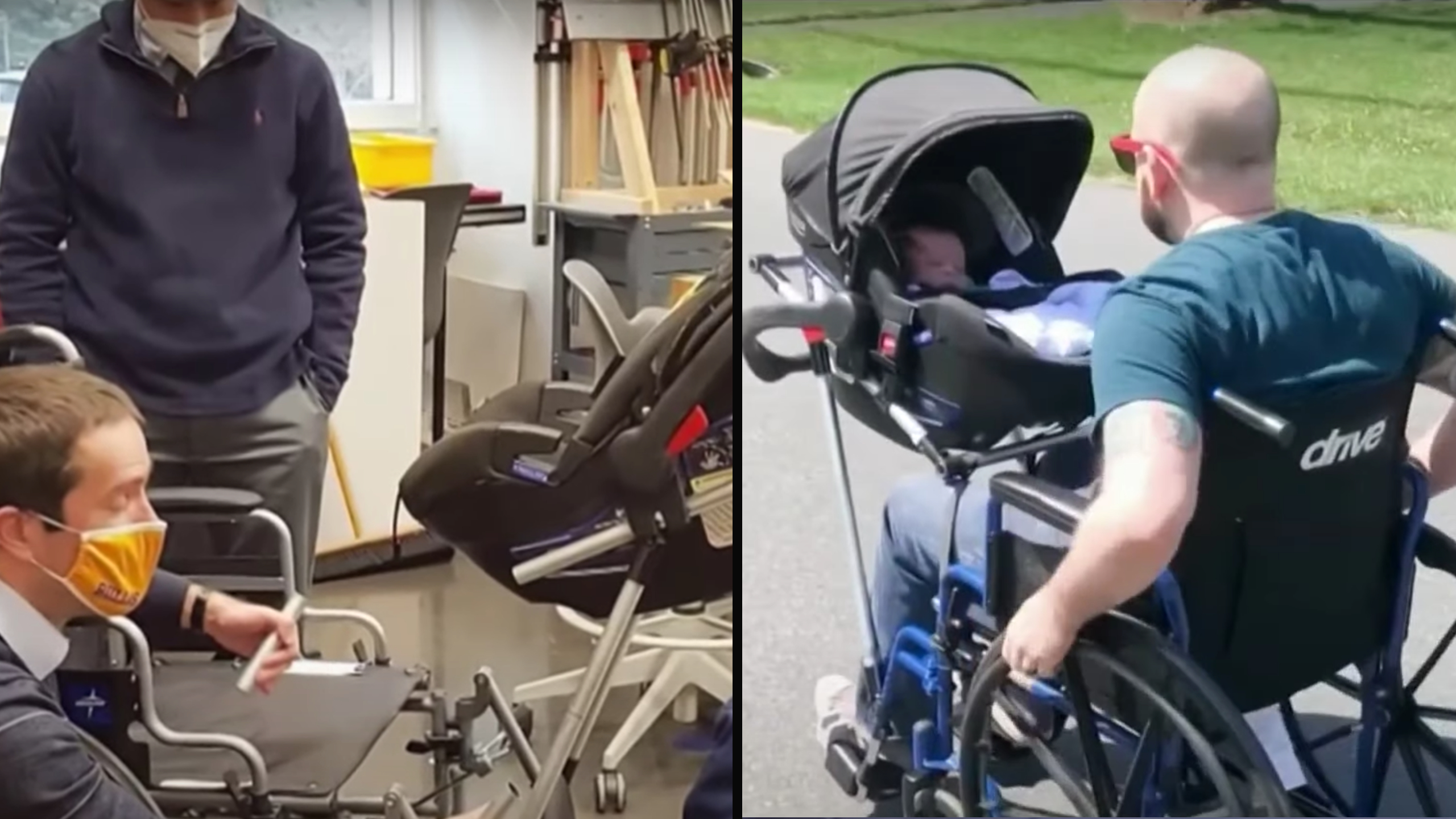 Credit: YouTube/NBC Washington
Jeremy King had a brain tumor that resulted in balance issues, so he can't safely walk carrying a child. His wife, Chelsie, is a high school teacher and wanted to find a way for him to do some of the day-to-day parenting tasks, like taking the baby for a stroll, safely. So she called up her colleague, Matt Zigler.
Zigler teaches a class called "Making for Social Good" where students design products that have a positive social impact. So, his students got to work on a "wheelchair stroller", after finding there wasn't much out there for disabled parents.
The class did their research, asking the family questions and consulting with someone from the Fire Department who installs car seats to get an idea of how they work.
The class split into two groups, one to build an attachment for a car seat that would fit on a wheelchair. And the second group worked on how to adapt a regular stroller to a wheelchair, to help when the baby outgrows the car seat stroller option.
That way, the new dad could walk his kid at any stroller-appropriate age (which is 0-3 IMO, despite what my five-year-old would argue).
The students loved working on the project because they felt like they were really making a difference. And Jeremy loved it even more, especially when he finally got to test it out after joining The Dad club.
"Using it was overwhelming because I never thought I would be able to do something like this with our son," Jeremy said to Good Morning America. "Most people can go out on a walk with their family but that is really difficult for me — most people take that for granted."
It's a really cool story from the kids' perspective, but even cooler for a new dad to be able to hit the sidewalk with his pride and joy.