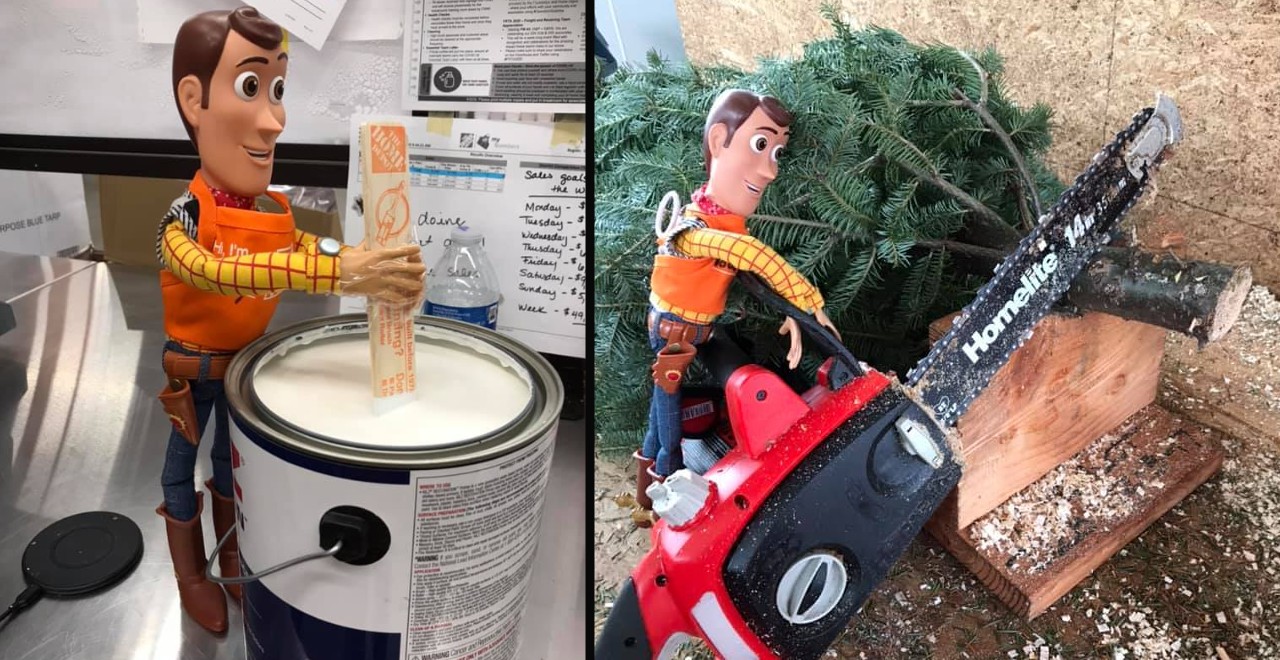 Credit: Facebook/Sarah Huberdeau
"Toy Story" taught us the cold hard truth that toys are alive and have their own adventures when we're not around. Real-life has taught those adventures can sometimes involve getting a job, which was the case at least for one lost doll in New Hampshire. Left in the Home Depot parking lot, Woody didn't get down on his luck, or fight to get back to his kid, he…just went inside and GOT A JOB.
The Woody Doll was found by an employee, and soon the whole staff was training Woody in a variety of tasks. They posted about their new employee on Facebook.
"He is really having fun here learning all the departments! He learned how to mix paint, how to cut on the saw in lumber, how to help customers at the service desk and even helped sanitize to keep everyone safe…but he's getting home sick and I'm sure someone misses him very much!"
As dads know, there are way worse places to kill time than Home Depot. The store posted the pictures on Facebook in the hopes that the engagement would help the toy find its way back. And it worked!!
The employee who put together Woody's working adventure (Toy Story 5?) got to reunite the toy with its owner when the little boy and his family saw the Facebook post and came back for the toy. She said he was holding a little Buzz Lightyear and had a huge smile on his face when he saw Woody.
"The main goal of the entire thing was just to get Woody back to his home and that's exactly what we did," she said. "It made my heart so full."