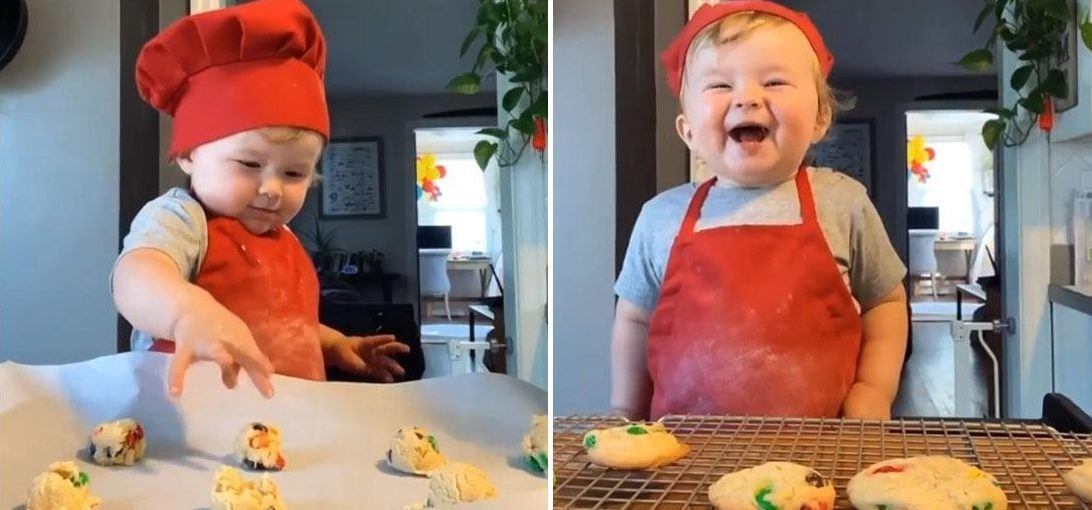 Credit: Instagram/kobe_yn
Social distancing has paved the way for the "at-home" entertainment genre. Late night hosts are telling monologue jokes with their toddlers climbing on top of them. News anchors are delivering reports from their home offices (or wherever they can show off a bookcase background) and cooking shows developed right in the family kitchen are taking off.
But when it comes to the at-home chefs of the moment, few can match the popularity of a certain 1-year-old "chef" who is blowing up on Instagram. The cooking demonstrations from little Kobe have found an audience of more than 1.5 million followers on Instagram. Many are drawn in by the baby's infectious attitude and love of the game.
According to a bio which he clearly did not write himself (he's only 1, cut him some slack!), "Chef Kobe" likes to cook, eat and explore in the kitchen. His videos show him "helping" on a wide range of meals, including kid-staple mac and cheese. And, people really, really love them.
His following grew quickly, from a few hundred friends and family to April to a little over 1.5 million by the end of May.
"It kind of just happened literally overnight," his mom told Good Morning America. "I was like, 'whoa, I guess I need to bake another cake."

She also told CNN that they weren't expecting anyone outside of the family to start following the account they set up for his cooking videos.
"It makes us feel like we're doing something right as parents to be raising a child who has the capability to make anyone smile with just a laugh! We always get messages from people saying how infectious his personality is," she said. "We also love that it has encouraged parents to get their kids in the kitchen and sit down and eat as a family, something that is extremely important in our home. "
Kobe Eats is taking over Instagram, so hop over to his page if you want a quick smile, rather than trying to re-create the magic in your own kitchen and spending hours cleaning up after the catastrophe.