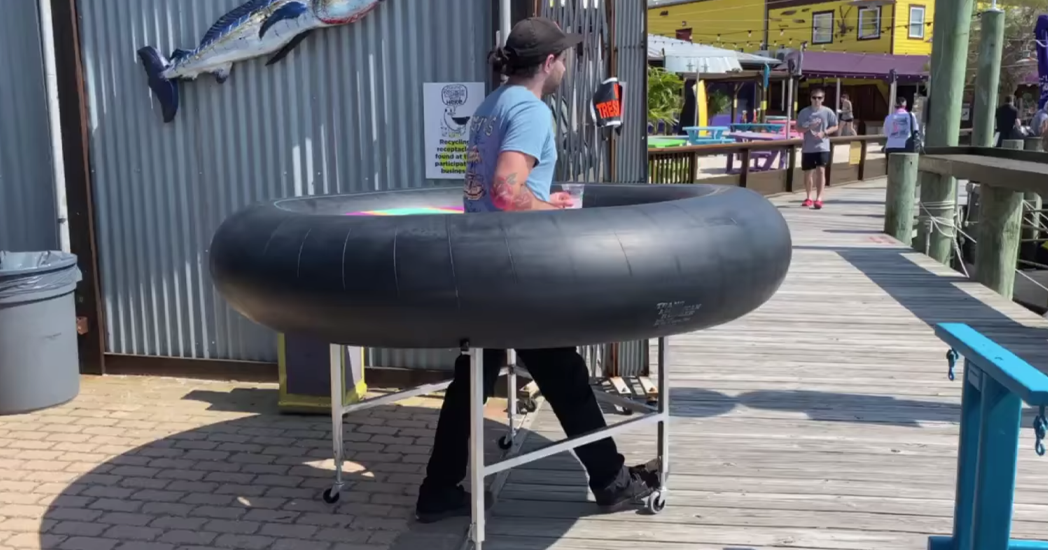 Credit: Facebook / John Middlebrook
Social distancing guidelines are tougher than ever to enforce as restaurants nationwide reopen their doors to the hungry, restless masses. Masks can be annoying unless you get one like this. Maintaining that mindful gap of six feet is at worst an inconvenience and at best a buzzkill. We're all eating lots of take-out but how exactly do we make dining out fun?
One seafood restaurant in Maryland had an ingenious idea: mandatory rubber forcefields.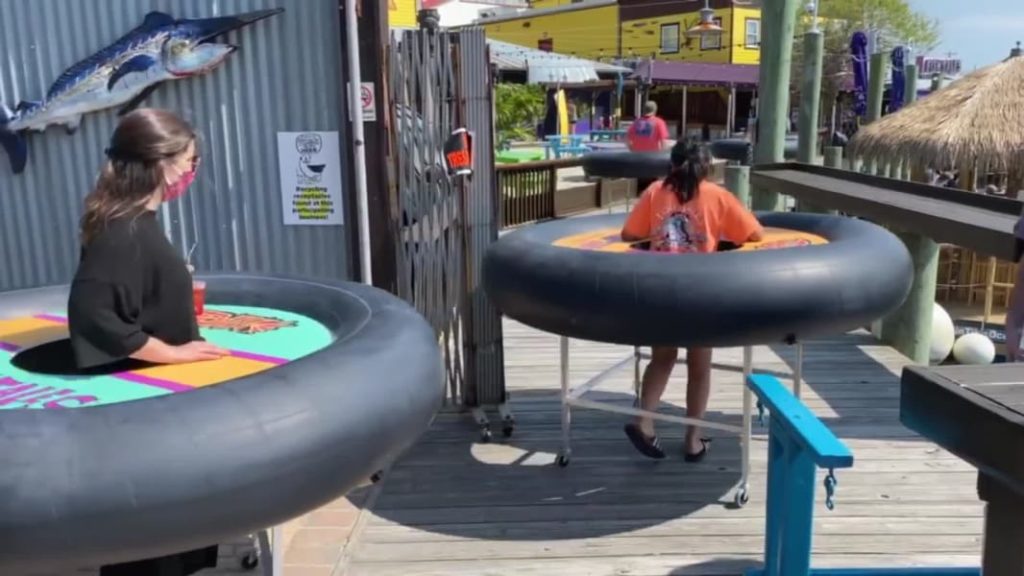 The Fish Tales Bar & Grill in Ocean City has invested in "bumper tables," which will allow patrons to roam freely without the lingering apprehension that comes with unwittingly violating CDC guidelines. Basically, Fish Tales has turned its customers in human bumper cars.
Owners Shawn and Donna Harman say the bumper tables will be available to anyone mingling at the bar or waiting to be seated. "If you put the two tables together, you can't get within 6 feet of each other," Donna said in an interview. "It's fun."
ICYMI: Fish Tales in Ocean City is finding creative ways to keep their customers safe during the pandemic. On Saturday, the team here rolled out these new "social distancing tables," and they're hoping they'll be allowed to make them available to customers soon. pic.twitter.com/HR3UzLHOxO

— Camila Fernández (@CamilaFNews) May 18, 2020
"It's a novelty," Shawn added. "It's cool. It's a great photo opportunity for them."
Novel as they may be, the bumper tables are a hit with the bar regulars. And why wouldn't they be? You've essentially converted the premises into a massive air hockey table.
Very rad, very responsible. We wish Donna and Shawn and all the heroic workers at Fish Tale Bar & Grill the best!