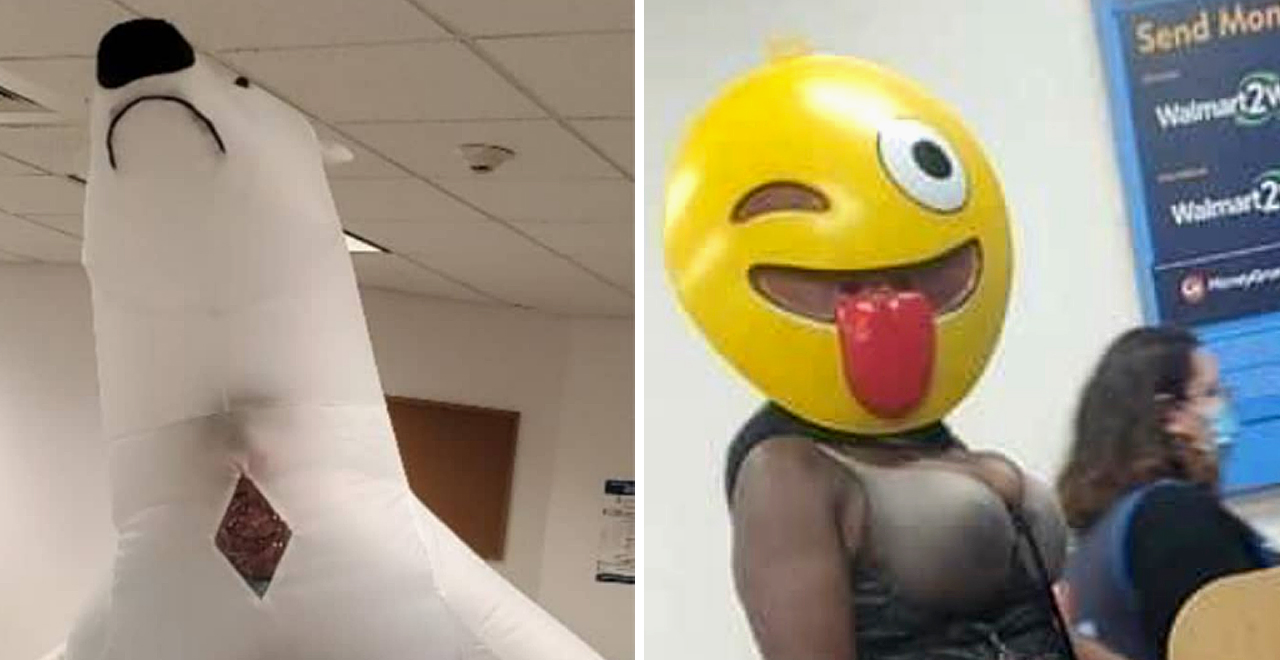 Credit: reddit/staceyjg314 Twitter/mjxsmith24
2018 was the year of tiny sunglasses and biker shorts with blazers. 2019 brought us a spike in boiler suits and cheetah print. In 2020, the year of the socially distanced, protective face masks are the hottest new fashion trend.
While we all strive to make the most of such dire circumstances, some folks are outright refusing to let one measly pandemic compromise their good time. Here are 10 of the funniest, most inventive face masks. We can't vouch for their effectiveness against the spread of COVID-19, but they'll certainly elicit a smile in these strange times.
We are all Harold now.
I made a Hide The Pain Harold face mask. pic.twitter.com/Q1E4qU4X9m

— Danielle Baskin (@djbaskin) May 1, 2020
"Say it, don't spray it" gets a reboot.
LOLLLLLL SOMEONE COMPLAINED TO CUSTOMER SERVICE SAYING MY FACE MASK WAS "DISRESPECTFUL" pic.twitter.com/qXHDfe5lMY

— cat 🌸 (@catweaselsTV) May 2, 2020
Then there's this old man, crushing it.
Quarantine fun with Mom! Only masks available on-line! from r/funny
🙂
I cannot wait until quarantine is over and we get a compilation of the funniest mask pic.twitter.com/pbmHVI06Fq

— white (@mjxsmith24) April 26, 2020
This guy should be on currency.
This guy didn't have a mask, so he came to the orthopedist as a polar bear from r/funny
Genius money-saving hack.
😂🤣😂😬 pic.twitter.com/1b03sboX9c

— Elle Jacobs (@truedream416) April 2, 2020
There's this duo who seamlessly reconciled Star Wars Day with CDC guidelines.
Who needs facemasks, or hand sanitizer when you can have beskar armour to protect against Corona? from r/TheMandalorianTV
Please, please tell us she had a dog with a person mask.
This woman who came into our restaurant said this is the only protective mask she could find. from r/funny
Over here, some really misguided Jughead cosplay.
Finally, this brilliant mask modification is bound to be the hottest trend of summer 2020.
Funny mask ideas. pic.twitter.com/i94IdJcsCg

— WhiteOnRice (@Wh1te0nRice) April 16, 2020
Here at The Dad, we hope you, your families, and communities stay safe and healthy during the COVID-19 pandemic. For the latest information, please utilize online resources from local public health departments, the Centers for Disease Control, and the World Health Organization to remain as informed as possible.