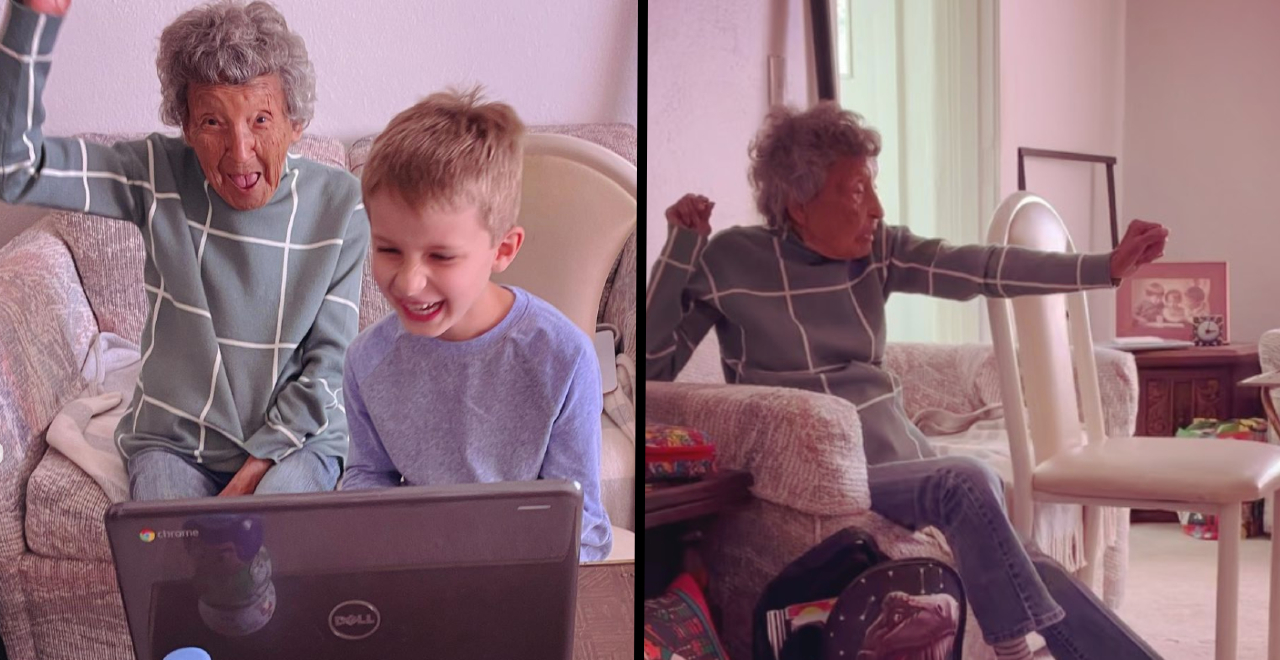 Credit: Instagram/angiec_143
It was a weird school year. While many schools were able to reopen with new restrictions (masks, spacing, etc.) there's still a lot of students who have been stuck with virtual school this whole time, and that's not great. Fortunately, the tide seems to be turning, and remote schooling could soon be a thing of the past. But, we can still celebrate some of the wackier moments and unique gestures that have happened during this truly bizarre year.
Recently, it's a video of a 102-year-old woman visiting her great-grandson for the first time in a year. She decides to join in on the 6-year-old's Zoom physical education class. Julia Fulkerson did stretches and aerobics with her great-grandson Brody, who really wanted to introduce her to the class. She took things to the next level by participating – as only a badass 102-year-old could, and the result went predictably viral.
The boy's mom shared it on Instagram. "This was quite honestly one of the most special moments ever," she wrote.
View this post on Instagram
The class loved the great-grandma's spirited display and lord knows kids stuck in Zoom school still need every drop of joy and fun they can have. Brody's mom said the video going viral was crazy in all the best ways, and that they had just started seeing her for the first time in a year since they'd been vaccinated.
"I couldn't be more grateful that the world saw and rejoiced in how amazing this lady is," she wrote. "She is truly a legend and brings so much joy to so many hearts."
View this post on Instagram
If you were born in 1919, you lived through a lot. A few world wars, lifetimes of cultural shifts, and then towards the end you're wowing a group of kids with your P.E. skills during Zoom school. A legend indeed.