4-Year-Old Stumbles Upon Well-Preserved 220 Million-Year-Old Dinosaur Footprint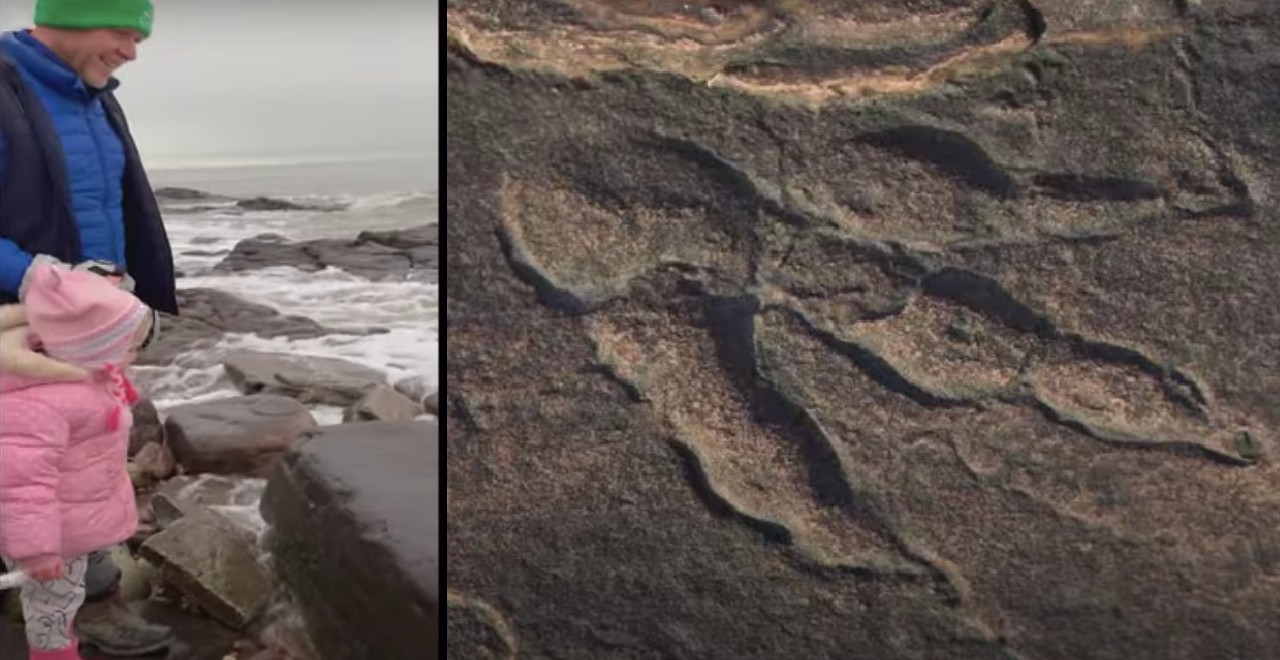 Kids have an undoubtedly unique way of looking at the world. They often see things that we don't, because rather than focusing on what's next on their to-do list, they're fully immersed in the moment. Kids are sponges, trying to learn and absorb everything they can about the world around them. The unique curiosity of little kids leads to some incredible parenting moments, but 4-year-old Lily Wilder's curiosity led to an amazing discovery that thrilled scientists around the world.
Anyone who has spent time with a 4-year-old knows that pointing and saying "look!" is basically a reflex any time they see something mildly interesting (or colorful, or shiny, or something that just happens to be in their path when they're in a pointing mood). Fortunately, Lily's dad was paying attention to every "look!" during their walk in Wales in early January, otherwise, they may have missed Lily's startling discovery.
One particularly emphatic look-and-point was directed at a footprint, one that was perfectly preserved in a rock conveniently located at 4-year-old eye-level.
"It was on a low rock, shoulder height for Lily, and she just spotted it and said, 'look Daddy,'" Lily's mom told NBC News. "She is really excited but doesn't quite grasp how amazing it is."
The family reached out to experts with some encouragement from Lily's grandma, hoping to figure out who the 10-centimeter footprint belonged to. Though experts can't say exactly what type of dinosaur left the footprint, paleontology curator at the Amgueddfa Cymru National Museum of Wales, Cindy Howells, provided some important information.
She explained that the dinosaur likely walked on its two hind legs, and though it only stood about 29.5 inches tall, it would have been roughly 8 feet long including its tail.
"It's brilliant," Howells told NBC News. "It really is stunning preservation … You can see every detail of the muscles and where the joints are in the foot."
Lily's discovery provides paleontologists with clues about the 220 million-year-old dinosaur, and because of her attentiveness and curiosity, the 4-year-old will be listed as the official "finder" of the fossilized print. Lily loves dinosaurs, and if she one day wants to become a paleontologist herself, she's certainly taking steps in the right direction.