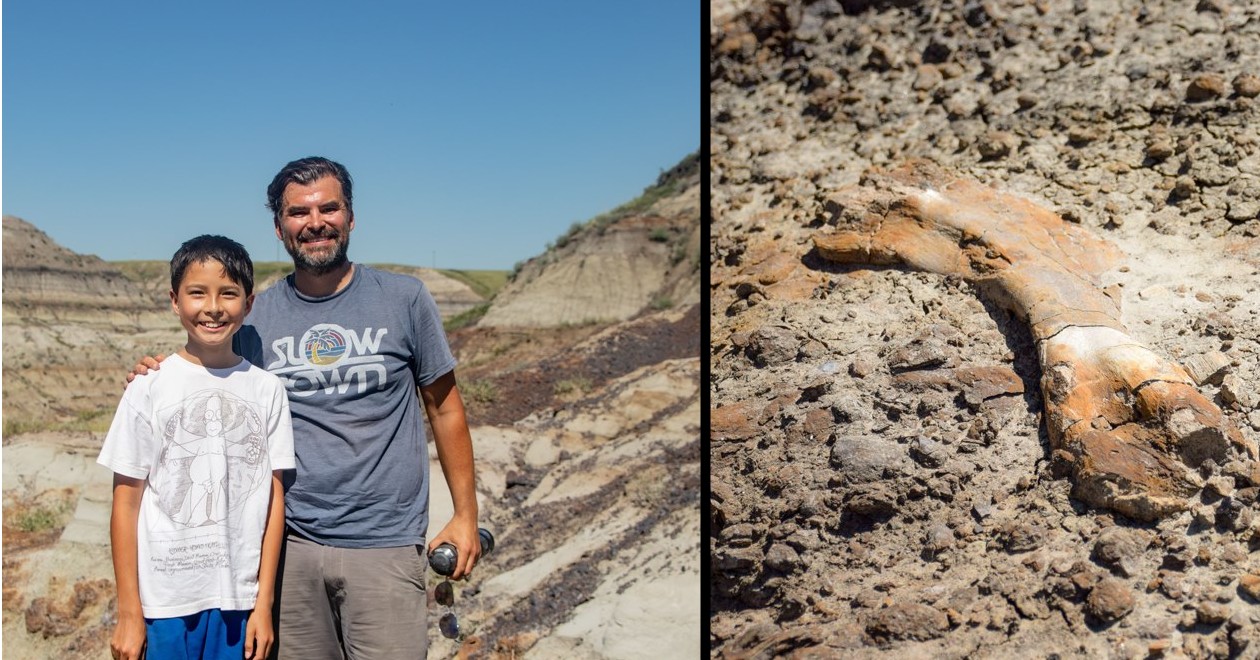 Credit: Facebook/Natureconservancy.ca
Encouraging your kid's hobbies is one of the best things you can do as a dad. It creates a chance for you to bond, it encourages their interests, and sometimes you find a 69 million-year-old dinosaur fossil. You know, just your average father-son bonding activity.
12-year-old Nathan Hrushkin is an aspiring paleontologist, and his dad took him hiking in a conservation area in Alberta. It was there young Nathan discovered partially exposed bones, which his amateur paleontology skills told him were important. And it turns out they were right because once experts examined the photographs and went to the site, they found a whole lot more ancient dinosaur bones. Eventually enough to determine they were from a hadrosaur from 69 million years ago. That's even cooler than finding a 3 million-year-old shark tooth.
The discovery was classified as a significant one, which is quite the feather in the cap of an amateur paleontologist. Nathan told the Nature Conservancy of Canada that he's wanted to be a paleontologist for years.
"I am fascinated about how bones from creatures that lived tens of millions of years ago become these fossil rocks, which are just sitting on the ground waiting to be found," he said. "My dad and I have been visiting this property for a couple years, hoping to find a dinosaur fossil….we knew we'd found something this time."
The curator of Dinosaur Paleoecology at the Royal Tyrrell Museum of Paleontology, who worked the dig site, said the hadrosaur was only three or four years old and that it will help them learn a lot about the dino.
"It's a very important discovery because it comes from a time interval for which we know very little about what kind of dinosaurs or animals lived in Alberta," he said.
I have a feeling Nathan and his dad are going to be on a lot more hikes after that historic find.