5 MLB Prospects to Watch This Season Whose Dads Were Pros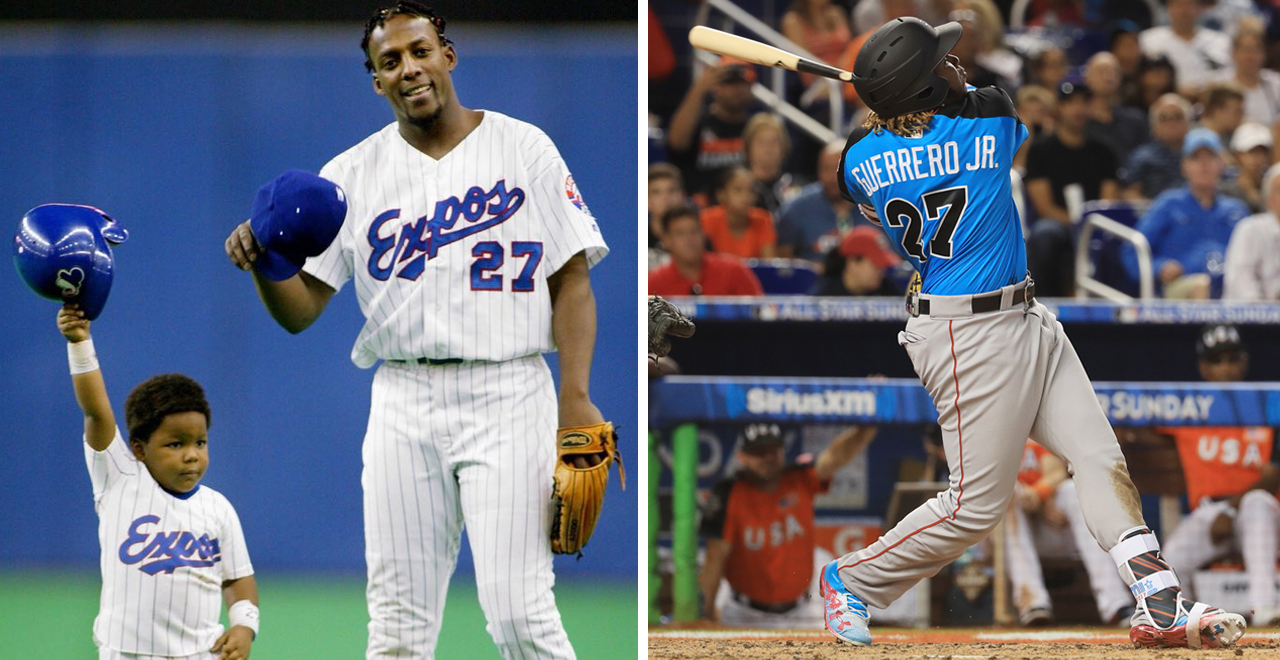 The 2019 baseball season is upon us, and like most Yankees fans I'm hoping for one simple thing: for the Red Sox to go 0-162. I'd settle for them going 7-155, but that's about as much as I can handle when it comes to the Red Sox succeeding. Yes, last year was difficult on me.
My personal seething hatred aside, I'm not the only one who'll be paying close attention this season. In fact, there are a number of former major leaguers from the '70s, '80s, '90s, and '00s whose sons are finally old and talented enough to be knocking on the door of the big leagues themselves. These fathers will no doubt be keeping an eye on their offspring's success, and you should too. Here are a just a handful of second-generation big leaguers-to-be to stay on the lookout for in 2019.
Vladimir Guerrero Jr.
The undisputed #1 prospect in all of baseball, Vladdy Jr. is—as if it weren't obvious enough from the name—the son of Hall of Famer Vladimir Guerrero, who played for the Expos, Angels, Rangers, and Orioles throughout his illustrious 16-year career.
Vladdy turned heads with his performance in the Blue Jays minor league system in 2018, batting .381 with 20 home runs in just 95 games. But perhaps his most memorable moment occurred while playing in a spring training game last March at Olympic Stadium in Montreal—the very same stadium where his father rose to prominence in the '90s. Check out the video below:
Vlad is expected to be called up by Toronto Blue Jays come the end of April, that is assuming they aren't already eliminated from playoff contention. Yes, that may be mathematically impossible so early in the year, but when you're in the same division as the Yankees, Red Sox, and Rays it's more or less a guarantee.
Vlad Sr. recently wished his son a happy birthday via Twitter:
My son, I remember this day as if it were yesterday. From that moment I knew that you were made for great things for this scenario. Today, on this special day remember: patience, discipline, God's time is perfect. Happy birthday my son! ???????? @vladdyjr27

???? |Unknown| pic.twitter.com/HRrtqyFK5B

— Vladimir Guerrero (@VladGuerrero27) March 16, 2019
Fernando Tatis Jr.
Boys each got an autograph at Spring Training. Fletcher got the slipper Andy Green's and Coop got the King. Thanks Fernando Tatis Jr. for taking a second to pose with the boys. Go Padres! pic.twitter.com/OuWMzhfJY2

— Todd Clark (@lunchmade) March 15, 2019
Taking what you learned from the first player on this list, can you guess who this guy's dad is? That's right, Fernando Tatis Jr. is none other than the son of Derek Jeter. Sorry, I misspoke. His dad is actually Fernando Tatis, a former big leaguer who played from 1997 until 2010.
While pops is known for being the only player to hit two grand slams in a single inning, Junior is the #2 prospect in baseball, and is primed to make his debut with the San Diego Padres this season playing shortstop on the same side of the infield as the newly acquired 4-time All-Star Manny Machado.
Everyone is excited to see what Tatis Jr. can bring to the major leagues. That is except for fans of the Chicago White Sox, who traded him back in 2016 for James Shields, a pitcher who led the league in losses last year with 16. If only this were MLB The Show and there were a save point the White Sox could return to, but unfortunately that's not the case, so expect to see Tatis in San Diego soon. I'm sure he likes the weather better anyway.
Here's Fernando talking about playing under his dad's guidance this past winter:
Bo Bichette
The son of Rockies' great Dante Bichette and brother of former Yankees prospect Dante Bichette Jr., Bo has impressed scouts with a combination of bat speed, raw power, and clean footwork to the point that he's been ranked the #11 prospect in baseball and #2 in the Blue Jays' system just behind Vlad Guerrero Jr.
Bo is also known for having much better hair than his father. Example A:
Example B:
Enjoy the hairline while it lasts, Bo. It's clearly genetic.
Bo has yet to play above the AA level but could very well hit the big time in 2019, solidifying the left side of the Blue Jays infield along with Vladdy Jr. for many years to come.
Cavan Biggio
Holy hell, how many Blue Jays are on this list? The son of Hall of Famer and Astros legend Craig Biggio, Cavan may not be as highly regarded as teammates Vlad and Bo, but still remains a top Toronto prospect.
Here's Cavan talking about the expectations that come with the last name Biggio, and how he's crafting his own to break out from the shadow of his more famous father:
Like Bo, Cavan has yet to play above AA, but excelled last year with an .887 OPS and 26 home runs, falling just one RBI short of the century mark. Chances are Cavan may make his major league debut before the end of the season, but until then you're going to have to head up to Buffalo to see him play for the Jays' Triple-A affiliate.
Hey, even if you don't care about seeing Cavan you should still make the trip for some good buffalo wings. On second thought, can we just make this list about the 5 best buffalo wings locations throughout the country? No? Too late? Oh well.
Victor Victor Mesa
Chances are you may never have heard of Victor Victor Mesa, nor his father Victor Mesa, a Cuban baseball legend who drew comparisons to Rickey Henderson. Not only that, but Victor won the gold medal in baseball at the 1992 Summer Olympics, and his career spanned 19 seasons in the Caribbean.
There are a lot of question marks surrounding Victor Victor, who was signed by the Miami Marlins along with his brother Victor Jr. after defecting from Cuba in May of 2018. While scouts speculate he's more likely to debut in the bigs in 2020, his defense and speed are already said to be big-league ready.
That combined with the fact that the Marlins are desperate to attract fans to see their struggling franchise, Victor Victor may very well shoot his way up through the system sooner than you can say the word Victor twice.
There's no doubt these five pops are as proud as can be to see their children follow in their footsteps. Hopefully twenty or so years from now, the aforementioned prospects can pass along some insight to kids of their very own, establishing yet another new generation of baseball stars.
Love baseball? More importantly, love embarrassing your kids? Well then be sure to follow the lead of this dancing dad, who left his daughter red in the face while attending a Cubs game last September.