5-Year-Old Requests Pre-Surgery Dance Party With His Grandpa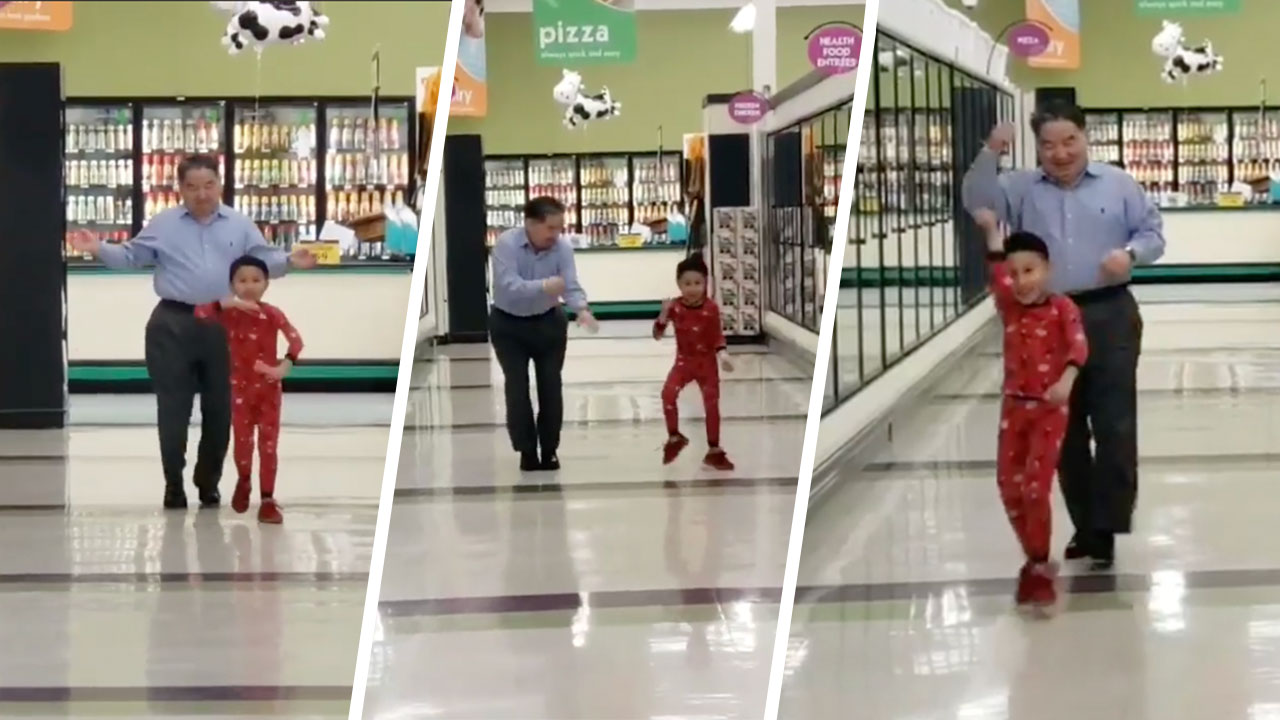 Five-year-old Kyu San Juan was born with cerebral arteriovenous malformation (AVM), a tangle of abnormal blood vessels which connect arteries and veins in the brain and spine. First diagnosed in 2017 after a rupture caused Kyu to have a seizure, the Wisconsin boy underwent a craniotomy to repair the condition earlier last year. While the surgery was an initial success, doctors, unfortunately, discovered the AVM had returned and would require yet another surgery.
As the family prepared to once again take Kyu to the hospital, the tiny patient had one more thing he needed to do. The night before his scheduled brain surgery at around midnight, Rasami Moua, Kyu's mother, says her son made a special request: He wanted to go dancing.
"We all were getting ready to go to bed," she told Inside Edition, but instead, Rasami and Kyu's grandfather, Txhiaj Sawm Muas, lovingly agreed. They hopped in the car and began driving. Kyu and his mom knew their destination, but Kyu's grandfather had no idea where this journey would end up. So when they pulled into the parking lot at Festival Foods, Kyu's grandfather was understandably confused.
Grandpa: Do you guys need to buy something?
Kyu: No grandpa, we dance here in the groceries store.
Rasami, who typically grocery shops late evenings, says Kyu is no stranger to the frozen food aisle. It's there, on nights when his mother does her shopping, that Kyu busts out some of his best moves. 
Rasami posted the above interaction along with a clip of Kyu and his grandfather dancing on Facebook.
As you can see in the video, Kyu definitely has some serious moves and to be honest, grandpa's not doing too bad either. While there may be no medical evidence that dancing made the difference, Kyu made it through his surgery the next day with better than anticipated results.
Festival Foods even caught wind of the dancing duo and sent their mascot, Boomer the Turkey, to visit Kyu while he was still in recovery. The company also sent plenty of food and snacks to keep Kyu's energy up for dancing.
Kyu says it no matter where you are, it's never a bad place to do some dancing. Whether it's busting moves or letting kids ride to surgery in style, we say anything that helps make these difficult situations easier on those involved is most certainly a win.
Those looking to follow Kyu's story or donate to the families medical expenses can visit their facebook page here.