8-Yr-Old's Kindness Restores Walmart Employee's Faith in Humanity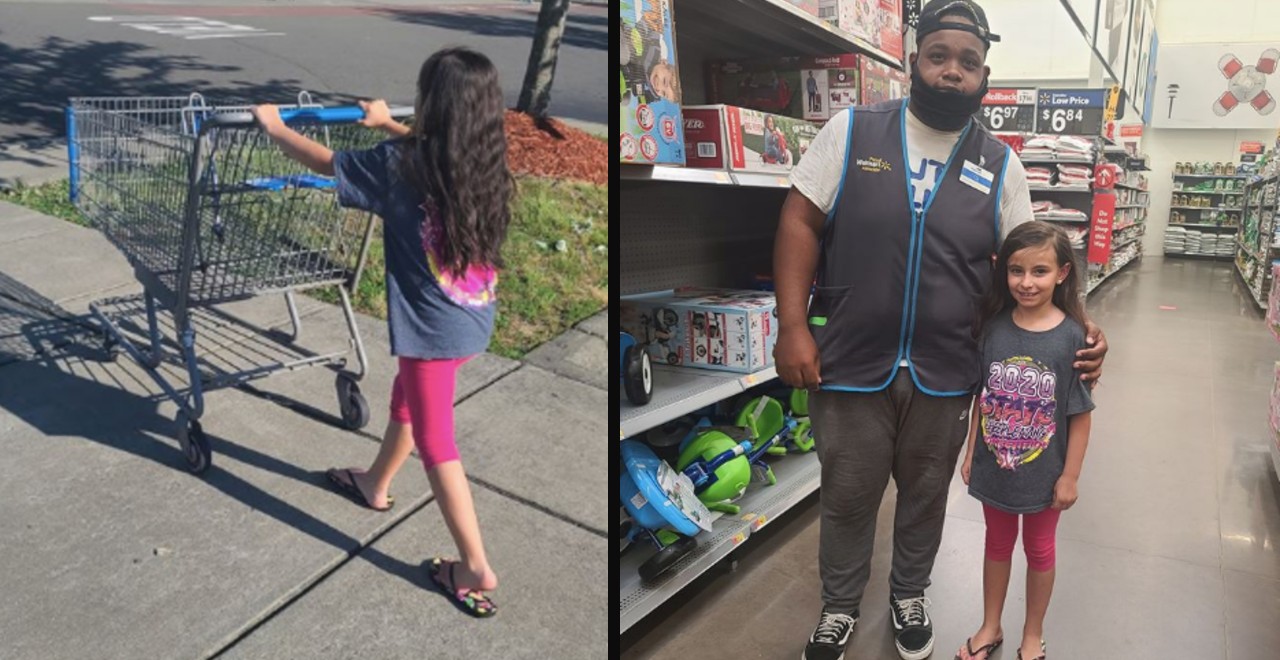 Being an essential worker right now is stressful at best. With everyone so on edge that even the slightest breeze could cause a total meltdown, workers are facing a host of new challenges (aside from the fact that they're keeping the world running in the middle of a pandemic). For one exhausted Walmart employee, an act of kindness by an 8-year-old girl reminded him that even though things are chaotic and especially hard right now, there is still a whole lot of good in the world.
Tiffany Livengood and her daughter Ryleigh made a Walmart run in Oxford, North Carolina earlier this month. Upon leaving the store, Ryleigh noticed carts scattered across the parking lot, with a single employee named CJ corralling them all by himself. To Ryleigh, this was completely unacceptable. This empathetic 8-year-old couldn't simply sit by, watching this drained employee tediously collecting cart after cart – so she joined him.
"She looked at me and asked if she could help", Tiffany wrote on Facebook. "She wanted to help him because 'That's what we are supposed to do. We are supposed to be kind.' So she and I started to gather carts and push them to the store. Cart after cart, she pushed them to CJ. (It's hard work pushing a line of carts, btw.) After 30 minutes or so, we pushed our last cart to Cj. Ryleigh ran to high five him and we parted ways."
When noticing something that you don't quite like going on in the world, there are different approaches to dealing with it. You can wish things were different, or you can make them different. This is far from the first time Ryleigh has taken it upon herself to make a positive difference, and her mom couldn't be more proud.
"Ryleigh is incredibly sensitive and feels for everyone," Tiffany told The Dad. "She is always trying to be nice to everyone."
CJ shared his gratitude towards Ryleigh and her act of kindness in a post on Facebook.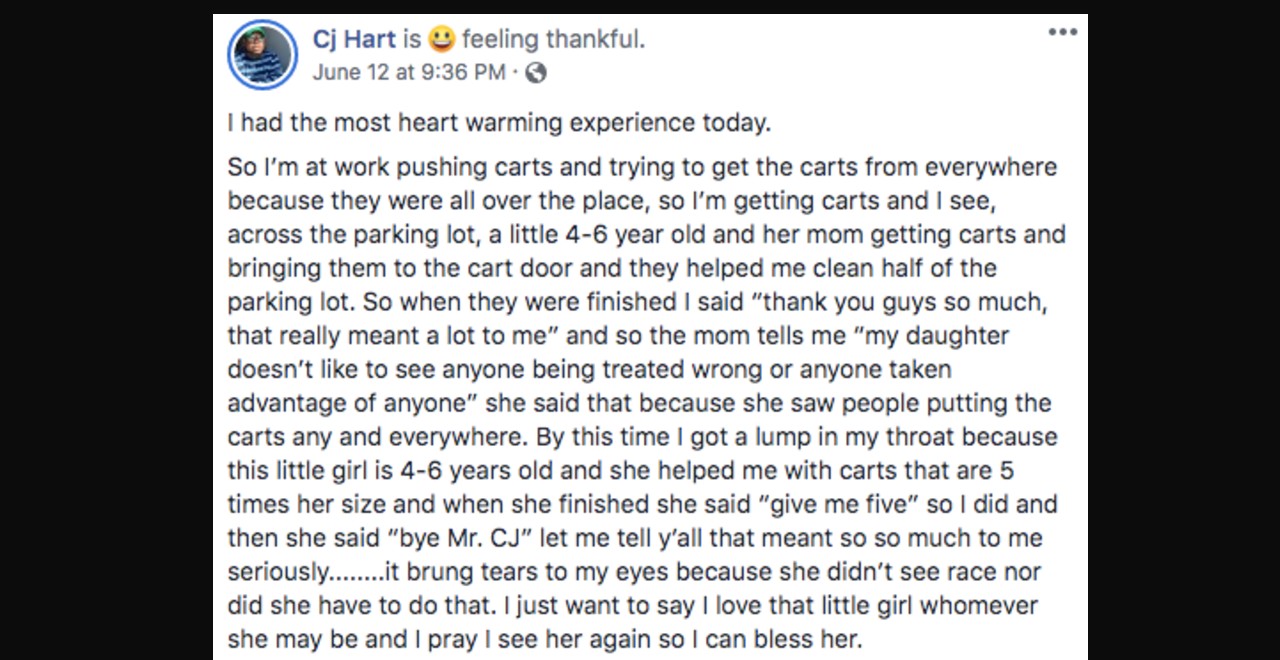 The next day, Tiffany and Ryleigh returned to Walmart (Ryleigh stopping to collect a stray cart in the parking lot, of course). When CJ saw them, he approached Ryleigh and handed her a card, a small token of just how much her good deed meant to him. The card (which also contained $20, a small fortune to an 8-year-old) read, "Your hard work meant a lot to me. I don't know you but you're an angel." CJ also slipped a $20 bill inside, as an additional thanks to the girl with a heart of gold.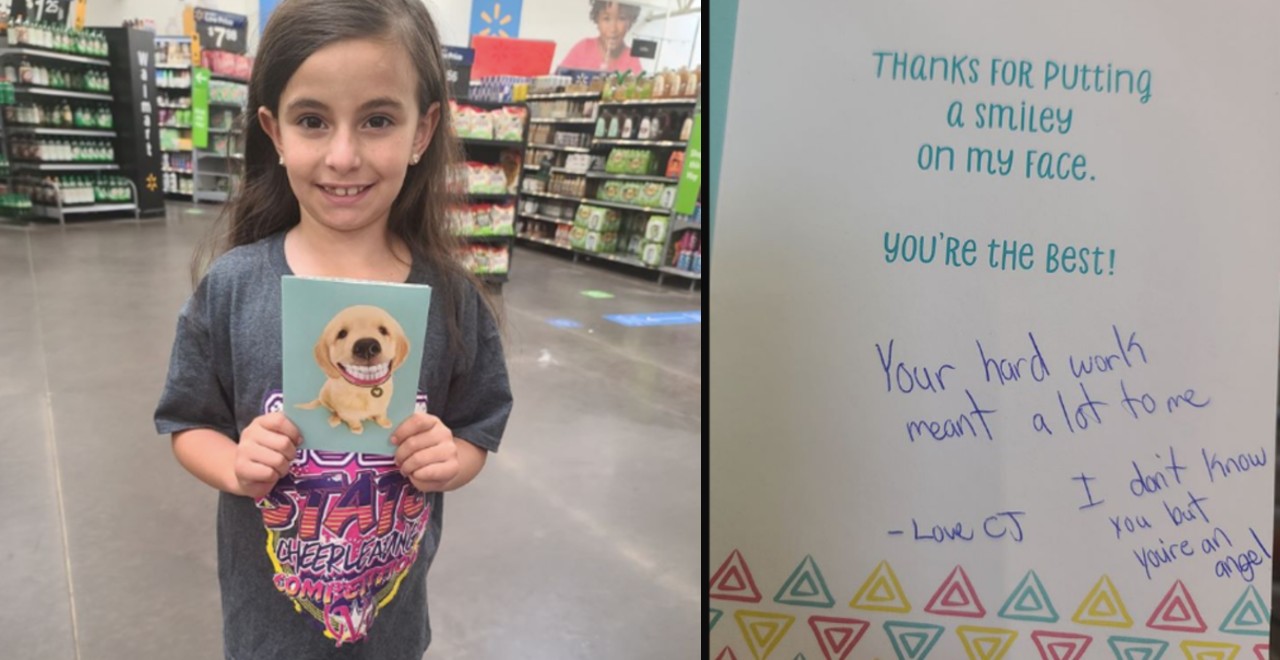 This may have been a small act of kindness for Ryleigh, but to CJ, it made an enormous difference. Aside from pushing carts, Ryleigh has given us the push we needed to remember just how important it is to take care of each other.