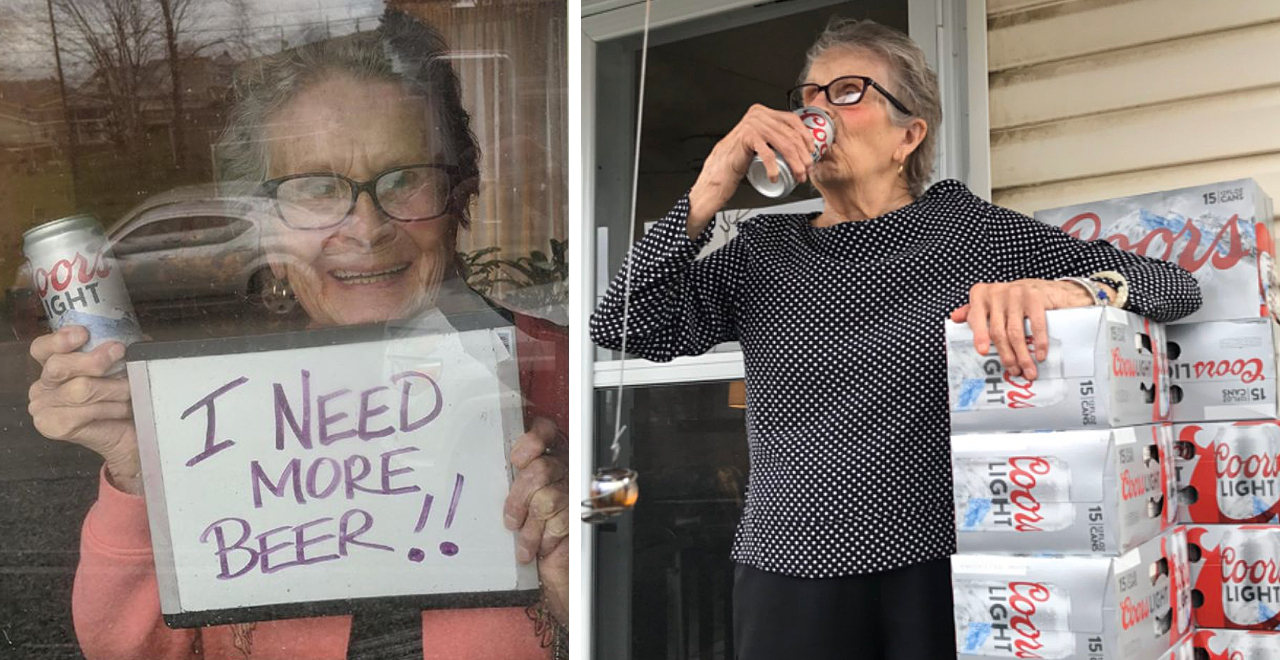 Credit: Facebook/KDKA-TV Twitter/darrenrovell
Quarantine life is tough. With everyone forced to stay inside, we're all learning exactly what we need to survive.
Some of us miss going out to restaurants and bars, others miss going to movies and concerts and sporting events, all of us miss hanging out with our friends and family. We're also learning exactly what supplies we need to get through, from hand sanitizer and toilet paper to milk, eggs, and more.
If you live in a city, odds are you're still able to order some meals and groceries, but if you're in the suburbs or a more rural area, you might be hard-pressed to procure some of those items. And the lack of something hurts worse than others.
Just ask 93-year old Olive Veronesi of Seminole, PA, who is diligently performing her social distancing duties by staying at home, but she's desperately missing one particular item, and an image of her standing in her window desperately requesting more of it has gone viral.
She's out of beer!
Over 4 million people have seen the hilarious image of the woman holding a can of Coors Light and a dry erase board that reads: "I NEED MORE BEER!"
She explained: "I have a beer every night. You know what, beer has vitamins in it, it's good for you, as long as you don't overdo it."
And guess what? Her prayers have been answered.
She was very excited. Did not expect it!

Coors got wind of her Olive's dire straits and promptly sent along 150 cans to her house!

We came. We saw. We delivered to a friend in need. Cheers, Olive! #TakeTimeToChill pic.twitter.com/EisV8Lp1k0

— Coors Light (@CoorsLight) April 13, 2020

Olive was thrilled to find the cases on her porch.

— giulia (@julestider) April 13, 2020
Something tells me she'll be set for a while.
JUST IN: 93-year-old Olive Veronesi of Seminole, PA, who held up a sign at her window asking for more beer, has received a delivery from @CoorsLight. The brand tells me 150 cans arrived at her house today. pic.twitter.com/c2lfGFBBTS

— Darren Rovell (@darrenrovell) April 13, 2020
Check out the story: