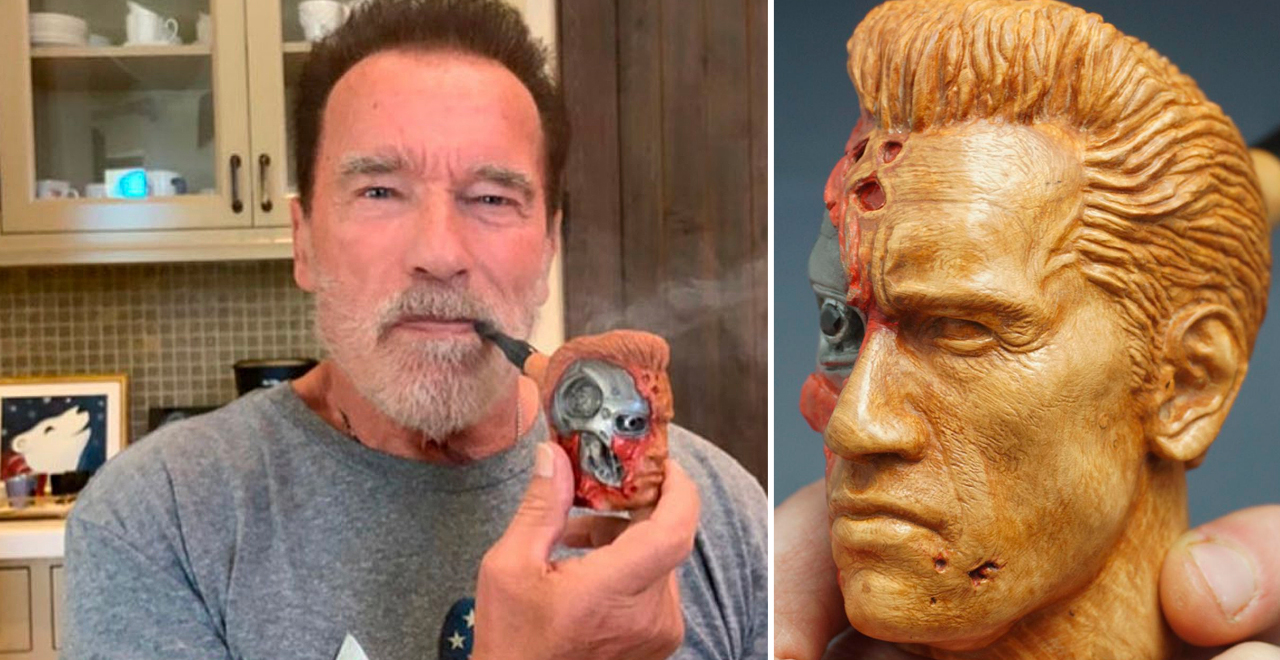 Credit: reddit/radonlab/govschwarzenegger
The internet can be a pretty magical place. It can also be an awful place. It's up to us, and if you don't believe me, maybe you'll believe a killer robot sent from the future. Or at least the superstar who made that robot famous.
Recently, in honor of Arnold Schwarzenegger's birthday, a talented artist crafted a smoking pipe meant to resemble Arnold Schwarzenegger's most famous character, the T-800 from The Terminator series. Not only did the man who carved this pipe create a stunning likeness of the action star's face, but he also recreated the cybernetic half of the T-800's torn-up visage. It's really a sight to behold.
I Carved this pipe specially for Arnold's birthday from r/Damnthatsinteresting
The creator, Reddit user RadonLab, stated that he'd made the pipe especially for Arnold's birthday, and wouldn't ya know it, Arnold caught wind of it.
The bodybuilder turned blockbuster-builder commented on RadonLabs's post and asked if he could buy the pipe. But it was a birthday gift, so RadonLabs gave it to him for free.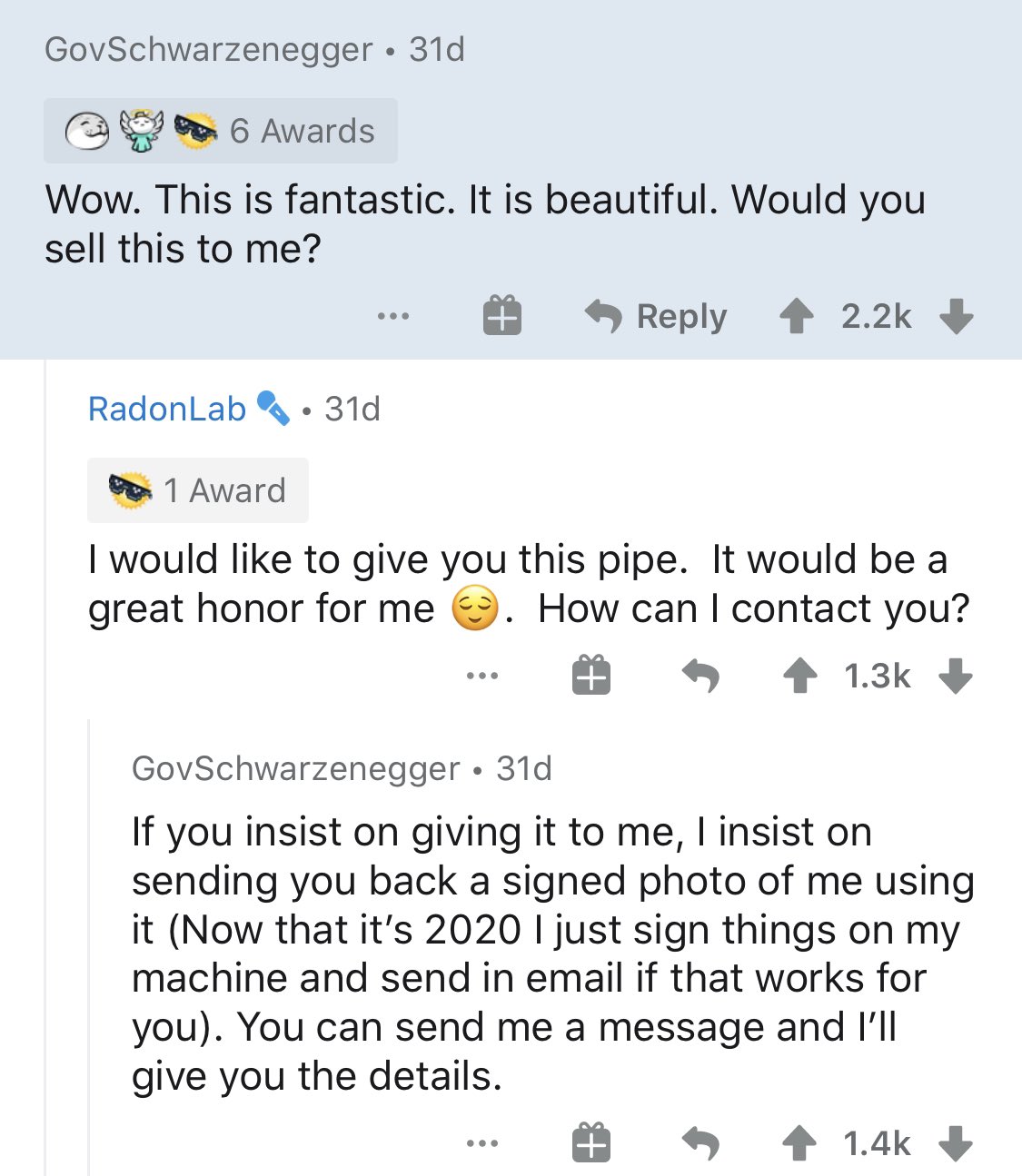 Arnold graciously accepted, but only if he could send back a photo of himself smoking from it. Which he promptly sent along.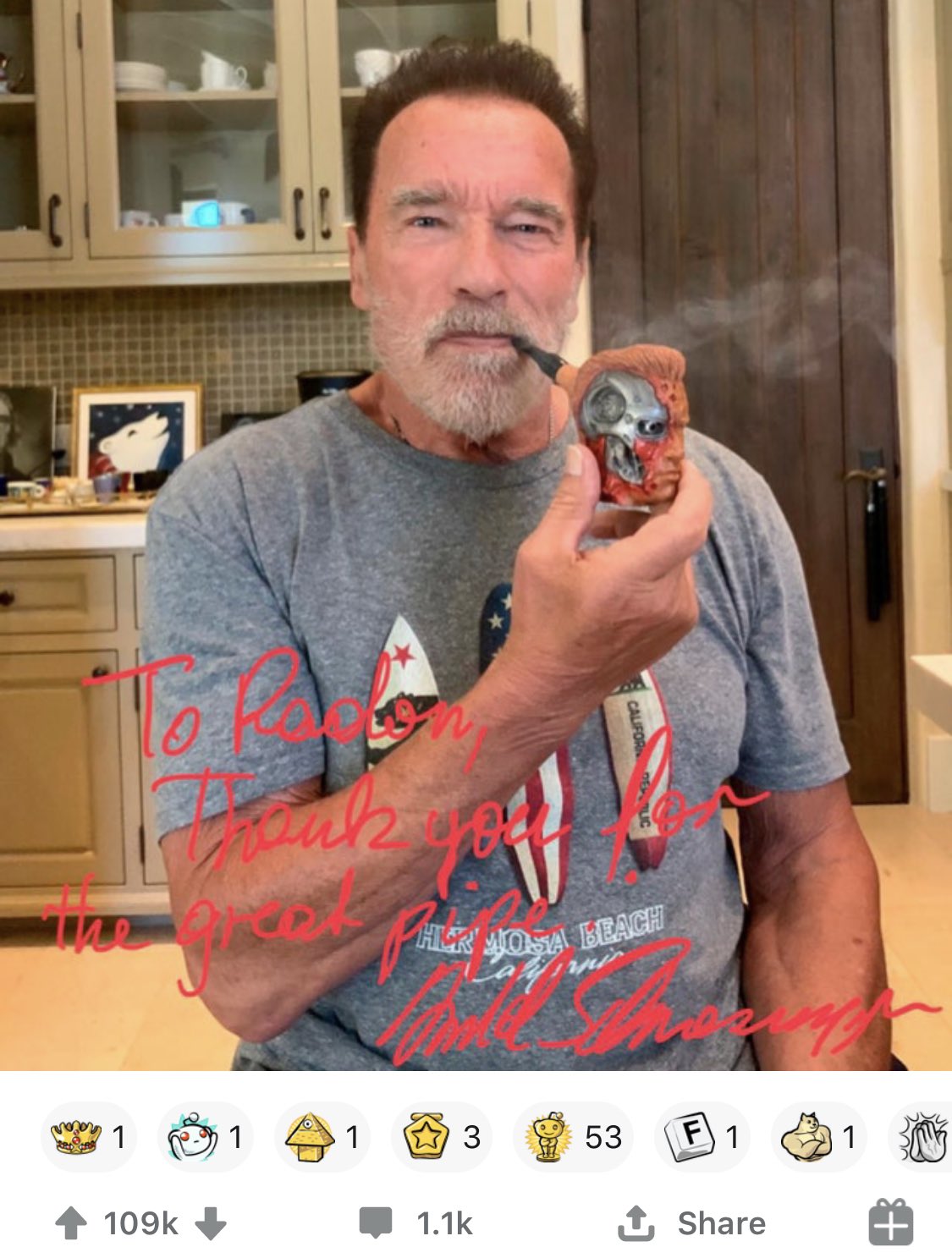 What a wonderful story of craftsmanship, appreciation, and generosity. And then the internet took over, questioning the validity of the entire exchange. But Arnold wasn't having it, and he demanded people online consider what they're contributing before they comment:
Someone commented on the post questioning its validity and was subsequently called out by other Redditors. @Schwarzenegger's response is something everyone should read: pic.twitter.com/L5vwBbrFrz

— Yoni (@OriginalYoni) September 3, 2020
He went on, gently excoriating those who shit on others' enjoyment for no reason and calling out people on both sides for being arrogant and hasty.
(Part 2) @Schwarzenegger pic.twitter.com/hLRSmQAhDU

— Yoni (@OriginalYoni) September 3, 2020
You might not expect a guy famous for playing a killing machine to display such patience and reason, especially on the Reddit boards, but my man didn't become the world's biggest movie star and then the governor of California without bringing something more than biceps and a bad accent to the table.