This Baby Boxing Gender Reveal Makes Us Wish We Could K-O the Whole Trend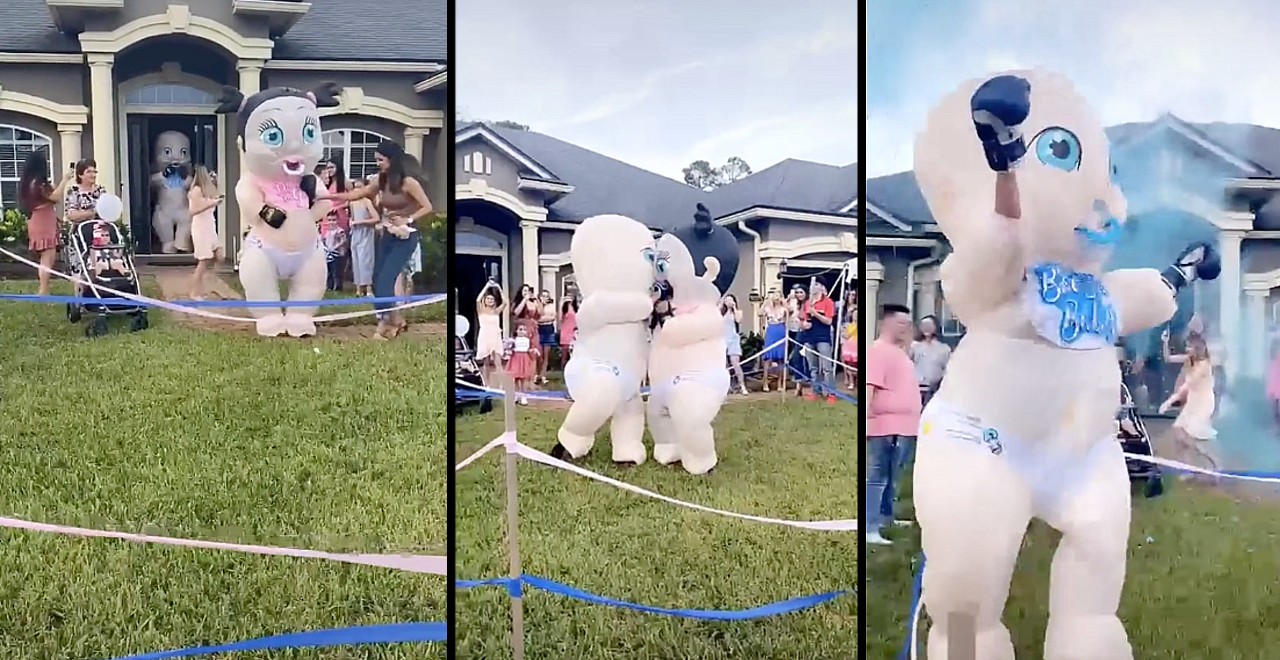 As humans, we have a tendency to – how do I put this lightly – ruin good things beyond repair. Not big things necessarily, but things like classic movies and TV shows frequently fall victim to our tendency to mess with things we love. A recent addition to the list of Things We Have Ruined is something that was never actually great, but we managed to turn gender reveal parties from hacky or relatively neutral to colorful atrocities. Heck, even the woman who decided to make gender reveal parties a "thing" has openly expressed regret about the monster she created.
Listen. I'm all for embracing your inner weirdo, but do it without burning down thousands of acres of forest like that expectant couple in LA who spent so much time reading What to Expect When You're Expecting that they forgot to think about what to expect when you set off a pyrotechnic device in a forest full of dead grass (which is an increasingly necessary sequel).
To clarify, just because your gender reveal party isn't dangerous doesn't mean it's a good idea. Every day there seems to be a new example of this, parents using their unborn children as a means to achieve internet fame. One thing the vast majority of them have in common is that when they do go viral, it's not exactly for the intended reason.
A Twitter user named TrishXCIII_ recently shared an alarming gender reveal that was posted on TikTok, a gender reveal I wouldn't wish upon the spawn of my worst enemy. Here's the gist: two giant inflatable babies beat the crap out of each other until the giant inflatable girl baby is knocked to the ground. John Cena's entrance theme "The Time is Now" plays in the background. Actually, that's pretty much it.
This is the craziest gender reveal I've seen 🤣🤣🤣 pic.twitter.com/XZLHI0FhEN

— #portauprincess (@TrishXCIII_) October 13, 2020
The video was originally shared by TikTok user @bigrudie, and across all platforms, it has accumulated millions of views and thousands of comments. The Twitter community came to the consensus of, "what?" as users were baffled by both the premise itself and the fact that people would go to such lengths for something most deemed wildly unnecessary.
Ayyo what??? 😭 pic.twitter.com/qK3fCCGcdw

— 🦋 (@Simply_lay_) October 14, 2020
What in the absolute hell??

— Rex Chapman🏇🏼 (@RexChapman) October 13, 2020
When we found out our baby was a girl, we just told everyone.

— Michelle Pearce (@PSBFAN1991) October 13, 2020
Extremely questionable taste, but great execution. And hey, at least they didn't burn down any forests.