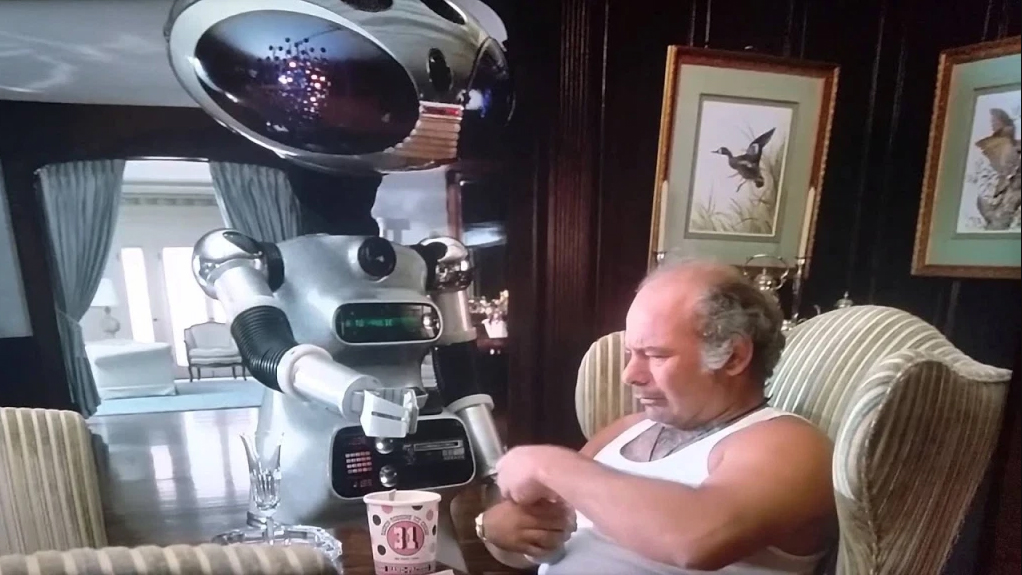 Credit: United Artists
The 80s is best known for two things: Sylvester Stallone and metalheads.
Rocky IV was the fourth movie in the Rocky franchise and features Rocky Balboa (Sylvester Stallone) avenging his friend Apollo Creed's death by fighting Russian steroid monster Ivan Drago. When you watch the movie and see the end, whereupon Rocky's defeat of the evil Communist behemoth also thaws tensions between America and Russia and essentially ends the cold war.
There's also an awesome robot, and it isn't Arnold Schwarzenegger.
Don't get me wrong: Rocky IV is a highly entertaining, incredibly absurd movie that also happens to feature James Brown, Bridgette Nielsen, and the gymnastics coach from American Anthem. It was written and directed by Stallone himself, who is preparing to release a director's cut on the film's 35th anniversary. Fans are excited, except for one thing: Stallone is eliminating Paulie's robot.
Far be it from me to criticize Stallone, a Hollywood legend who strong-armed his way into movies by writing and starring in Rocky, then became one of the biggest stars of the 80s with multiple franchises that are somehow still kicking decades later. But why on earth would he want to remove Paulie's sexy robot, one of the most 80s touches in an aggressively 80s movie?
Twitter wants to know, particularly J. Christopher Arrison, aka @murderwizrard, who first sounded the alarm:
🚨 Sylvester Stallone is ELIMINATING Paulie's Robot from his upcoming "Director's Cut" of ROCKY IV

DO SOMETHING "FILM TWITTER" 🚨 pic.twitter.com/wLoo17AelM

— J. Christopher Arrison (@murderwizard) August 30, 2020
Arrison also unearthed news about additional robot scenes that we'll never get to see, offering insight into Paulie's motivations:
BREAKING: apparently there were EXTRA scenes of the robot that got cut #ReleaseTheRobotCut pic.twitter.com/qCeaPvDkB1

— J. Christopher Arrison (@murderwizard) August 31, 2020
You're telling me that not only is Stallone not adding that scene into the director's cut, but he's also removing the robot entirely? This is offensive on many levels. Arrison pleaded with "Film Twitter" to do something to save the robot, and I agree. If there was ever a time for a fanboy petition to stop Hollywood from ruining its own creation, that time is now.
After all, if I can change, and you can change, everybody can change, including Stallone, who needs to change back into the kind of guy who wants a robot in his movie!