7-Yr-Old Throws a Backyard Prom for His Babysitter Amid COVID-19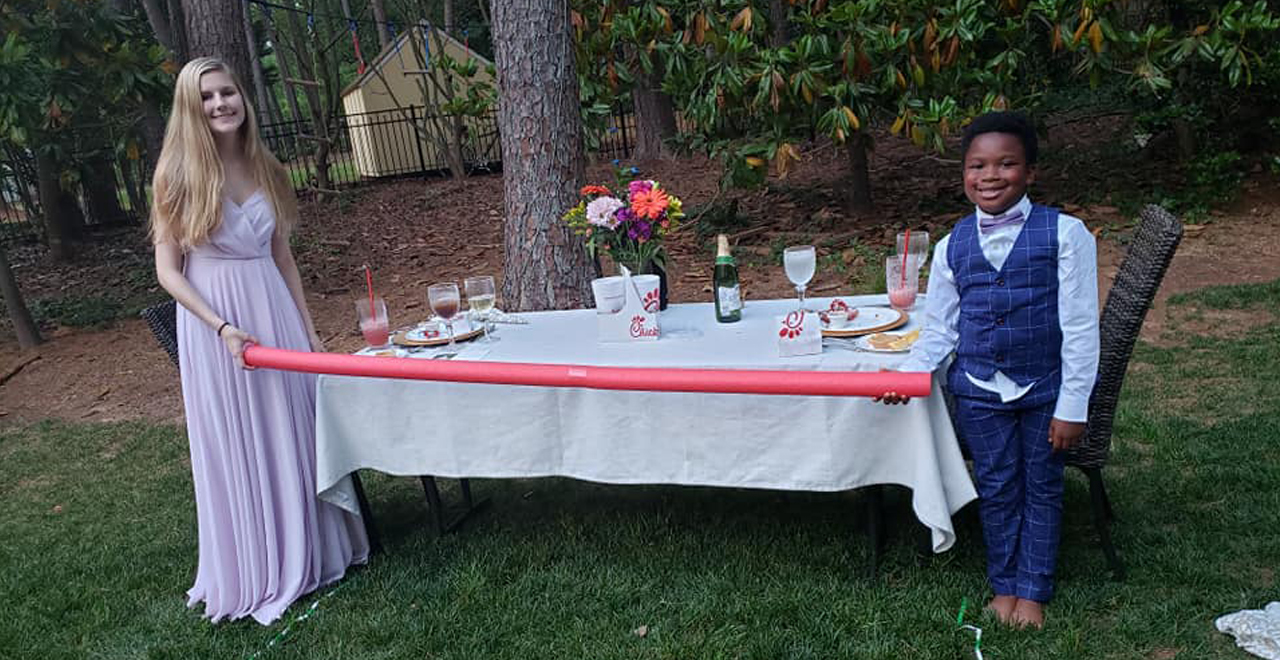 On the enormous list of things canceled by COVID-19 are the normal rituals for high school seniors, as the class of 2020 largely missed out on things like in-person graduation ceremonies and prom. Understandably, many were devastated. It seems small in comparison to what parts of the country are dealing with now, but when your kid is dealing with a major disappointment, it's always going to be a little heartbreaking. But some decided to carry on with prom anyway.
Sure, they weren't traditional proms, often it was a sibling or a dad throwing a "prom" at home. The coolest of these proms in the socially-distant era belongs to a 7-year-old from North Carolina. When he found out hit babysitter was bummed to be missing her prom, he decided to throw one for her in his backyard.
And seven-year-old Curtis spared no thought when it came to throwing a prom for his babysitter, Rachel. It even included a "promposal", where he (and his mom) surprised Rachel with a sign that said, "Mini prom is not today, but will you join me on Monday."
And as far as backyard proms go, it sounded pretty awesome.
"He was very excited and wanted to make sure everything was just right and get his suit on and pick out his bowtie that matched her dress," his mom told a local news station. "It was really cute. He was really excited for it to start and make sure he was ready to impress her."
The tiny prom king put a lot of thought into it, including serving her favorite foods (peanut butter and apples as an appetizer and Chick-Fil-A for the main course) and using a pool noodle to help maintain social distancing for the dancing. Curtis may lay claim to being the coolest 7-year-old around.
"I was kind of like bummed putting my dress on because I was sad; I don't get to wear it to my senior prom," Rachel said. "After leaving it and having that time with him because it was the first time I had seen him in two months, it was like, really fun, and I'm really glad that he did that."