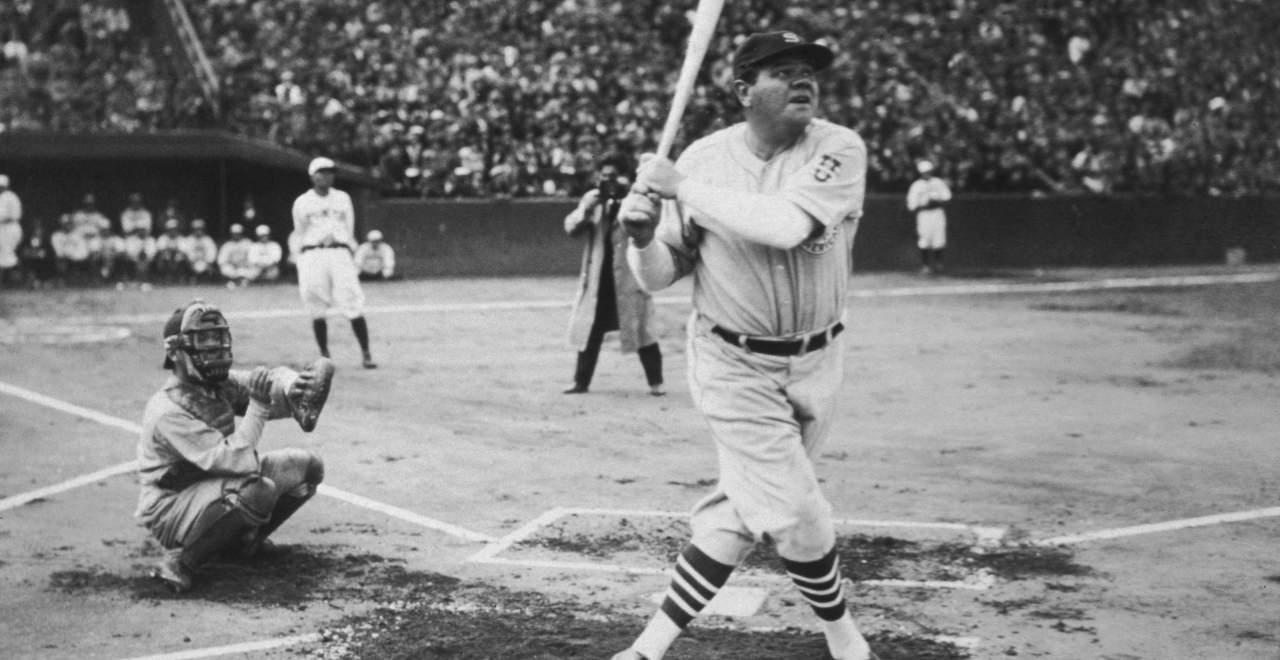 Credit: Getty/New York Times Co.
Everyone has a baseball memory. For some it's all about childhood viewings of baseball movies that left a mark on us, for others, all about our dads coaching Little League.  More than memories, baseball fans (and sports fans in general) are amazing at keeping track of stats and facts. After all, they're somewhat useful to keep in your back pocket. So, in case your pockets aren't full enough already, here are some of our favorite baseball facts in the sport's 150-plus year history.
1 Dock Ellis, the Pirates' starting pitcher, pitched his first and only no-hitter of his career on June 12th, 1970… while high on LSD.
2. The first World Series was played between Pittsburgh and Boston in 1903 and was a nine-game series. Boston won the series 5-3.
3. The oldest baseball park still in use is Fenway Park, the home field of the Boston Red Sox, which debuted in 1912.
4. Thanks to Hurricane Irene, the record for the least amount of people at a baseball game was set in 2011 when the Florida Marlins played the Cincinnati Reds. Only 347 people attended the game. But, what devotion!
5. Minor league pitcher Jackie Mitchell is famous for striking out both Babe Ruth and Lou Gehrig in succession in the 1930s. <i>She</i> was promptly banned from Major and Minor League Baseball.
6. Ken Griffey Sr. and Ken Griffey Jr. became the first father and son to play in the major leagues as teammates for the Seattle Mariners in 1990.
7. On September 14, 1990, they hit back-to-back home runs, creating another father-son baseball first.
8. Japan has the largest pro baseball league outside the U.S.
9. Baseball bats in the minor and major leagues are made from wood. However, metal bats are used at the college level.
10. The first pro baseball game ever to be aired on television was on August 26, 1939, it was a double-header between Brooklyn and Cincinnati.
11. A "can of corn" is an easy fly ball. The term comes from when old-time grocers used their aprons to catch cans knocked from a high shelf.
12. The New York Yankees have won 26 World Series titles, which is more than any other team.
13. For the first half of the 20th century, major league teams barred African-Americans from participating in its baseball games.
14. African-Americans formed "Negro Leagues," which had some of the greatest players of the century.
15. Bats all weigh the same, but may feel lighter or heavier when they are swung. The "swing weight" differs according to the distribution of mass in a bat.
16. Each MLB ball has 108 stitches. (The first and last stitches are hidden.)
17. Each ball is hand sewn.
18. A ball is only used for six pitches and then it's retired.
19. During a typical game, approximately 70 balls are used.
20. Craig Biggio of the Houston Astros holds the record for a player most often hit by a pitch.
21. The oldest player to hit a home run was Julio Franco. He was 47 years and 240 days old when he hit a home run for the Mets in 2006.
22. The last major league ballpark to install lights was Chicago's Wrigley Field in 1988. Previously, the Cubs would only play daytime games, since their stadium didn't have lights.
23. In 1930, Babe Ruth made $80,000, which is about $1 million after inflation.
24. The unofficial anthem of American baseball, "Take Me Out to the Ballgame," is traditionally sung during the middle of the 7th inning.
25. "Cranks" was an early term for baseball fans in the late 1880s.
26. There's a rule that states a pitcher must first wipe his hand on his uniform before he grips the ball for a pitch.
27. The longest baseball game in history (between the Brooklyn Dodgers and Boston Braves) lasted 26 innings and nearly four hours.
28. The youngest pitcher in major league baseball history is Joe Nuxhall who was just 15 years old when he pitched for Cincinnati Reds.
29. Mo'ne Davis became the first female to win a Little League World Series baseball game.
30. Evar Swanson, a left fielder for the Cincinnati Reds, holds the record for the fastest time around the bases. He did it in 13.3 seconds.
31. Philadelphia Phillies' Richie Ashburn fouled off two consecutive pitches that hit the same woman twice in the stands.
32. The San Francisco Giants have the most players in the Baseball Hall of Fame, coming in at a whopping 24 Hall of Famers.
33. In 1989, NBC's Gayle Gardner became the first woman to regularly host MLB games for a television network.
34. The honor of most expensive baseball card goes to the 1909 Honus Wagner T206 baseball card, which is worth about $2.8 million.
35. Baseball fans eat enough hot dogs to stretch from Chicago to Los Angeles. Roughly how many are eaten at MLB games? About 25,500,000 hot dogs a year!
36. A pitcher's curveball can curve up to 17 inches from the straight line on its way to home plate.