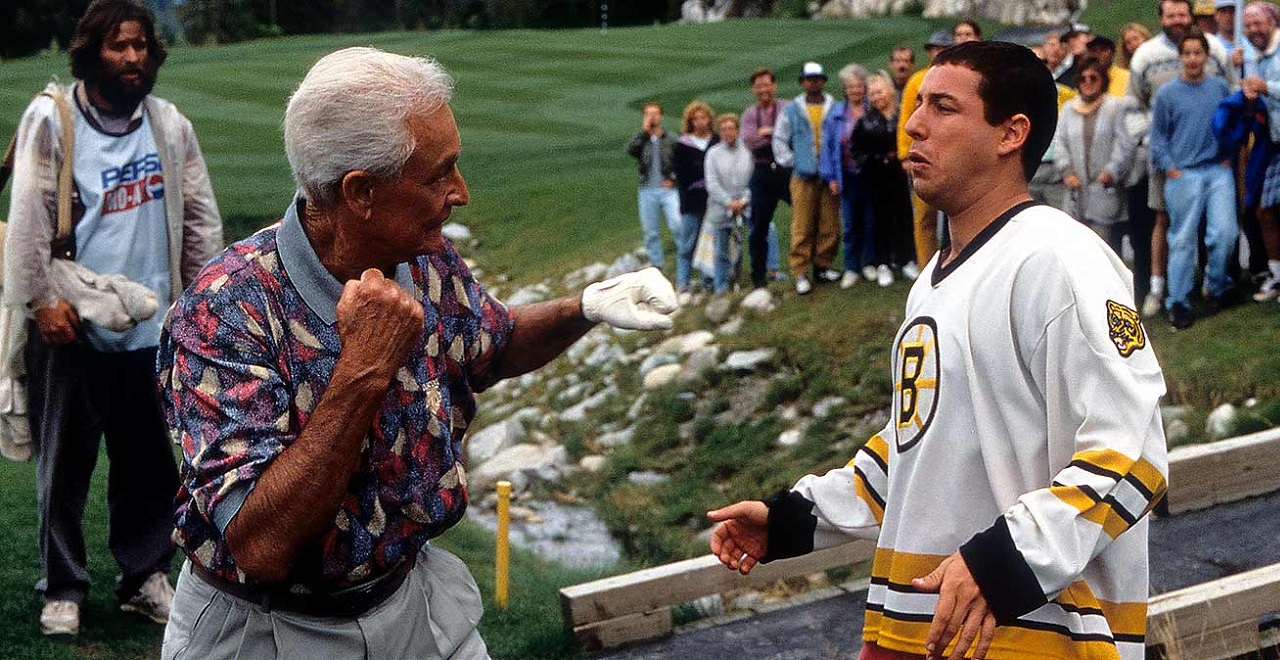 Credit: Universal Pictures
Ultimate nice guy Adam Sandler is a comedic genius, annoying voices and all. There's just something about the guy, with his perfect blend of sarcasm and silliness, that always keeps us not just in stitches but absolutely enthralled. Of course, not all of his movies have aged well. There are movies we now cringe at, instead of laugh… or laugh at and then feel guilty. Still, we're far from canceling Sandler. As a matter of fact, we're some of his biggest fans. It goes without saying that some of Sandler's earlier films are better than others, and fit into many genres. From movies you can watch with your kids (Hotel Transylvania, for instance) to even movies your partner won't roll her eyes at (like 50 First Dates), there's a movie in Sandler's catalog that can fit all your needs. So, we've pulled and ranked our top films. (We left off The Waterboy because it's pretty cringe-y.) But, we've also included a solid list of where you can see or hear Sandler, in case you want to walk down memory lane or take a deep dive into the comic's catalog.
Best Adam Sandler Movies
10. Little Nicky (2000)
Listen. Is Little Nicky the world's greatest movie? No. But, the scenes in Hell are worth the price of admission alone. This was Adam Sandler at his goofiest and, quite possibly, most disturbed. Just don't watch this one with the kiddos.
9. Grown Ups (2010)
This gem may not have been a blockbuster. However, as disgruntled grown-ups ourselves, we appreciated the antics and realness Sandler, Chris Rock, Kevin James, and the gang delivered in line after line of laughs. Plus, with a PG-13 rating, it's relatively safe to watch with your older kids.
8. 50 First Dates (2004)
Would we choose to watch this on our own? Mmmm… probably not. But, as rom-coms from the aughts go, this was a pretty fun watch and featured the same roster of actors Sandler features in most of his movies. Plus, his pairing with Drew Barrymore is always a good time.
7. Murder Mystery (2019)
Murder Mystery flew under the radar, even for a Netflix release. The premise was simple: Sandler and Jennifer Aniston's characters are accidentally connected to a murder. What ensues is the kind of cute hilarity you'd expect from any other murder mystery. It's a fun film that just didn't get enough attention.
6. Anger Management (2003)
Anger Management not only features Sandler, but you also get another legend by the name of Jack Nicholson. It was a pairing you just wouldn't expect to work. And yet… it did. We especially love their first night together in Sandler's character's apartment.
5. Airheads (1994)
Have you ever accidentally held a radio station hostage? Us, either. But, we've also never been to a radio station. So, maybe it happens more often than you think? Airheads was our first true introduction to Sandler in movies and it gave us high hopes for the future. While not everything he's released since has been a solid win, Airheads absolutely was.
4.  Punch-Drunk Love (2002)
This is steal-your-girl-Sandler at his best. While his goofiness and often brash sense of humor may not be every lady's cup of tea, his "Barry" in Punch-Drunk Love is the opposite. He's awkward and sweet, even while he's being blackmailed by a phone sex operator/con-artist.
3. Billy Madison (1995)
Admittedly, Billy Madison is a bit cringe-y, too. After all, you're witnessing an adult with a learning disability try to make his way through grade school. But, it's also Sandler at his peak and before he went over-the-top with that voice. The movie never gets old for us. We laugh like it's the first time… even when it's the hundredth time.
2. Happy Gilmore (1996)
Everything about Happy Gilmore is hysterical. We loved the fish-out-of-water aspect of a not-so-great hockey player taking to the links, where he's amazing but doesn't exactly fit in. And, yeah dude, we fucking love the fight with Bob Barker. When Sandler is in full charge of his films, genius arises and Happy Gilmore is proof.
1. The Wedding Singer (1998)
As it turns out, Sandler and Barrymore are just pure magic together. This may have been our first real taste of that. Don't let anyone tell you that rom-coms are for girls. The Wedding Singer is proof of the opposite. It's the best movie Sandler ever made and we love that the PG-13 rating once again means we can (possibly) watch it with the fam… with a little bit of muting and explanation.
All Adam Sandler Movies
1989 – Going Overboard
1991 – Shakes the Clown
1993 – Coneheads
1994 – Airheads, Mixed Nuts
1995 – Billy Madison
1996 – Happy Gilmore, Bulletproof
1998 – The Wedding Singer, Dirty Work, The Waterboy
1999 – Big Daddy, Deuce Bigalow: Male Gigolo
2000 – Little Nicky
2001 – The Animal
2002 – Punch-Drunk Love, Mr. Deeds, Eight Crazy Nights, The Hot Chick
2003 – Pauly Shore Is Dead, Couch, Anger Management
2004 – 50 First Dates, Spanglish
2005 – The Longest Yard, Deuce Bigalow: European Gigolo
2006 – Click
2007 – Reign Over Me, I Now Pronounce You Chuck & Larry
2008 – You Don't Mess with the Zohan, Bedtime Stories
2009 – Paul Blart: Mall Cop, Funny People
2010 – Grown Ups
2011 – Just Go with It, Zookeeper, Jack and Jill
2012 – That's My Boy, Hotel Transylvania
2013 – Grown Ups 2
2014 – Blended, Top Five, Men, Women & Children, The Cobbler
2015 – Pixels, I Am Chris Farley, Hotel Transylvania 2, The Ridiculous 6
2016 – The Do-Over
2017 – Sandy Wexler, The Meyerowitz Stories (New and Selected), Puppy!
2018 – The Week Of, Hotel Transylvania 3: Summer Vacation, Adam Sandler 100% Fresh
2019 – Murder Mystery, Uncut Gems
2020 – Goldman v Silverman, Hubie Halloween