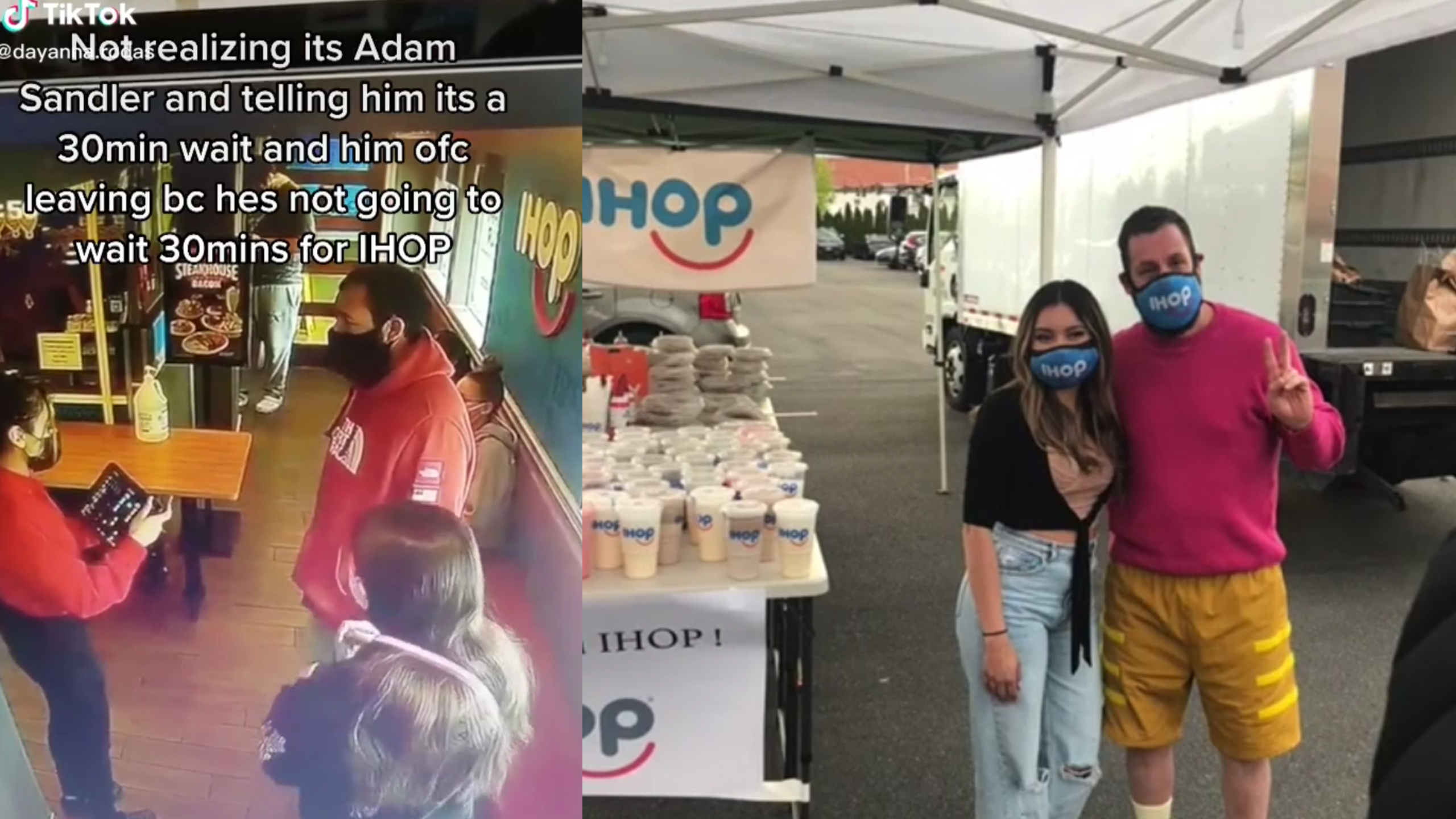 Credit: TikTok/dayanna.rodas
A hostess at IHOP went viral on Tik Tok when she admitted to turning away Adam Sandler. But this story has a happy madison-style ending because IHOP pulled out all the stops (and milkshakes) to bring Sandler back to reunite with the young woman.
Dayanna Rodas shared the IHOP security footage of her informing Sandler of the long wait for a table and him leaving the restaurant.
But here's the thing; she shouldn't feel bad. Sandler is wearing a mask, and it's not like he's the most recognizable person on Earth. Also, he's just a person, and Sandler himself would be the first to admit he doesn't need special treatment at a pancake diner. He's a down-to-earth guy, he didn't play the "Do you know who I am?" card to get breakfast with his kid. It was a normal interaction.
The internet can gummy things up, and she did put it out there, but eventually, Sandler himself did reply, saying on Twitter he only left because the nice woman told him the "all-you-can-eat" deal didn't apply to milkshakes.
For the record, I only left the IHOP because the nice woman told me the all-you-can-eat deal didn't apply to the milkshakes.

— Adam Sandler (@AdamSandler) May 4, 2021
So then IHOP upped the ante, and made an "all-you-can-eat" milkshake deal at all Long Island locations, and also announced they'd donate up to $50,000 to Comedy Gives Back, which helps comedians affected by the pandemic (a charity Sandler has supported in the past). And of course, he can't pass up the all-you-can-eat milkshakes, so Sandler DID come back.
And this time, Rodas recognized him.
Thank u IHOP for Milkshake Monday pic.twitter.com/SsTEK0W0XK

— Adam Sandler (@AdamSandler) May 11, 2021