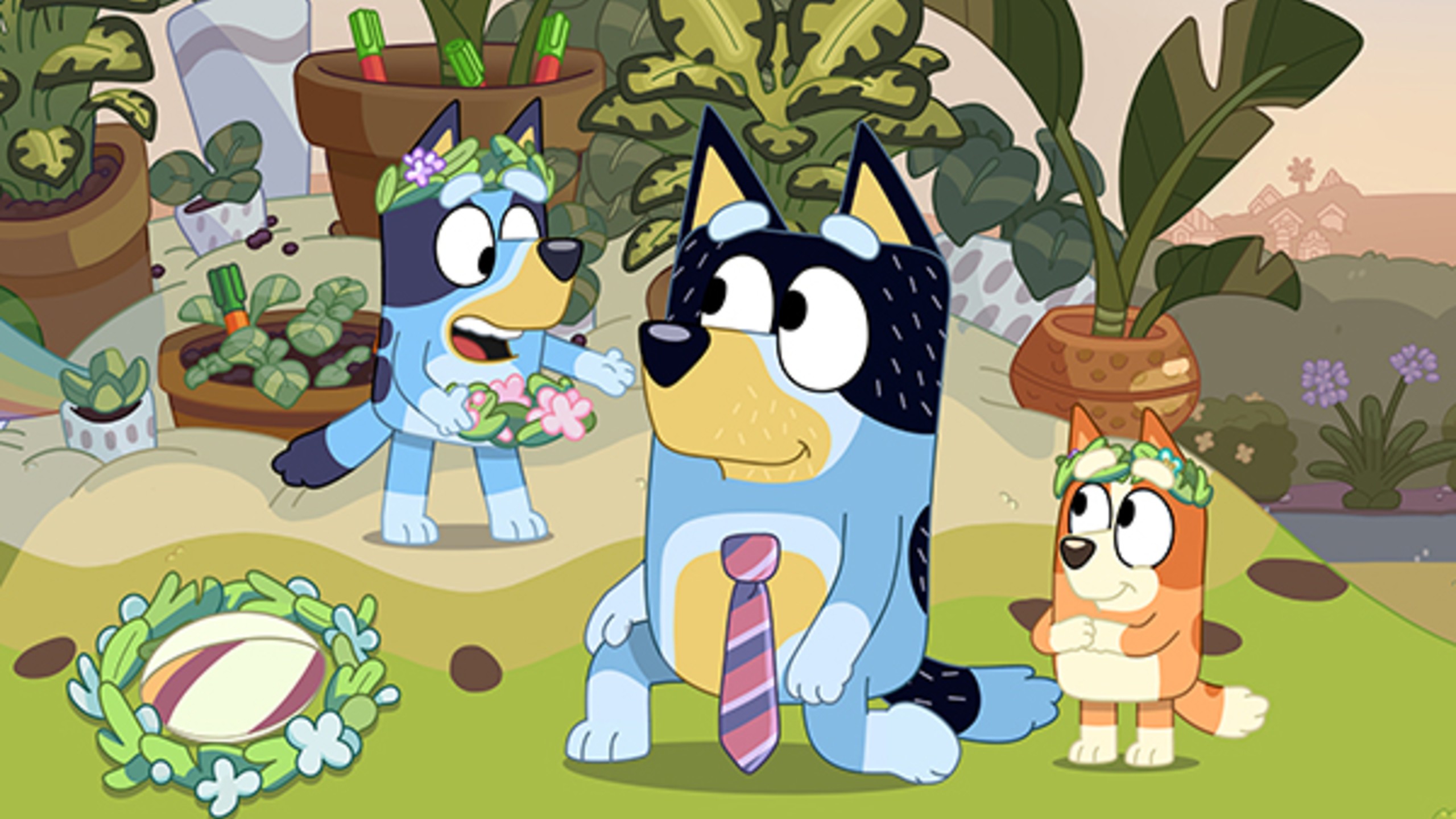 Credit: Ludo Studio
After months of waiting, Bluey Season 2 is now on Disney+! It has been pretty nice to be able to finally watch some new content, after watching the first season in its entirety 7200 times. My family and I went ballistic, binge-watching the 50+ new episodes in a weekend. It's top-notch stuff and once again, Bluey's dad Bandit is a standout character. The writers for this show just get dad life and I can appreciate that. It makes me wonder if I'm the one watching Bluey with my kids or if they're the ones watching it with me.
There are plenty of hilarious moments with this new season, but there are also a surprising amount of emotional story beats as well. The kids laughed, my wife and I almost cried a few times. It was awesome. I'd be writing all day about Bluey if I didn't restrain myself, so we're only going to be talking about a select few episodes.
Here are some of my absolute favorite Bandit dad moments from Bluey Season 2.
Dance Mode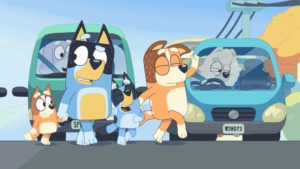 When Bandit unintentionally eats Bingo's last chip at a restaurant, he makes it up to her by giving her the power of "Dance Mode". This gives her the ability to make her family members burst into dance at any place or time. She only has 4 chances to use it, so she wants to pick the right moment. Bingo wants them to dance in the middle of a crowded plaza, but Bandit and Chilli are hesitant. Bandit bribes her with money but it's not what she wants. Ultimately, they finally give in and end up back at the plaza. Bandit shouts "Attention everyone! I'm doing this for my kids!" and The Heeler family bust a move in front of everyone. Whatever it takes to make your kid happy right?
Sleepy Time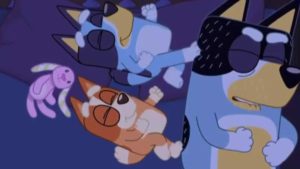 Sharing a bed with your child always seems nice in principle, but you'll quickly find yourself fighting for the blanket… and space… and your entire bed. The same goes for The Heeler's. At bedtime, Bingo is determined to sleep for the whole night in her own bed. After reading a story about outer space, Bingo is propelled into an intergalactic dreamscape. While this is happening, Bluey asks her mom for a glass of water to help her fall asleep. When Chilli returns, Bluey is sleeping in her spot. Chilli has to sleep in Bluey's bed and somehow Bingo finds herself in bed with Bandit and Bluey. Sharing a bed with their dad, Bluey and Bingo believe they're running through space when in reality they're kicking the absolute crap out of their father. After enduring the beatdown, he finds himself sleeping on the floor using a slipper as a pillow and his underpants as a blanket. Can't say I've used my underpants as a blanket, but I've come close.
Rug Island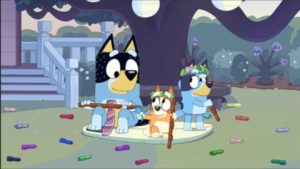 In this episode, Bandit learns how to be a kid again. This is something we should all try to do, especially when we have kids of our own. Bluey and Bingo set up the imaginative "Rug Island" in the backyard, repurposing their play mat and felt-tip pens, pretending they're bananas or a campfire. While adults are not typically allowed on the island, Bandit (who should be off to work) suddenly finds himself in this imaginative world with the girls. He is tempted to stay and rediscover his inner child, as he learns about the routines and customs of the land. Bandit ends up, unfortunately, having to leave Rug Island to go to work, but Bingo gives him a "present" which is just a yellow pen. In their imaginary world though, it could be so much more. When Chilli asks what Bingo gave him, Bandit replies with "Everything."
Cafe
As a parent, it can always feel pretty awkward when meeting other parents. When your children start to play with other children, you almost feel obliged to talk to their parents. In the case of this episode, Bluey makes a new friend at the park. Bluey immediately wants to invite Winnie and her dad Fido over for breakfast, but Bandit wants to take things slow. That's the thing with kids, they'll just make new friends right away and they're best friends for life and they want to hang out every day. As you get older, you make friends at your own pace. After multiple hangouts at the park, Bluey and Bandit are excited to see Winnie and Fido, but they aren't there. Bandit and Bluey are a little bummed out because they were looking forward to hanging out with them, so they decide to leave, but Winnie and Fido were running late and they bump into each other on the way out. So excited to see one another, Bandit decides to go outside of his comfort zone for his daughter and invites Fido and Winnie over to their house for breakfast.
Bin Night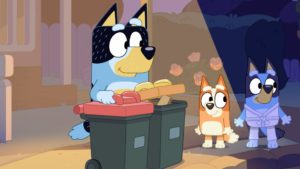 This episode is light-on story, but it is extremely relatable. Each garbage night, Bandit, Bluey, & Bingo take the bins to the curb. Bandit is able to catch up on daily events with his daughters, and he even encourages them to help out their neighbor with her bins too. It's just a wholesome dad episode. I always ask my kids to help me take out the trash, and just like Bandit and his girls, I get to catch up on all the latest happenings in the world of TikTok.
Burger Shop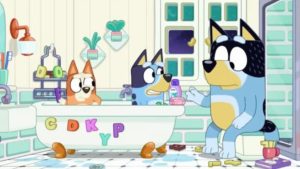 After reading a parenting book, Bandit decides to allow his children to make their own decisions. It's a fun and absolutely terrible idea. Bluey and Bingo want to play Burger Shop while in the bathtub, and he gently encourages them to finish their game and go to bed. Ultimately, Bandit realizes that a more authoritarian approach sometimes is required to make the children listen. You can't be the fun dad all the time.
Duck Cake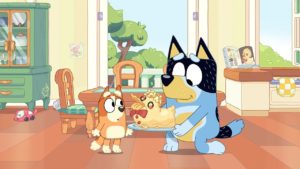 Trying to get my kids to clean up is a nightmare. If I'm feeling a little too relaxed and want to burn myself out and feel exhausted, I just ask my kids to clean. It stresses me out every time. In "Duck Cake", Bandit sets out to prepare a famous duck cake for Bingo's birthday, which proves to be more difficult than he anticipated. Concurrently, he implores Bluey to clean up her toys, but she struggles to find the motivation to do so. When she sees her father become dispirited while baking, Bluey begins to understand the value of assisting others. It actually works so well, that Bluey cleans up her mess and Bingo's mess. She also proceeds to go on a cleaning spree. Nice one Dad. I wish it was that easy with my kids.
Octopus
This episode is all about inspiring other dads to try something and make it their own. Chloe is exhilarated while playing a game called "Octopus" at Bluey's house. She tries to replicate the experience at home with her own father but becomes disheartened when her father struggles to play the game with the same zest as Bluey's father. This leads Chloe's father to research the octopus, which helps the duo to improvise and reinvent the activity in their own way. Instead of bringing each other down, we can inspire other dads with our actions. Bandit has definitely made an impression on me after watching the show.
Grandad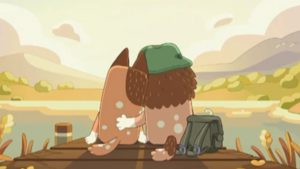 Okay, this last one is more geared towards Chilli and her relationship with her father. Bandit isn't in this episode, but the reason I'm putting it here is that it's just a great dad-centric episode. I have a daughter and this hit real hard. Chili, Bluey & Bingo are off to visit their Grandpa, but he's just had heart surgery and should be recovering. Instead, they arrive at his house and he's trying to shovel a tree stump out of the ground. Grandpa and the girls run off and Chilli chases after them, saying he needs to rest. Dads can be pretty stubborn. In the end, Chilli finally catches up to them and relaxes on the dock while the girls swim in the lake. Chilli talks about how they used to swim in the lake together. Chili says it was forever ago, but her father says it feels like yesterday and a time-lapse takes them back to where she is just a little girl sitting beside her dad on the dock.