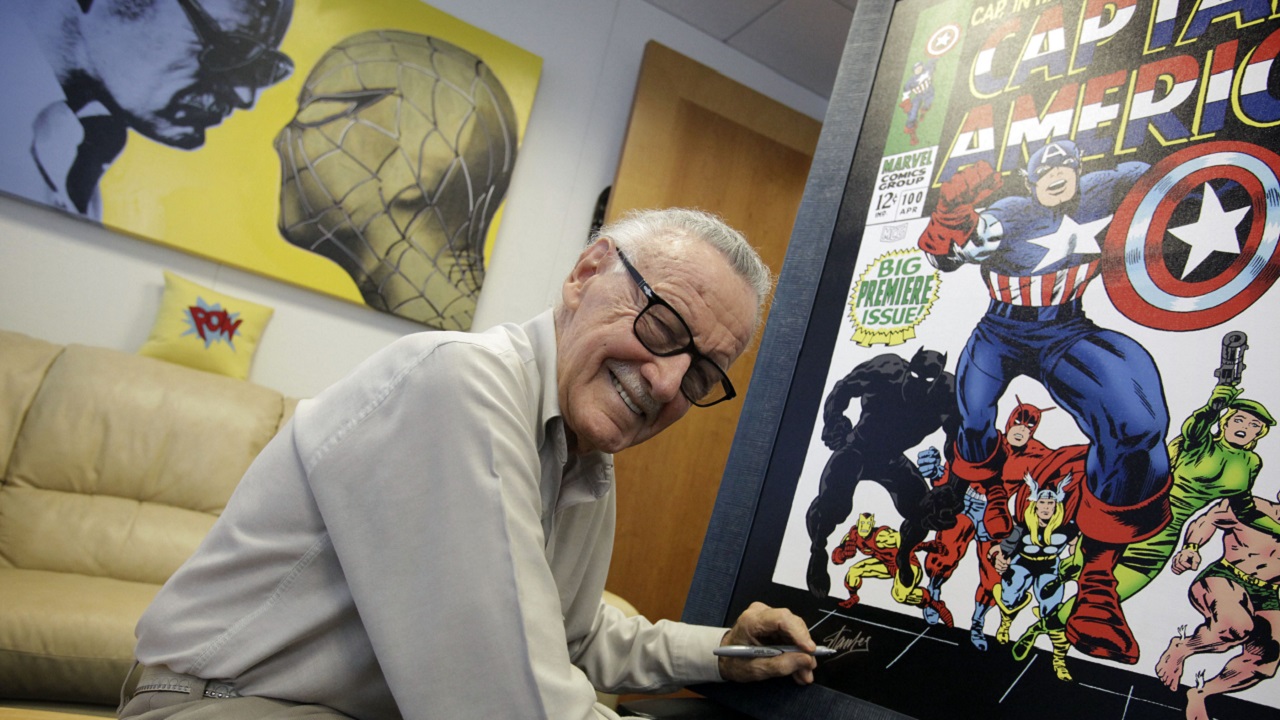 Credit: Getty Images/Barbara Davidson
The end of December is typically reserved for the celebration of a great man's birthday, a man who has had an enormous impact on the world. The 25th may be Jesus's birthday, and joy to the world, but December 28th is Stan Lee's birthday and Excelsior!
The man who created Marvel comics, including dozens of characters who have become household names, was born 98 years ago. Sadly, he passed away before he could reach his nearly-100th birthday, but his legacy is stronger than ever, especially now that the Marvel Cinematic Universe dominates popular culture (including streaming!)
Yesterday, people across social media made sure that while Stan Lee may be gone, he is far from forgotten. Tributes poured in across Twitter.
From the official Stan Lee Twitter account:
Today we celebrate what would have been Stan's 98th birthday. Stan meant so much to his fans around the world & his fans meant a lot to him, too. We'd like to fill this post with wonderful memories of The Man, so please share your favorite Stan moments below. Excelsior!#StanLee pic.twitter.com/6y7bDW5pug

— Stan Lee (@TheRealStanLee) December 28, 2020
From Iron Man himself:
View this post on Instagram
Various and pop culture sites:
Today would have been Stan Lee's 98th birthday, a man whose creations & legacy will have a impact on the world forever.

"Comics are stories; they're like novels or anything else. So the first thing you have to do is become a good storyteller." pic.twitter.com/Xln8yjVPd7

— DiscussingFilm (@DiscussingFilm) December 28, 2020
Stan Lee would've turned 98 today ❤️

In honor, here are all his MCU cameos
pic.twitter.com/wCmpF5afNf

— Culture Crave 🍿 (@CultureCrave) December 29, 2020
From newsmen praising Lee's positive influence on the youth:
In the late 1960s, Stan Lee devoted space in his comic books to condemning racism, intolerance, hatred — knowing it would be read by kids. Fueling hope for the future. That's a legacy.

Born today in 1922. 💯@TheRealStanLee @MarvelStudios pic.twitter.com/cSukoWIP9F

— Carl Quintanilla (@carlquintanilla) December 28, 2020
To other famous creatives who were influenced by the man's work:
In a far better universe than ours, @TheRealStanLee would've turned 98 today. What an impact this creative icon had on pop culture! His imagination made our world a better place to live. (This is a pic from the first day I ever met The Man on the set of Mallrats, March 15, 1995.) pic.twitter.com/CoJ9tMTd35

— KevinSmith (@ThatKevinSmith) December 28, 2020
Remembering @TheRealStanLee on his birthday ❤️❤️❤️ pic.twitter.com/R7wHw0mWYy

— BossLogic (@Bosslogic) December 28, 2020
Happy Birthday to the legend himself, Stan Lee! You are loved and missed by the many people whose lives you touched with your work, and your kindness and inspiration will live on for generations to come.pic.twitter.com/qY5XIgOYqc

— Black Eyed Peas (@bep) December 28, 2020
And fans like us:
Happy Birthday to the late #StanLee

We miss you, sir. pic.twitter.com/PN5Nx2PIZS

— Clark Gregg University (@ClarkGreggU) December 28, 2020
I'm somewhat astonished at the questions Google says people want answered about Stan Lee. pic.twitter.com/LVzCipqmFP

— Scott Edelman (@scottedelman) December 29, 2020
Whether you were a hardcore comic book nerd or someone who just watched the movies, you were familiar with Spider-Man and the Fantastic Four and the Hulk and dozens of other famous and less well-known characters that lee and his company created. Comic books have become a major source for most modern entertainment, and Lee is one of the reasons.
He didn't quite make it to 100, but his work will live forever.