Boy with Cerebral Palsy Completes Marathon, Raises Over 50k for Charity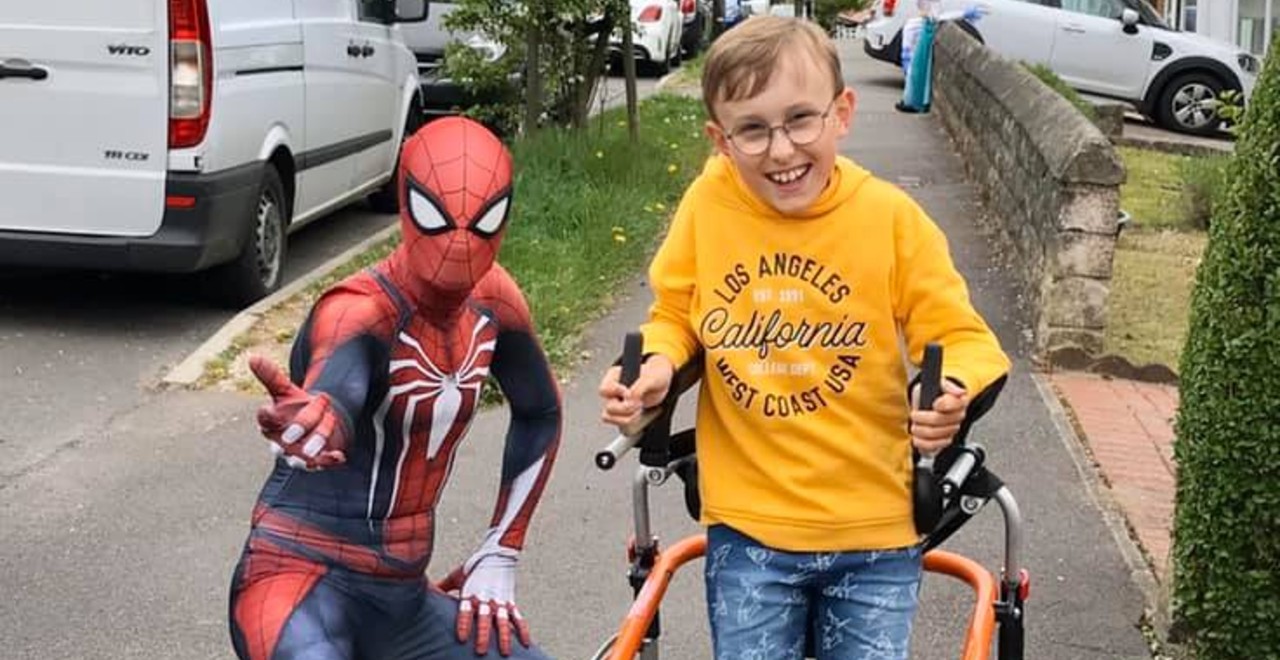 Getting any kind of physical activity during quarantine is a struggle. Maybe you made the mistake of building everyone in your family a kickass Millennium Falcon bed and nobody has gotten up in weeks. At this point, even the couch I got at Goodwill feels safer than dealing with all of the unknowns happening in the world. Some people are turning to video games to stay fit inside, but not everyone has the money for expensive gaming consoles. 9-Year-Old Tobias Weller from Sheffield, England proved that all you need to get moving is your own body, and in his case, his trusty walker.
Tobias Weller has cerebral palsy, a congenital disorder that can cause weakness, stiffness, involuntary movements, and problems with posture. Symptoms vary from person to person, but in Tobias's case, it meant that before quarantine began he was unable to walk more than 50 meters a day with the assistance of his walking frame. Early on in quarantine, Tobias saw news of Tom Moore, a 100-year-old WWII veteran who set out to raise money for COVID relief by walking laps around his home. This absolute beast of a man blew his $1,200 goal out of the freaking water and raised nearly $40 million dollars to date. Tobias watched "Captain" Tom Moore, slowly, carefully, holding onto his walker, putting one foot in front of the other as he circled his garden. Tobias looked down at his own walker and had an idea. If this man can do it, why can't I?
So he did.
Every single day, Tobias began to walk. 50 meters at first, and then a bit more. Tobias walked through the pouring rain, powerful winds, and if he got lucky, a bit of sunshine. Initially, Tobias planned to walk 1 km, a truly lofty goal when your daily limit is supposedly 1/20th of that. Much like his hero Captain Tom, though, Tobias blew his goals out of the freaking water. Not only did Tobias end up walking up to 750 meters a day, but he also completed a whole. Dang. Marathon. 26 miles since he began his journey on March 21st. Friends, neighbors and even local police came to cheer for Tobias on his daily walks, beaming with pride at his determination.
Tobias stated during his appearance on This Morning, "I love it when I walk up and down my street every day because my neighbors come out and cheer for me – some of them even say, 'We salute you, Tobias,'".
Tobias's campaign has raised over $50,000 so far for his chosen charities, Paces School where he attends classes, and Sheffield Children's Hospital. Tobias has proven to us that all you really need to accomplish your goals is the willingness to put in the work, and the determination to keep pushing when things feel insurmountable.
We salute you, Captain Tobias.