Man Takes His 95-Year-Old WWII Veteran Grandpa on RV Trip of a Lifetime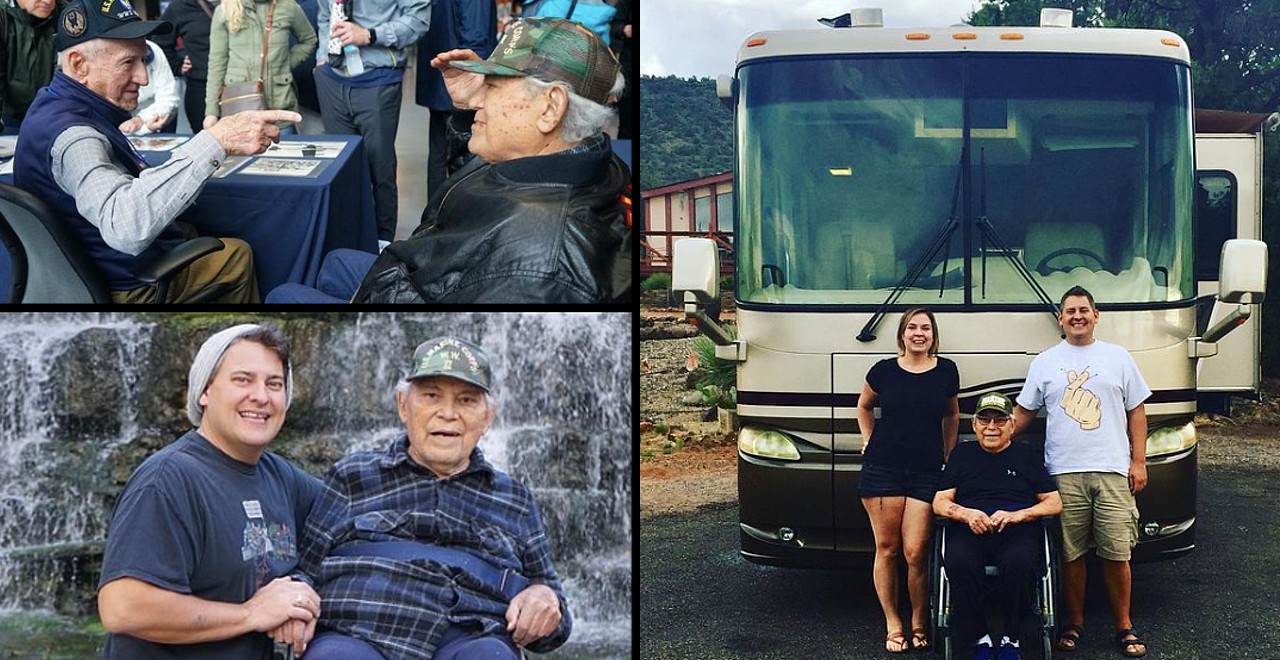 Getting old isn't for sissies, according to my grandma. Your body doesn't work quite as well as it used to, kids these days seem to be speaking a completely new language – it's a lot to handle after a lifetime of effort. For 95-year-old Johnnie Dimas, a WWII veteran, getting older also came with significant loss. He lost his wife of 67 years, and if that wasn't enough, he lost his full-time caregiver. With his caregiver, Dimas could continue living at home and maintaining a certain level of independence. Without a caregiver, Dimas's future was unclear.
Losing your independence is one of the most underrated challenges of aging. Dimas and his wife swore they'd never enter a nursing home, but with his wife and caregiver gone, the elderly veteran's options were limited. Dimas's grandson, Roger Gilbert, knew his grandpa wouldn't thrive in an elderly care facility. Gilbert took things into his own hands, moving his grandpa from Illinois to Arizona two years ago to live with him and his wife Jo.
For most, aging means having fewer opportunities to explore and experience all that life has to offer. But for Dimas, thanks to his grandson, his age and circumstances meant that there was no better time than the present. Dimas, or Grandpa Johnnie, had a bucket list of places he hoped to see one day. Last October, Gilbert, Jo, and Grandpa Johnnie, embarked on the RV trip of a lifetime to turn the bucket list into a reality.
View this post on Instagram
The trio documented their journey on Instagram, sharing photos of memories that would last a lifetime.
"We know this won't be easy, but nothing worthwhile is easy. And we know this adventure is worthwhile!" the crew shared in an Instagram post. And with that, they were off.
View this post on Instagram
They visited national parks, Mardi Gras festivities, Las Vegas, and several WWII museums along the way. At The National WWII Museum in New Orleans, Grandpa Johnnie even met a fellow WWII veteran. Dimas struggled with severe PTSD after enlisting in the U.S, Marines at age 17, and was treated with shock therapy at a V.A. hospital after returning to the United States. Though he went on to live a full life, the trauma of his experience never fully left him.
View this post on Instagram
"I think it was deeply cathartic for Grandpa to be able to process everything that had happened at such a young age," Jo told Good News Network. "It was such an honor to see how people respected his service in WWII, and how fascinated they were by him and his stories. As we walked down the street people would stop Grandpa, shake his hand and thank him for his service. They didn't often stop long enough to see how Johnnie would always well up with emotion and gratitude for their kind words, it touched him so deeply every time."
View this post on Instagram
On the Sweet Mary Bus named for Grandpa Johnnie's late wife, the trio explored. They laughed, learned, grew, and filled their days with love. On August 16th of this year, at age 96, Grandpa Johnnie passed away. Rather than spend his final days in a nursing home, Grandpa Johnnie spent them living his life to the fullest. And it was all thanks to Roger, Jo, and his Sweet Mary.