Bud Light Adds Nutritional Info to Packaging. It's Basically Zero.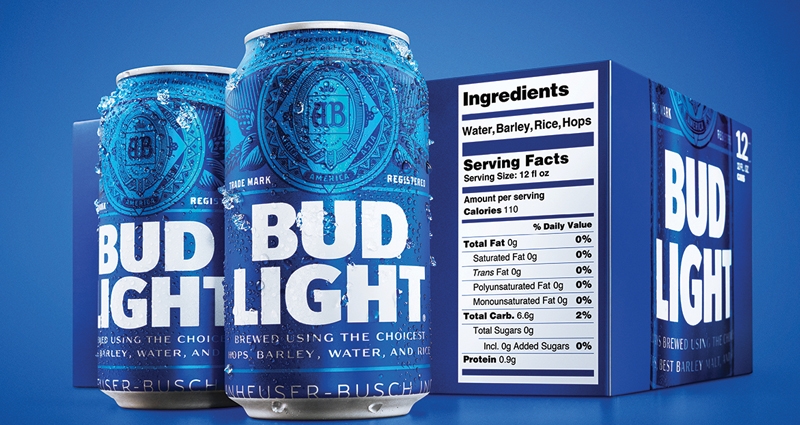 Nobody drinks beer for its nutritional value. If they did, Dry January wouldn't be trending. No, we drink beer because it tastes delicious and maybe gives us a little relief from a long day, or is a refreshing accompaniment to our buffalo wings. Of course, it's not a terrible thing if it limits the damage to our dad bods. Bud Light is hoping to convince you that theirs does, by putting the numbers front and center.
But it's a double-edged sword, and while no one thinks beer is the new kale, the brand may have inadvertently put a finer point on beer's total lack of nutritional value with the latest addition to their packaging, but they have a plan. They want consumers to be aware of the lack of calories and carbohydrates, hoping it will make the brand stand-out in the increasingly competitive beer aisle.
Here by an absolute lack of popular demand – seriously, the last thing I need to know as I shotgun my fourth beer outside the stadium is how much protein I'm not getting, Bud Light has added a nutritional information chart to their cartons, letting drinkers know exactly what they are (rice, water, barley, hops) and aren't getting (a lot of calories). They are the first beer in the U.S. to do so.
"Consumers deserve to know more about their beer," said Andy Goeler, Bud Light's vice president of marketing, in a statement. "On-pack transparency will benefit the entire beer category."
To be fair, most of this information is already available on individual cans and bottles of Bud Light, but now people who buy cartons will know exactly what they're getting when they pull the case of the shelf. What are they getting? A beer facing dwindling sales and stiff competition from craft breweries and is attempting to regain some momentum by emphasizing its lack of calories and carbohydrates.
A Bud Light gives drinkers zero grams of fat, 6 carbohydrates, .9 grams of protein, and 110 calories. If any of those numbers is either too high or too low, you can shuffle on down the aisle. Maybe there's a CBD-infused beer you can snag.