Build-A-Bear Has a few Bad Ass Bears Dads Can Get Their Claws Into
I'm not gonna lie to you: I don't really know what Build-a-Bear is.
I suppose the name is pretty self-explanatory, but as I understand it (after copious research), it's a store where you choose a stuffed bear and then customize it with a different outfit and accessory before claiming it. I grew up loving stuffed animals (DON'T JUDGE ME!) but my oldest son couldn't care less, and my youngest has plenty already, so we never dove into the Build-a-Bear phenomenon.
Of course, if they'd been making comic-book based versions when my 9-year-old was a few years younger, I'd have 20 by now!
The popular brand recently added adamantium to their customization options with the release of a Wolverine Build-a-Bear! The little bear comes dressed in the X-Men's signature blue-and-yellow outfit, and the adorable guy even has his claws out. Don't worry, they're plush, not sharp. The only things missing are his sideburns (he's a bear, his whole body is sideburns) and his cigar (perhaps out of deference to his cousin Smokey the Bear).
The official description of the $35 dollar stuffed bear reads: "The gruff and brooding Wolverine is ready to claw his way into your collection! This no-nonsense furry friend is ready to fight any opponent who crosses his path with his built-in costume and lethal soft claws. Plus, his epic Wolverine paw pad makes this bear a must-have for collectors. Start a legendary new friendship with Wolverine and add this unstoppable mutant to your collection today!"
Wolverine joins a Deadpool version – just who are these stuffed bears for?!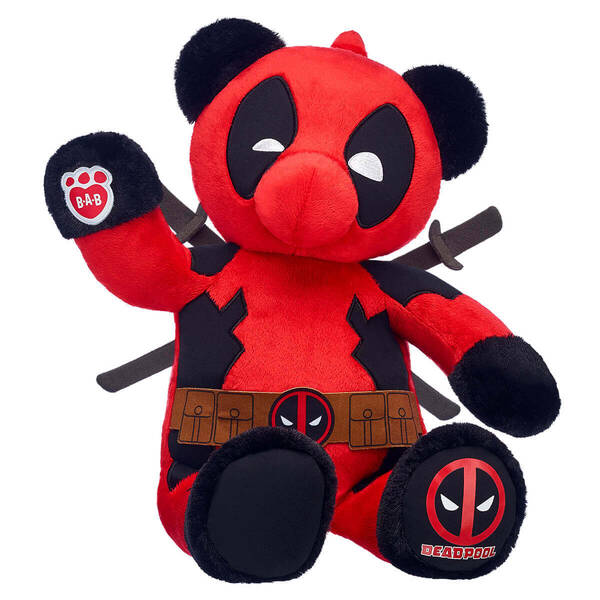 There's also a popular collection of Avengers-based bears. Thor, Captain America, and Iron Man were created as collector's items and added to the company's stable last year. Tony Stark even referenced Build-a-Bear in Endgame in the form of a dismissive dig at Rocket Raccoon ("'I thought you were Build-A-Bear.'").
Now that the X-Men may soon be joining the MCU, I wonder if Wolverine's mutant friends will soon be getting the stuffed-bear treatment.
I'm dying to see how they turn Beast into a bear.