Bus Drivers Give a Unique Congratulations to the Class of 2020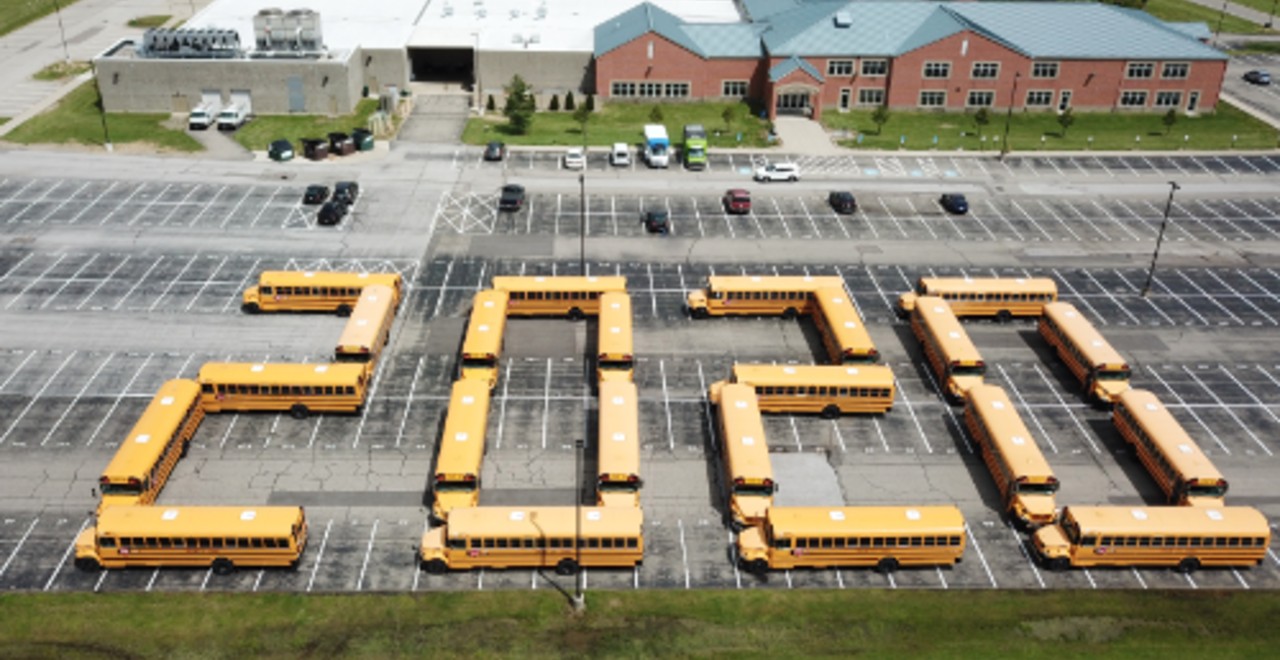 This year's graduates have not had it easy. Spending their final months of school away from friends, missing out on irreplaceable milestones like prom and graduation, honestly, it sucks. People around the world are trying to find safe and memorable ways to give graduating seniors some kind of silver lining. John Krasinski hosted a virtual graduation for seniors, which had the additional benefit of eliminating the fear of tripping on stage while accepting your diploma. This crafty dad built an entire graduation stage to give his daughter the graduation she dreamed of (well, close enough). Now, bus drivers for the Loveland City school district in Ohio have come up with their own creative way to celebrate their driven, hard-working seniors.
The incredible result was shared in a viral video, congratulating the 392 graduating seniors. It's a simple idea, really – you can do it at home to celebrate your own graduate. All you need is a drone, seven drivers, 3 ½ hours, 22 school buses, and Lisa Moorhead to coordinate.
Moorehead has been driving buses for 23 years and has witnessed firsthand year after year the bustling excitement that surrounds high school graduation. Moorehead had taken these seniors to school every single day, through difficult times and incredible successes.
Moorehead told Today, "We didn't have our last days with any of the kids in district," she said. "We thought (school closing) was going to be three weeks, but it turned out to be the rest of the year. As bus drivers, we bond with our kids. We're the first ones they see in the morning and the last ones before they go home."
She knew she had to honor their hard work somehow. With a little help from her friends, Moorehead was able to give the Loveland City school district seniors an incredible surprise. The crew of dedicated drivers worked for hours to complete the tribute to the graduating class, aligning their buses to spell out an enormous "2020". They weren't sure they had done it correctly until the art teacher sent up a drone to check their work.
"To us down on the ground, it looked like a maze," Moorehead explained. "When Jim Barrett … took (the drone) up, there were tears and screams. We were so excited we'd done it."
We see you, Loveland City school district bus drivers. Thank you for going extra mile for your students.