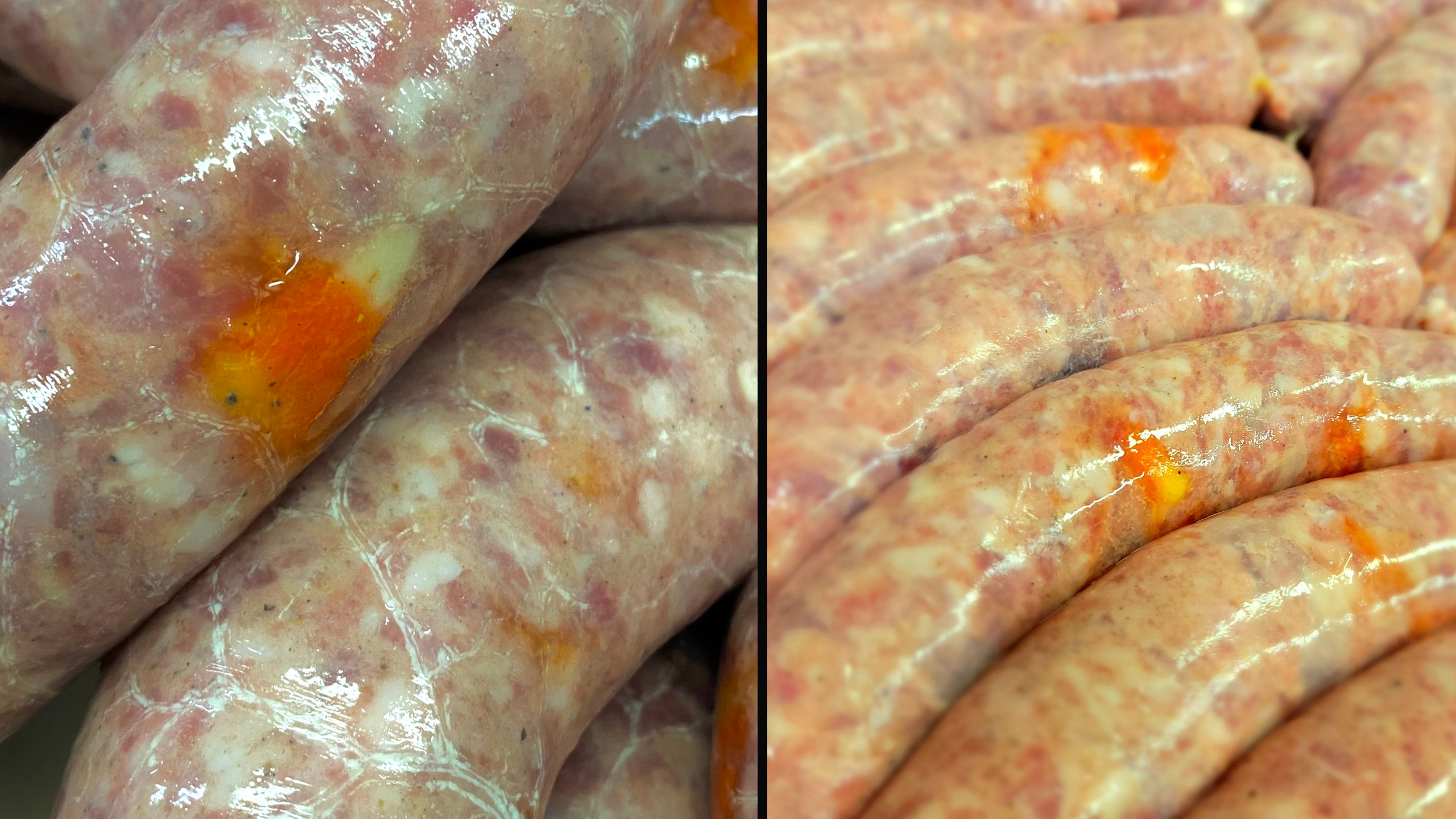 Credit: Twitter/jeniferstmarket
Fall comes with a bunch of fun seasonal treats, even beyond the pumpkin spice everything. But Jenifer St. Market in Wisonsin has taken this to a completely new level with their latest offering, candy corn bratwursts. Apparently, somehow, it's actually pretty good.
Look, it makes sense to be apprehensive. Any time you take perfectly delicious grilling meats and add hard candy, a heinous result is to be expected. But according to The TODAY Show, the market has been selling these Halloween brats twice as fast as the regular variety their butchers produce.
"Spook"Toberfest brats new today. Made with Lake Louie Brewing Oktoberfest & candy corn. Slightly sweet & not scary at all! pic.twitter.com/oOLkkM63tm

— Jenifer St. Market (@jeniferstmarket) October 7, 2021
One of the butchers behind the insanity told the morning show it's "just your traditional brat" until it's not. The seasonal flavor comes from two Halloween staples: "We use an Oktoberfest beer in there, so there's that caramel sweetness. We usually make the traditional brat, and we thought to change it up with candy corn."
He reasoned some people like it because the sausage casing keeps the candy fairly intact. And as crazy as the "Spook-Tober" special sounds, it is drawing rave reviews from Wisconsin residents. And say what you want about the upper Midwest, but the people up there know their way around a brat.
Honestly this was delicious. https://t.co/URWYoZO1Fy

— Isabel Lawrence (@Isabel_NBC15) October 8, 2021
CANDY CORN 🎃
+ BEER 🍺
+ BRAT MEAT 🌭
= WISCONSIN🐄

Don't @ me.

You should trust me though…@jeniferstmarket is doing it right!@lakelouiebeers pic.twitter.com/WXjivT4yrG

— Tim Elliott NBC15 (@TheTimReport) October 8, 2021
It goes against everything I believe in, but I would place my faith in Wisconsin butchers. I would eat the candy corn brat. Let's hope it stops there, though. We don't need peppermint hot dogs or caramel kebabs. A seasonal treat is one thing, but we can't go down a path that leads to spitting out Nerds after a bite of a burger.