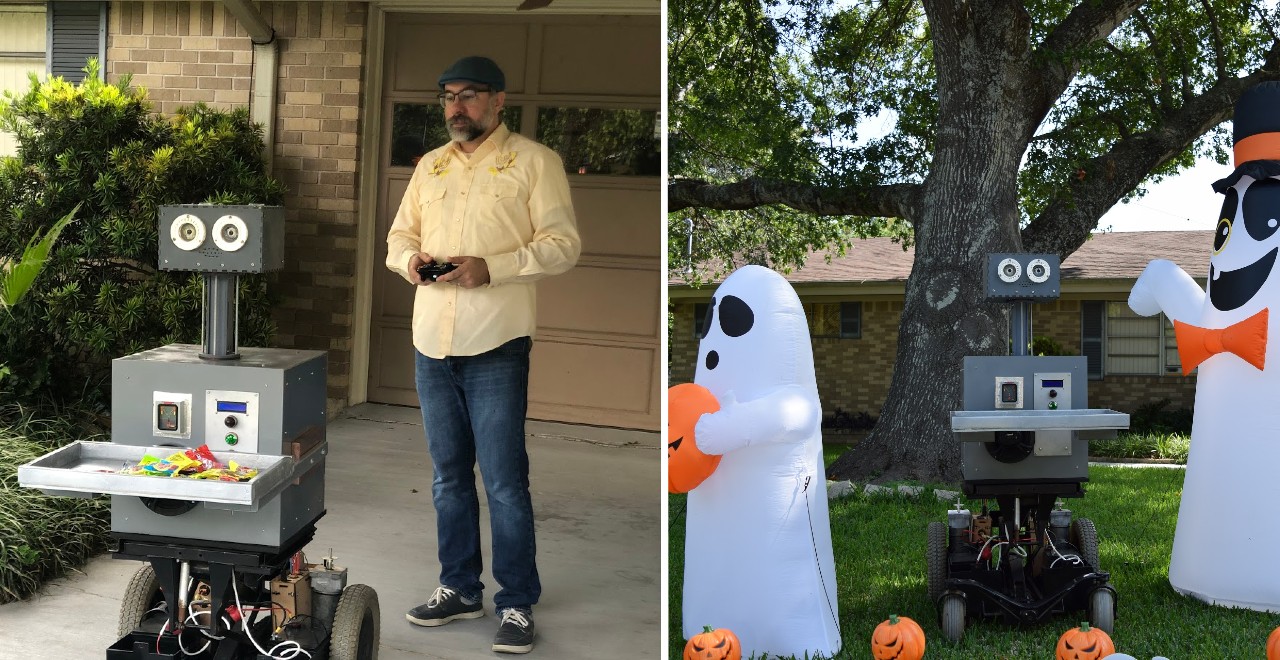 Credit: Courtesy Luke Keyes
Halloween will be different this year, but it doesn't have to mean canceling trick-or-treating. It just means trying a little harder sometimes, or being a little more creative. Exhibit A, a man in Austin who has perfected a way to hand out candy and maintain social distance, with the help of his robot.
Halloween is a great holiday for kids, and dads usually go hard to make it special (and take their cut of the candy).
Luke Keyes, a software engineer, said he and his wife really love Halloween. Every year they run a "Haunted Science Lab" in their garage, which has become a neighborhood hit. So much so that kids had already been asking the couple about the 2020 version. But then COVID, so Luke got creative.
"We were torn because we knew someone who died of COVID early on, and I have allergy-induced asthma," he told The Dad, "but we love Halloween and love seeing how our haunted garage helps bring the neighborhood together." He said he came up with a "candy cannon" that shot out candy like confetti but didn't think that would be a practical solution to the holiday (although he did use it as his wedding and to entertain neighborhood kids at other community events).
Then he arrived at a solution. Enter Artie, his robot. Keyes has been working on his robot for several years (as an 80s kid, he said he was inspired by the many robots in movies), and takes him to STEM events around town, so he's seen how kids will interact with it. He figured out he could adjust his height, make him look friendly, and drive him around to kids' houses in the neighborhood to deliver candy. The neighborhood is even talking about possibly having a Halloween parade, with Artie as the grand marshall and other neighbors following to throw candy out to kids at their driveways.
Ultimately, Keyes said he hopes people can find creative ways to celebrate in their own community, even if they don't have an Artie at the ready.
The Keyes family also created Arty! He is a remote-controlled robot they plan to use to deliver candy to trick-or-treaters. 👻 @kvue

The Keyes family said they can't turn their garage into a hunted house because of safety precautions but with Arty, they can still spread joy. pic.twitter.com/vgQv0JupKr

— Daranesha Herron (@Daraneshatv) September 26, 2020
"I just want to make this year memorable for all the kids in a good way, and I'm glad I can use Artie to do that," he said. "To me, Halloween is even better than Christmas. With Christmas, you give gifts to friends and family. With Halloween, you give gifts to everyone."
And don't worry, when it comes to candy, Keyes and Artie are giving out the good stuff.