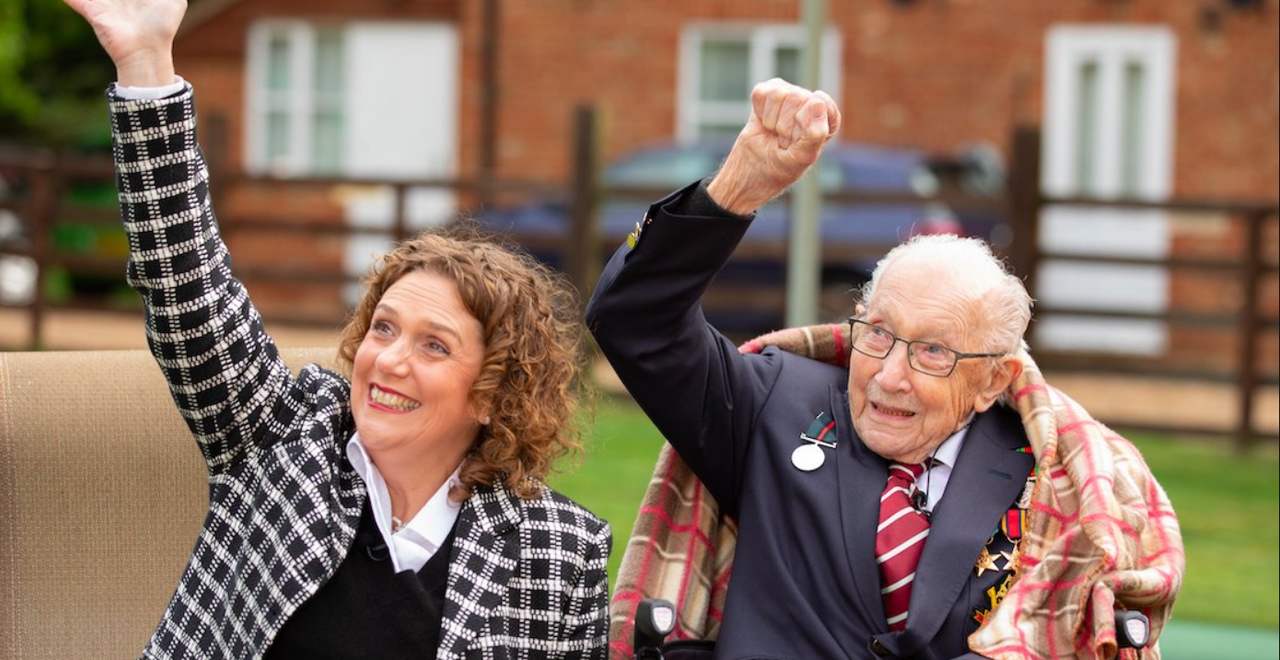 Credit: Twitter/captaintommoore
When COVID struck, one WWII vet wanted to help in any way he could, so he started walking in his garden. Like, a lot. So much that it inspired a nation, millions around the globe, and raised a ton of money for healthcare workers. Captain Tom become a legend for his overwhelming fundraising efforts earlier in the pandemic (those four words feel weird to string together, but here we are).
He began fighting COVID by walking in his garden, and now the fight is much more personal, as Captain Tom has been diagnosed with COVID-19 and is currently hospitalized in the U.K. His daughter announced the news on social media over the weekend. He had been struggling with pneumonia before his diagnosis and was admitted to the hospital after he had trouble breathing.
— Captain Tom Moore (@captaintommoore) January 31, 2021
Since then, well wishes have been pouring in for the inspirational veteran.
Tom Moore, the 100-year-old British Army veteran who helped raise $40 million for the National Health Service earlier in the pandemic, was hospitalized with the coronavirus on Sunday, his daughter said. https://t.co/7zgqqKy3H3

— The New York Times (@nytimes) January 31, 2021
Sending my prayers and best wishes to Sir Captain Tom Moore and his family for a speedy recovery. 🙏🏼🙏🏼🙏🏼 🙏🏼🎖🎖🎖🎖 pic.twitter.com/TFkCBEahcZ

— John Lawrence (@JohnLaw95) January 31, 2021
Come on Captain Tom 🤞🏻🤞🏻🤞🏻 https://t.co/K5dami7OsG

— Dan Walker (@mrdanwalker) January 31, 2021
Captain Tom has conquered so many battles during his incredible life. I hope this is just one more. Sending 💪💪💪 https://t.co/vuX3Vsdayt

— Dan Wootton (@danwootton) January 31, 2021
Super heroes don't lose… keep going #CaptainTom … get well soon from everyone at the #runningfoxes pic.twitter.com/SMh1l1R8J5

— Sean Jarvis (@SeanMJarvis) February 1, 2021
A message to Captain Sir Tom Moore from the fellow centenarian who did laps of his garden during lockdown

Dabirul Islam Choudhury's son Atique asked me to share this video of him in the hope his family hears it pic.twitter.com/EsxPdW1tdw

— Anja Popp (@Anja_Popp) January 31, 2021
We'd like to send Captain Sir Tom Moore our wishes for a speedy recover. We are thinking of you and your family during this time and hope you get well soon Captain Tom. pic.twitter.com/RIpNfTL9eq

— Combat Stress (@CombatStress) February 1, 2021
View this post on Instagram
View this post on Instagram
View this post on Instagram
Captain Tom raised more than $40 million for healthcare workers during his fundraising laps around his garden and was knighted by the queen for his efforts.