Dad Builds DIY Cardboard Tetris Game For His Daughter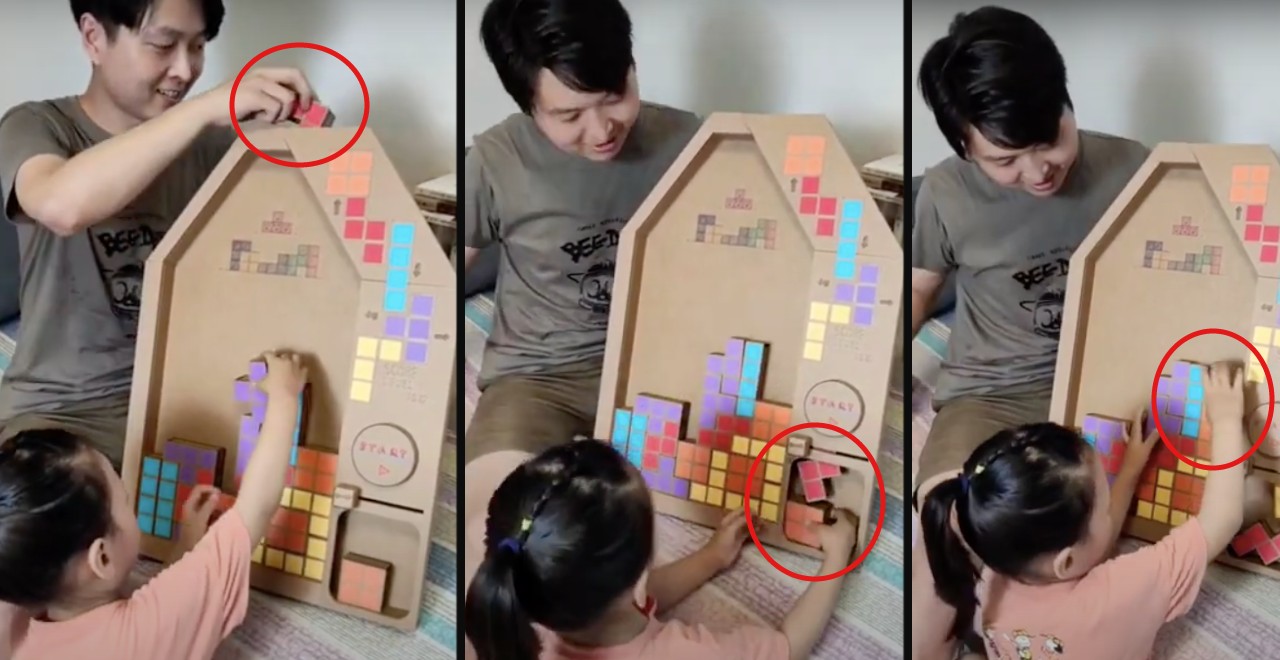 What's your favorite way to play video games? Are you a PC gamer, or do you use a console like Xbox? If you're anything like this dad from China's Henan province, your favorite way to play classic games uses a different kind of box – cardboard, specifically. A video posted on Twitter in early July shows a dad playing a very unconventional game of Tetris, one where zero screens are involved. The board and game pieces are made entirely of cardboard, and the whole thing is hand-made by this talented dad. In the video, we see this smiling dad drop a game piece into a slot behind the game board. The piece then appears in a small opening at the bottom of the board, at which point the surprisingly focused little girl retrieves it and fits it in among the pieces she's already placed.
Tetris de cartón ❤️ pic.twitter.com/Ei9sOBuNcl

— Becario en Hoth (@becarioenhoth) July 1, 2020
This real-life Tetris game is slightly different from the original version, you know, aside from the fact that it's 3D and extremely energy efficient. The lines on the board don't disappear once completed, but instead, the goal of the game is to fill up the entire board without any spaces. As if this amazingly simple yet fascinating Tetris game isn't enough, this creative dad has also built tons of other games for his daughter to play. He built a maze game, a marble obstacle course, a toy bank, and countless others.
In a YouTube video from the South China Morning Post that showcases many of this innovative DIY dad's inventions, he explains that he did it in part so that kids would be less reliant on technology. The games are inexpensive to make but extremely time-consuming. Some of the more complex pieces can take half a month to complete. He explains that his crafty games have helped his daughter with concentration, and she has even started coming up with her own ideas for games the adorable pair could create.
"My goal is to turn this into a career, to improve it," the gaming dad said in his Youtube video. "More parents, those who love DIY, or those who don't have time to be with their kids can be influenced by the toys in some ways, to spend more time with their children."
See more of this crafty dad's inventions in the video below, and think about what potential games you may have laying around the house, just waiting to be built.