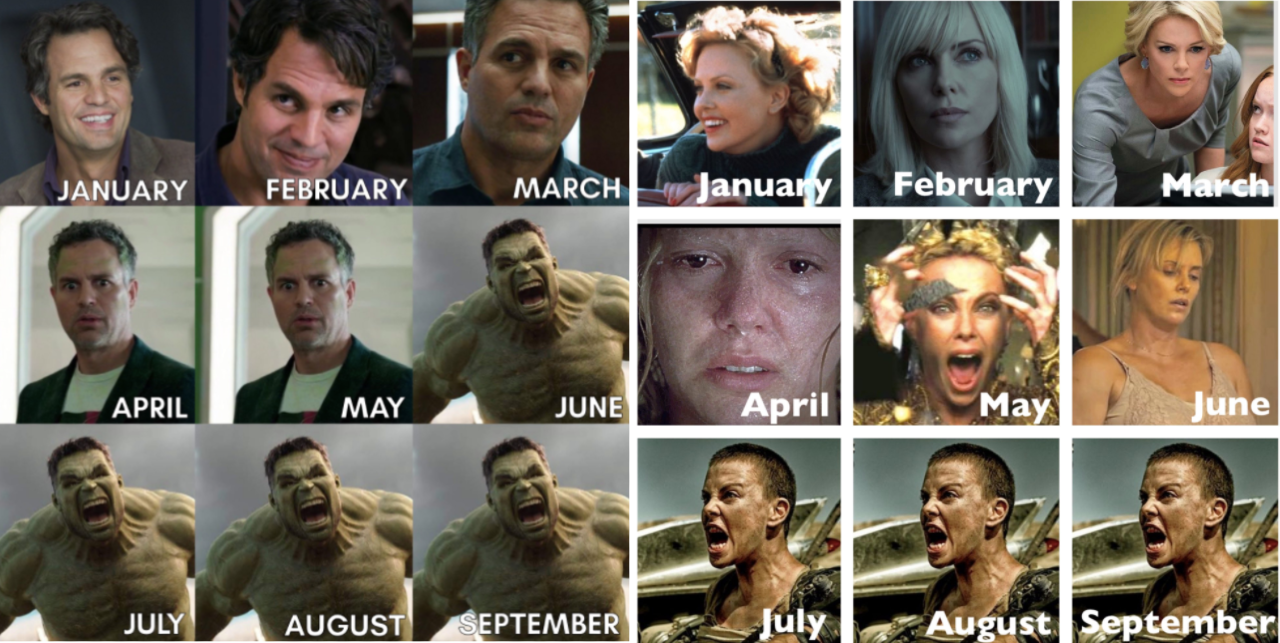 Credit: Twitter/CharlizeAfrica, MarkRuffalo
2020 has been a lot to take. From pandemics to murder hornets, there has been no shortage of unwelcome excitement this year. We're adjusting to a whole new reality, and a lot of us are having trouble sorting out how we've been feeling throughout this ordeal. Fortunately, Twitter has our back. Reminiscent of the classic "How are you feeling today?" charts that can be found hanging on the wall of any social worker's office, Twitter users have been summarizing each month of 2020 using a single celebrity snapshot.
As we know, things haven't exactly been getting better between one month and the next, so between January and September (apparently there are no predictions of a miraculous golden month in the midst of this mess), we see our favorite celebrities emote accordingly. Some of these charts were created and shared by Twitter users, while others were shared by the celebrities themselves.
Here are some of the most painfully relatable 2020 month-by-month reviews shared by celebrities.
Mindy Kaling looked ready for anything in January, and then…well, you know
Pretty much. Inspired by @ReeseW pic.twitter.com/u7E2qo4RkK

— Mindy Kaling (@mindykaling) August 4, 2020
Reese Witherspoon's wide-eyed wonder turned quickly to dazed horror
Yup. pic.twitter.com/NdZhH3bxdt

— Reese Witherspoon (@ReeseW) August 4, 2020
Kerry Washington's calm confidence faded into the abyss
.@ReeseW @mindykaling…SAME pic.twitter.com/P8RddrG1Py

— kerry washington (@kerrywashington) August 4, 2020
Charlize Theron got Mad
.@ReeseW I feel you on #2020 girl… pic.twitter.com/Li71CfdTLW

— Charlize Theron (@CharlizeAfrica) August 6, 2020
Zooey Deschanel is quietly over it
2020! What a time! Inspired by @ReeseW @mindykaling @kerrywashington @HannahSimone pic.twitter.com/P6lEdG8z5q

— zooey deschanel (@ZooeyDeschanel) August 5, 2020
Billy Ray Cyrus gave up around March 32nd
Thanks for the inspiration @ReeseW! 2020 #WhatToHeck pic.twitter.com/LvM3WvWxP4

— Billy Ray Cyrus (@billyraycyrus) August 5, 2020
Mark Ruffalo made a surprisingly relatable transformation
#2020 🗓
Inspired by @ReeseW pic.twitter.com/uHxelycyVH

— Mark Ruffalo (@MarkRuffalo) August 5, 2020
And of course, The Hunger Games knows exactly how we feel.
i volunteer as tribute to leave 2020 pic.twitter.com/VJXYXPm4IK

— The Hunger Games 🔥 (@TheHungerGames) August 5, 2020