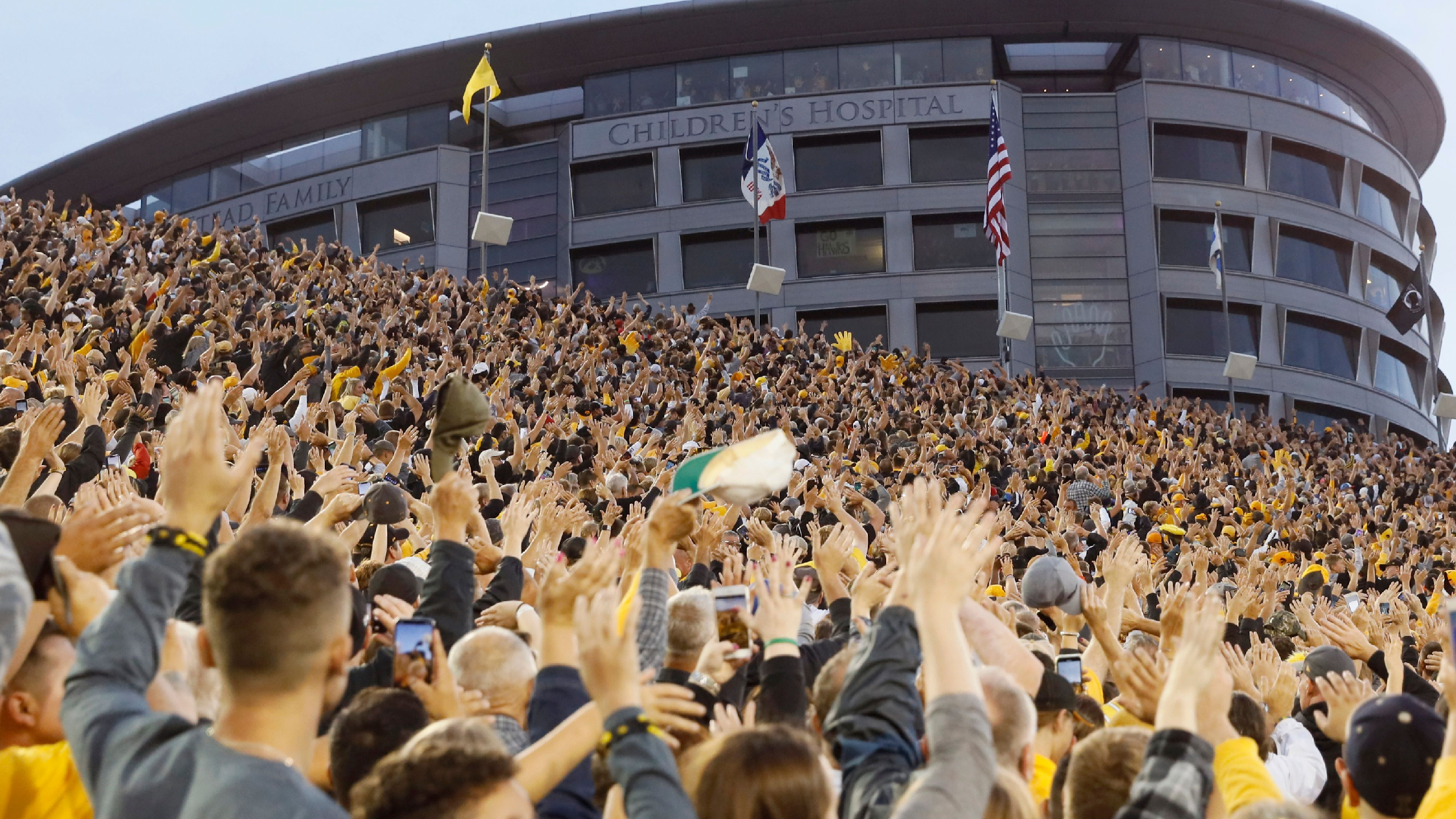 Credit: Charlie Neibergall/AP/Shutterstock
College football is steeped in traditions. It's part of what makes it fun. But one of the best in college football, maybe in all of sports, is one that started just a few years ago.
Nothing can match the greatness that is the Iowa Wave.
If you've unaware of it, it's a simple, yet profound, gesture. The University of Iowa's stadium is close to the University of Iowa Stead Family Children's Hospital. Many of the upper floors of one side of the hospital can see directly into the stadium. So, at the end of the first quarter of every home game, the fans, referees, coaches, players, and support staff (everyone in the dang stadium) turns to the hospital, and wave to the kids inside looking down. Waves to the families inside, going through some of the hardest moments in their lives. It's an amazing way to show them they aren't alone.
The Iowa tradition of having the entire stadium wave to patients at the children's hospital is one of the best in sports 🙏pic.twitter.com/hMbmlbfG5S

— Joe Pompliano (@JoePompliano) October 9, 2021
Iowa has an incredible football team this year, so the Hawkeyes have had more eyes than usual focused on their program. They were the featured game on FOX this past weekend, so the network ran a great feature on the tradition.
It all started with a wave 👋 @JennyTaft takes us through one of the best traditions in college football, @HawkeyeFootball's Kinnick Wave pic.twitter.com/OvsLYFHpjx

— FOX College Football (@CFBONFOX) October 9, 2021
It is a chilling moment when all 63,000+ people in the stadium turn to wave to the kids and families watching the game from the Children Hospital's Press Box Café, which features floor-to-ceiling windows.
Even visiting Penn State head coach James Franklin called it one of the best traditions in sports.
"Whenever you can support people in challenging times, you want to do that," he said. "It's something that I think is very unique to college football and very unique to the University of Iowa."
The tradition won the 2017 Disney Spirit award and perhaps the most touching, definitive tribute to the tradition was a feature on ESPN several years back.
Some things are bigger than sports. And a tradition that has everyone united behind one cause, a simple gesture to let the kids and families know they are not alone, is one of those.