Dad Turns Bedsheets into Boardgames for Kids in Hospital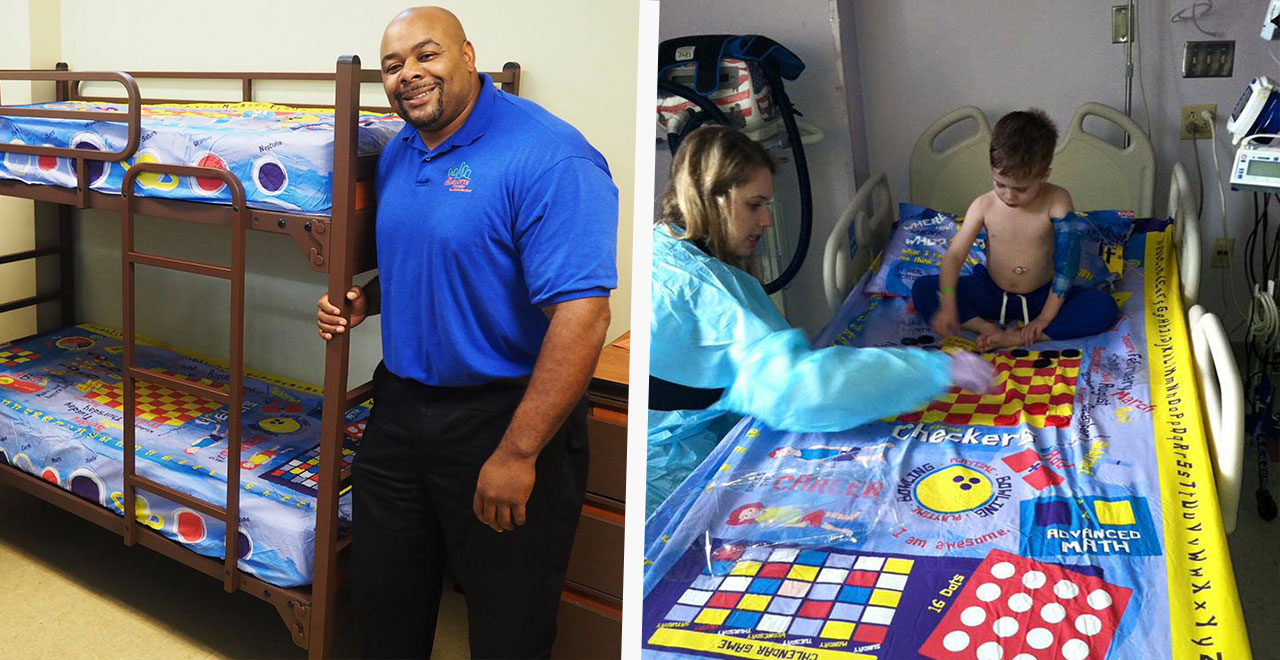 Driving home after visiting a friend's child in the hospital, Kevin Gatlin was doing what many parents would be: imagining his own child was lying in that bed.
He wondered how he and his wife would try to get through a similar situation and what an average day would look like in such a sterile and unfamiliar place, all while dealing with one of the most difficult things any family can endure.
Gatlin thought about their typical home routine and this is when sheet really got interesting.
"My wife utilizes the bed at home with our son. They do homework, they play board games. It extends the playroom." Gatlin told local news station WCNC.
That idea inspired him to create a unique product and to eventually launch his own company. Two years and 20 different variations later, Playtime Bed Sheets were ready for the world.
https://www.youtube.com/watch?v=Vi5-gIZfDPY/
The bedding, which has dozens of different interactive games and activities printed on it, was created after partnering with teachers to ensure the games were not only fun but educational as well.
The pillowcase, for example, is covered with imagery and words that encourage kids to create their own adventures and bedtime stories.
The fitted sheet has tic-tac-toe, a checkerboard, educational geography facts and much more, along with instructions for each of the interactive games printed in multiple languages.
The flat sheet, which Gatlin says is his favorite, is loaded with activities reminiscent of the classic board games many of us fondly remember, alongside several positive affirmations for the children. In addition, all games are meant to be played with whatever is on hand, like scraps of paper or coins, so no more worrying about missing pieces.
Gatlin says the sheets are "the perfect alternative to excessive tv watching and playing on electronic devices."
While he's not trying to replace these activities, his vision is for the sheets to be another tool for both those dealing with a hospitalized child as well as any parent looking for a fun alternative to standard bedding options.
The entrepreneur has already donated hundreds of sets to local hospitals and hopes to expand the program nationally through a foundation in the coming weeks.
Those looking to learn more, including how to donate sheets to a local children's hospital in their area, can visit the company's donations page.
To read more about how seemingly small amenities are changing children's hospital experiences for the better, check out these little speed racers.