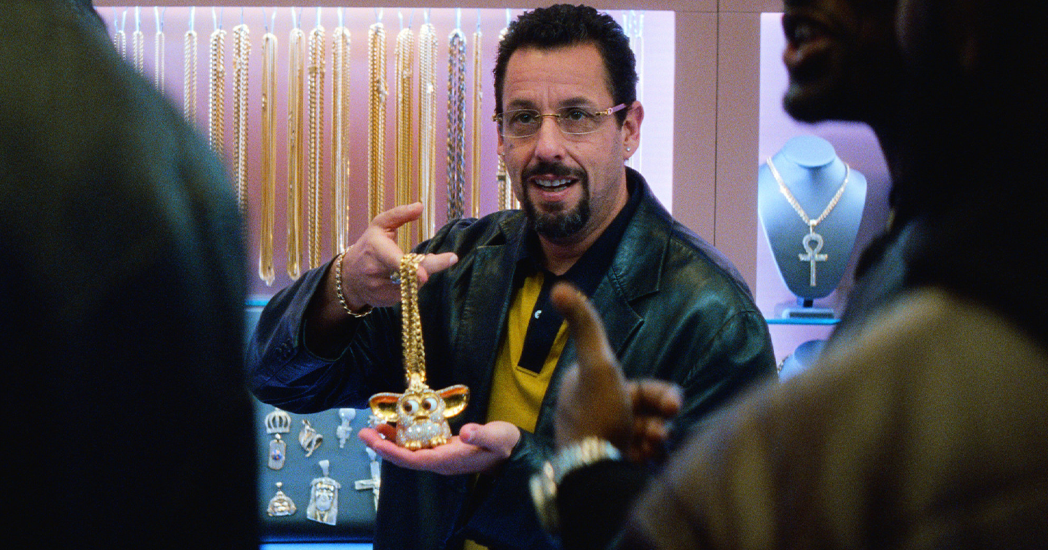 Credit: Netflix/A24
Just when you think quarantine has exceeded peak levels of boredom, good ol' Netflix is coming through next month with a fresh crop of content for your streaming pleasure.
Here's what you should look out for:
Uncut Gems
You've seen the This Is How I Win meme. Now get ready for the meme: the movie. Adam Sandler gives the Oscar-worthy performance of his career as New York City jeweler whose gambling addiction comes to a rolling boil during the 2012 NBA playoffs. One of the most exciting and downright stressful movies in recent memory. An incredible film that is well worth your time.
Jerry Seinfeld: 23 Hours To Kill
All-time great Jerry Seinfeld returns for his second Netflix standup special, and just in time. These dire circumstances we're facing calls for a flavor of nuance only the Sein-man himself can provide. What is the deal? Will we ever notice? These are the questions that matter now more than ever.
Space Force
We're guessing this'll be like The Office in space. At the very least, Michael Scott in space. At the very very least, Steve Carrel in a starring role that will make you long wistfully for The Office which you'll then just rewatch in its entirety for the fifth time anyway. And hey, we can't blame you.
Fun With Dick And Jane
Some couples spice up monotonous marriages in the bedroom. Others, behind masks at bank windows and gas stations. Dick and Jane are the latter. Jim Carrey and Téa Leoni play a husband and wife who hit a rough patch financially and pivot to a life of crime. It's like Bonnie and Clyde if Clyde got routinely berated for folding towels wrong.
Interactive Kimmy Schmidt Special
That's right, Kimmy Schmidt is getting a Bandersnatch. If you've yet to indulge, Unbreakable Kimmy Schmidt is a super adorable show with four very funny seasons available to binge. With Jon Hamm reprising his role as the titular reverend, this special functions as a Choose Your Own Adventure game for viewers. Bound to be a blast!
ALSO JOINING NETFLIX:
May 1
All Day and a Night
Casi Feliz (Season 1)
Den of Thieves
Get In
Hollywood
Masha and the Bear (Season 4)
Medici (Season 3)
Mrs. Serial Killer
Never Stop Dreaming: The Life and Legacy of Shimon Peres
The Half of It
Thomas & Friends: Marvelous Machinery: World of Tomorrow
Thomas & Friends: Marvelous Machinery: A New Arrival
Thomas & Friends: The Royal Engine
May 4
Arctic Dogs
May 6
Hangman
Workin Moms (Season 4)
May 7th
Scissor Seven (Season 2)
May 8th
Dead to Me (Season 2)
Restaurants on the Edge (Season 2)
Rust Valley Restorers (Season 2)
Sleepless
The Eddy
The Hollow (Season 2)
Valeria (Season 1)
The Wrong Missy
May 11
Bordertown (Season 3)
Trial by Media (Season 1)
Have a Good Trip: Adventures in Psychedelics
May 14
Riverdale (Season 4)
May 15
Chichipatos (Season 1)
She-Ra and the Princess of Power (Season 5)
May 19
Patton Oswalt: I Love Everything
May 23
Spelling the Dream
May 26
Hannah Gadsby: Douglas
May 28
La Corazonada