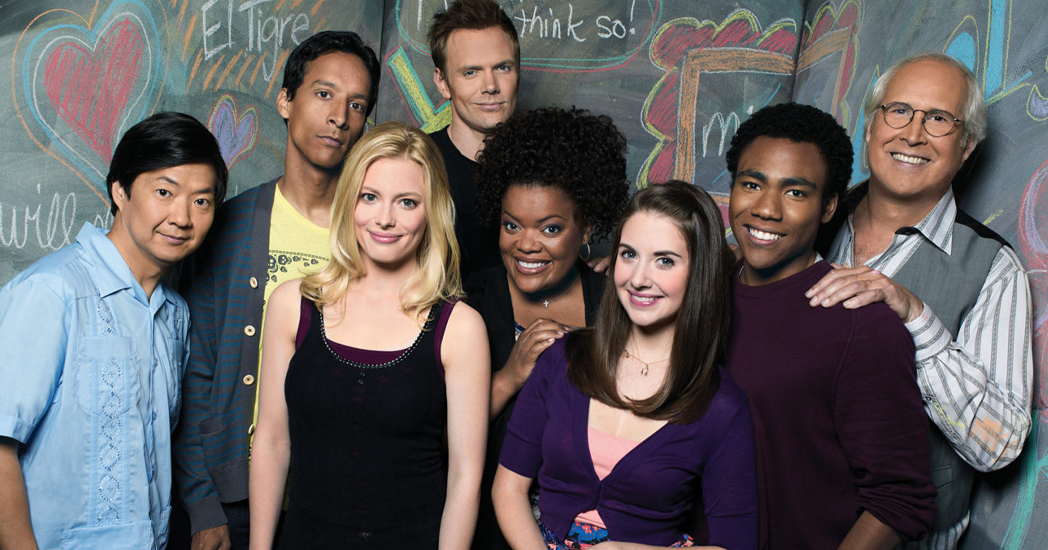 Credit: NBC Universal
If you've yet to watch Community, the brilliant sitcom from Rick & Morty co-creator Dan Harmon that spanned six seasons and two networks, you're missing out big time. Thankfully, it's now available to stream on Netflix.
For those unfamiliar with the study group at Greendale Community College, here are some top drawer quotes as a primer:
It's one of the most persistent sitcoms in TV history. After NBC axed it in 2014 following its fifth season, the most vocal fans in its cult following rallied to revive it. They got their wish one month later when Yahoo! announced it would renew the show for a 13-episode sixth season.
It's since existed in some kind of television purgatory. Following the sixth season, Joel McHale contended on Twitter that the show was never really, truly, fully canceled.
Easy sugar-bear, Community is not canceled. #QuestionMarkSeasonsAndaMovie

— Joel McHale (@joelmchale) August 4, 2015
Nothing can hamper the spirit of Community. Not even some pesky pandemic.
It was announced this week that Dan Harmon and the cast plan to reconvene for a virtual table read, raising money to benefit COVID-19 relief efforts. The whole gang will be there: Joel McHale, Gillian Jacobs, Danny Pudi, Yvette Nicole Brown, Alison Brie, Jim Rash, Ken Jeong…
And yes, Donald Glover, Mr. Gambino himself, will finally reprise his role as the just equally childish Troy Barnes.
The table read will take place at 5pm EST on Monday, May 18th, and will be available to stream on the Sony Pictures YouTube channel. They'll be reading the script for the season 5 episode "Cooperative Polygraphy," a fan favorite that finds the gang subjecting themselves to lie detector tests.
No official word on Walton Goggins yet, but fingers crossed!
There will even be a Q&A afterward. Fans will be able to submit questions through social media by simply tagging @CommunityTV and using the hashtag #AskCommunity.
Relief efforts will go to José Andrés' World Central Kitchen and Frontline Foods, two organizations working 'round the clock to ensure frontline workers and affected communities have all the nutritious meals they need.
Be sure to tune in and give what you can! Keep kicking ass, Community!