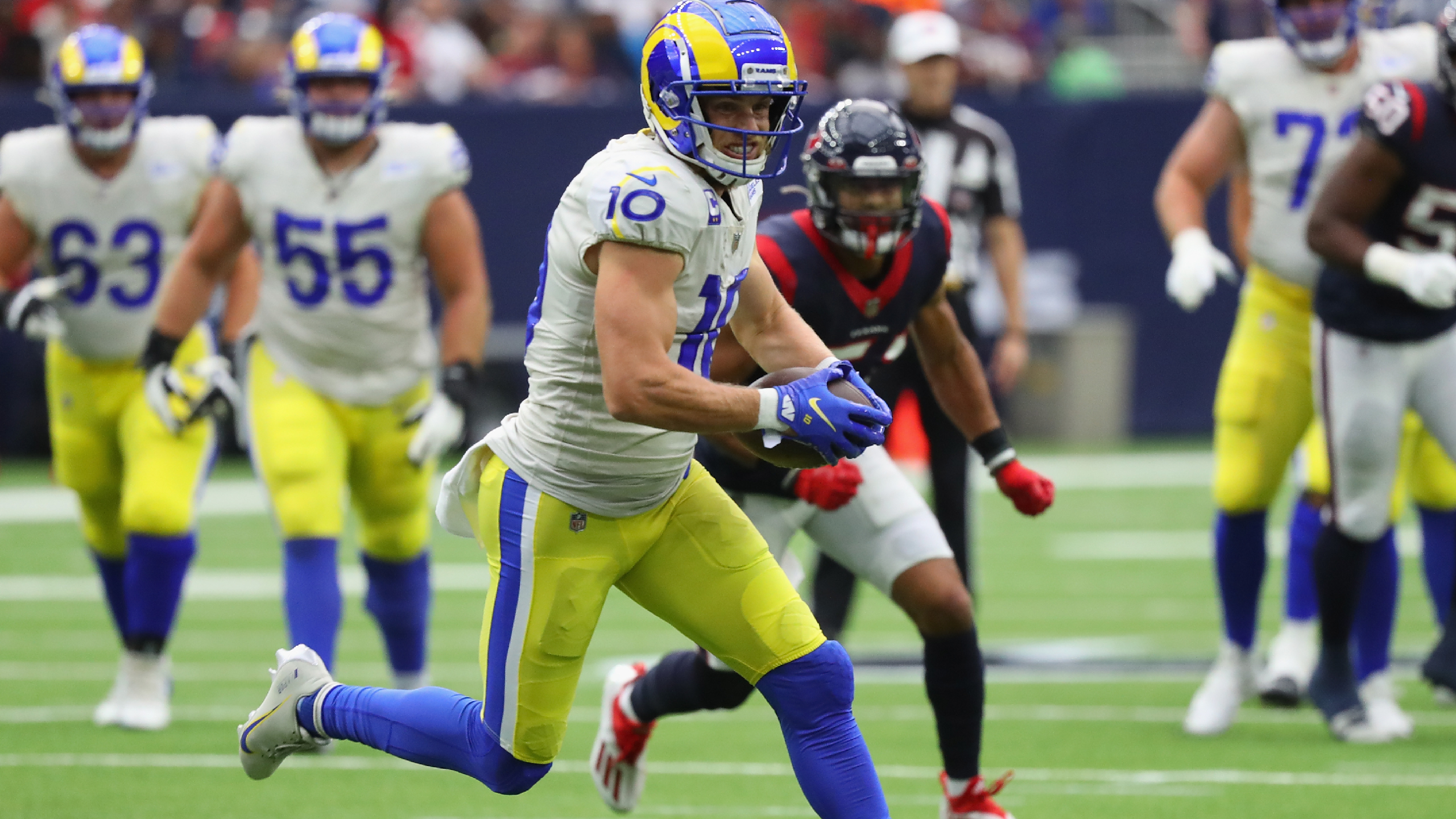 Credit: Bob Levey/Getty Images
Los Angeles Rams wide receiver Cooper Kupp is having an incredible season. It's been such a good one, in fact, that it's ruined his dad's fantasy league. Cooper's dad Craig is in a fantasy football league with buddies, and they all avoid drafting Cooper so Craig can always have his son on his team. Only now, Cooper has been playing so well, the gentleman's agreement turned into a huge competitive advantage, and one the rest of the league is getting rid of for next year.
A beat writer for the LA Times talked to Craig, and he revealed the bad news.
Talked to Cooper Kupp's dad and he had some bad news: The guys in his fantasy league are no longer going to allow him to draft his son as a courtesy. Craig Kupp will have to compete for him next season.

— Sam Farmer (@LATimesfarmer) November 8, 2021
"They say I'm riding him for every win that I've got," Craig laughed to the reporter.
To be fair, Kupp has more than 1,000 yards receiving and 10 touchdowns ALREADY, less than 10 games into the season. He's one of the highest-scoring receivers in fantasy football. It is an ENORMOUS advantage to let his dad just have him for nothing. Kupp is definitely exceeding expectations, as he was going in the fourth or fifth rounds in most drafts. Next year, he'll be a hot commodity, and all eyes will be on his dad to see if he actually drafts his son to ensure the benefit of Cooper's continued success. Or, if a buddy gets him, he may be in the awkward situation of going against a friend AND HIS OWN SON in fantasy football.
To his credit, Cooper actually agrees with the rest of the league and thinks it's not even fair his dad gets the free pass to draft him. "I was actually kind of disappointed to hear about this because we pride ourselves on being competitive," Kupp said. "For my dad to take advantage and not allow this to be something … a draft's a draft, just let it play out. And my brothers are in the draft, too, so I don't know why my dad gets dibs."
As a dad, I want to make the case for Craig and how it's his reward for raising a dominant NFL receiver. But, as a fantasy football player, I agree, the rule's gotta go.