Whether it's a recent vacation pic or staged studio portraits, Christmas cards are often used as an opportunity to showcase our perfect little families. Sometimes there's a little Christmas movie cosplay, sometimes cards require a little extra production to fully capture real life.
This is not the case for the Bergerons.
Since 2003, Mike and Laura Bergeron have celebrated the holidays by creating some of the most cringeworthy Christmas cards we have ever seen. They've done everything from 80s glam to white trash chic, and only got more creative after the birth of their daughters, lovingly known online as "Gigi" and "Juju."
"It would be a way to show the people we loved that we were thinking about them during the holidays and also a way to make them smile amidst the chaos and stress of the season," Mike told Bored Panda.
Big shout out to JC Penney and their illustrious portrait studio for putting up with the bevy of Bergeron shenanigans over the years.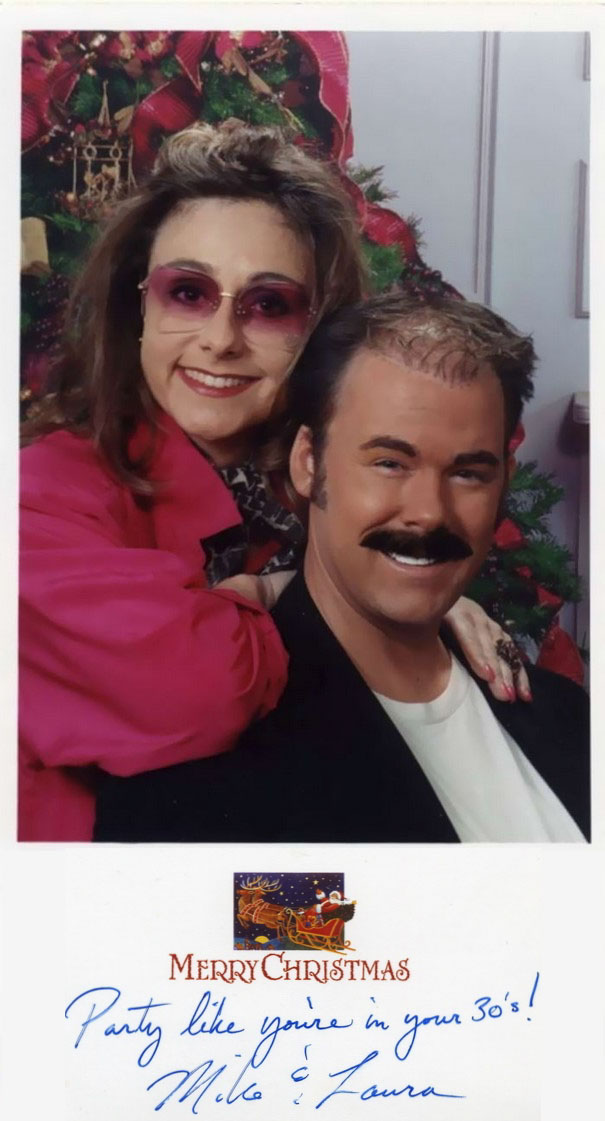 2003 – Forty & Fighting It
The one that started it all. Originally called 'Plugs & Jugs' (due in large part to Laura's hidden overly-augmented rack), the Bergerons had to change the name when this particular shot—the goofy smiles in particular—spoke to them.
"The photographer tried to move the light away from overhead and I had to ask her to shine it directly down on me," Mike wrote. "She didn't know how to tell me that it was reflecting off of my head and making me look like I was balding. Finally, I just told her that the balding look was what I was after. She had no idea that we were dressed up in costumes!"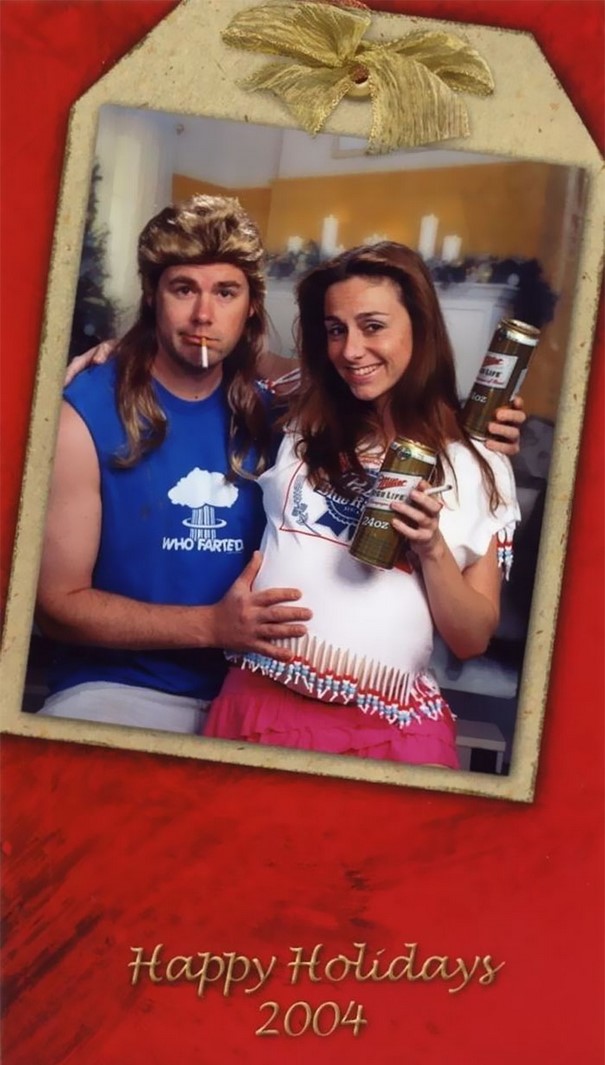 2004 – We're Dreaming of a White Trash Xmas
While picking up this year's cards, Mike had to engage with a JC Penney manager who was clearly feeling the holiday sales crunch.
As Mike recalls:
MANAGER: Welcome to JC Penney Portrait Studio, how can I help you today, sir?
MIKE: I'm here to pick up my Christmas cards.
MANAGER: Okay, what is your last name?
MIKE: It's Bergeron, but I have my receipt right here if that helps.
MANAGER: Okay, thank you. Give me just a moment while I get your order. Sir, it appears they accidentally printed an 8×10, which is usually $19.99, but we'll let you have it for $5 since it was our mistake."
MIKE: No thanks.
MANAGER: Okay…well, I see that your wife is pregnant… I hope you will be coming back to JC Penney to take your baby pictures.
MIKE: [smiling at the realization that she doesn't get the joke] Actually, she's not pregnant… and if she were, I wouldn't let her drink beer or smoke cigarettes…and, as you can see, I don't have a mullet. It's a joke card.
In the midst of what was utter chaos for her at that moment, she just sort of stared at Mike in bewilderment as the cashier next to her stopped what he was doing, leaned over to look at the card and said with pure and utter excitement, "Dude, that's awesome!"
MIKE: Thanks. Merry Christmas!
As Mike took the cards and walked away, the manager stood in absolute confusion, her brain apparently frozen with the realization that her sales training had failed to prepare her for that rare situation.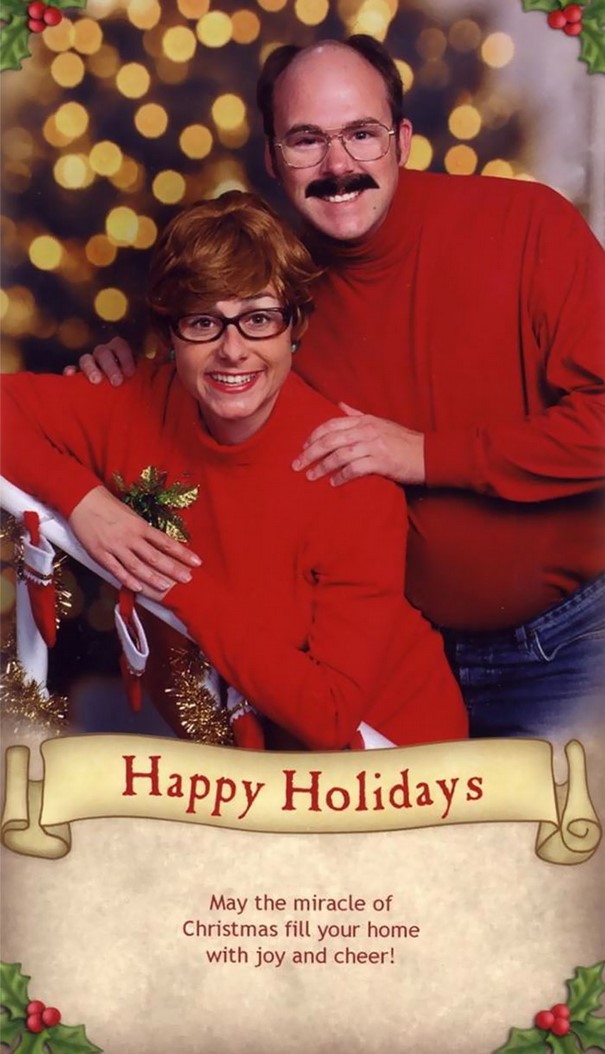 2005 – Your Aunt & Uncle Who Live In The Midwest
According to Mike, Bergeron men are notorious for going bald. At the age of 32, he foresaw the coming reckoning for his precious hair follicles and decided to go all on the balding joke before it became a reality.
"The thing is, I had to walk around with a bald head for a couple of weeks while the holiday card was processing and shipping, but I didn't want to give anyone any hints about what the card might be," Mike explained.
"So, when people would ask me why I suddenly shaved all of the hair off of my head, I would give them some made-up excuse like, 'I joined a cult' or, 'I'm a racist' or, 'Chicks really seem to like that Vin Diesel guy, so I thought I'd give it a shot.'"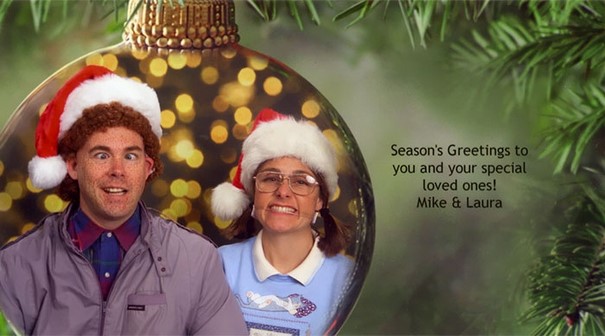 2006 – A Very Special Christmas
A rare re-creation of another Christmas card, the Bergerons decided to honor another awkward holiday couple.
"A couple of years before we started this tradition, my friend, Jeremy, worked during the holidays in a photo studio," Mike said.
"If he thought that a family portrait was particularly funny, he would print a copy for himself and put it on display in his living room. They were all awkward and wonderful in their own way, but there was one photo, in particular, that was so delightfully goofy and uncomfortable that it has always stuck with me. This card is an effort to recreate the magic of that card. I'll be the first to admit that we fall terribly short, but I think it still manages to bring some joy to the holiday season!"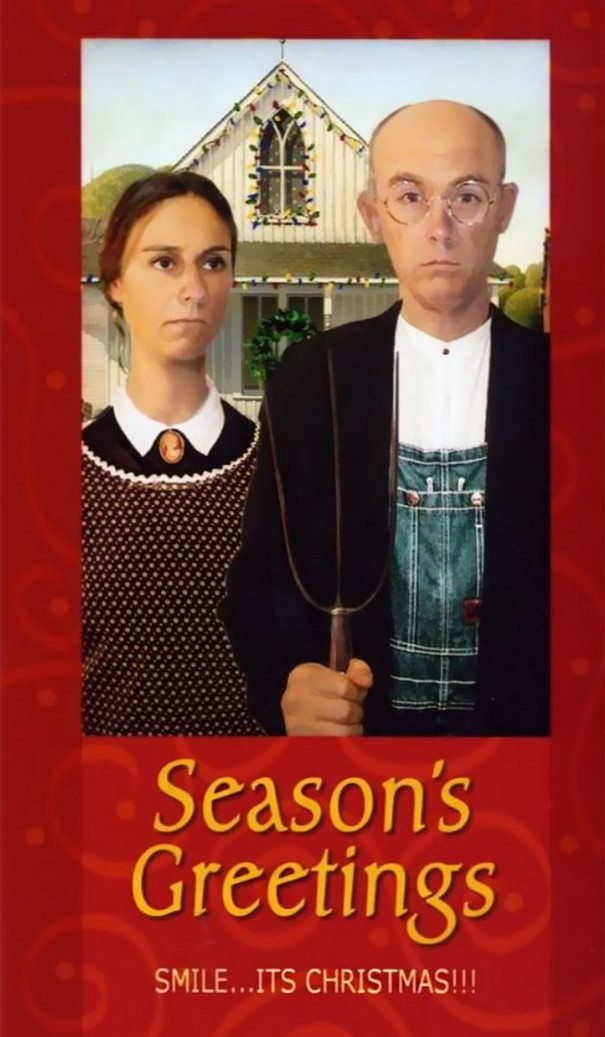 2007 – American Gothic Christmas
The Bergerons admittedly caught some flak for this more or less photoshopped Christmas card.
"For those who love it, thanks… we love you, too," Mike wrote. "For those who feel we cheated… look, we actually dressed-up in costumes and took a photograph for this card (we even bought a pitchfork!)."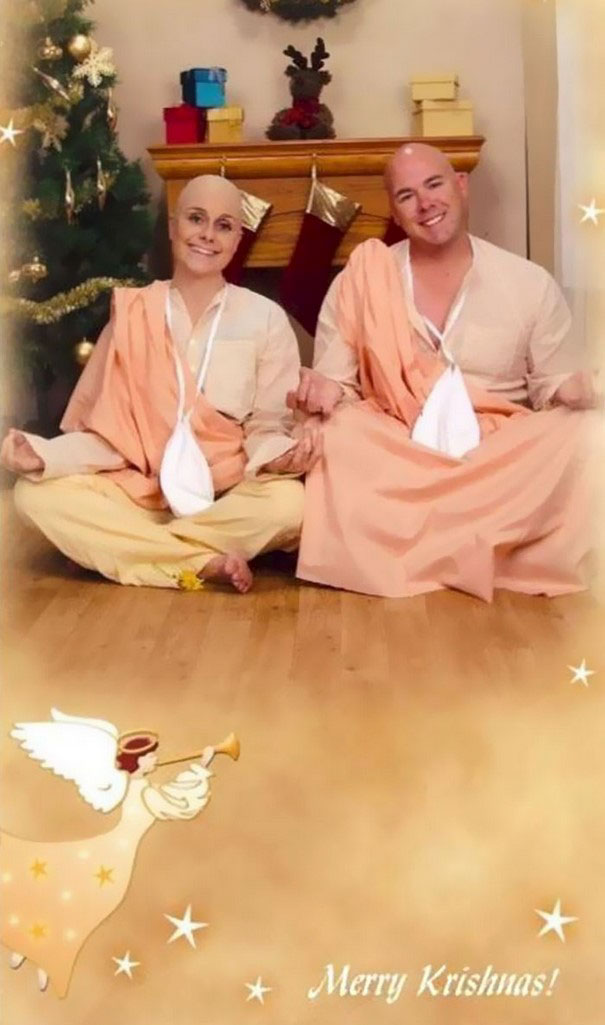 2008 – Merry Krishnas
"We got started a little late this year, which meant that when we went to JC Penney to take our picture, there was a one hour wait," Mike explained. "We walked through the mall and wound up eating dinner in the food court. I only wish that we had brought flowers."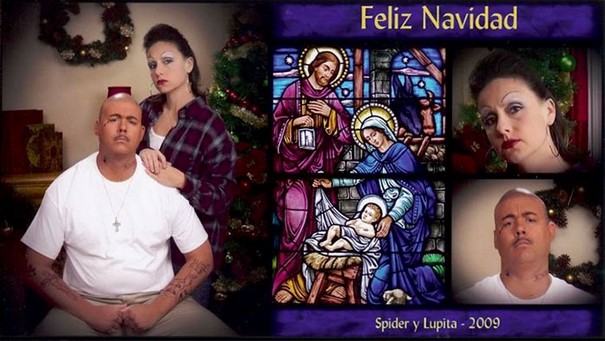 2009 – Los Cholos
This year marked the Bergeron's favorite Christmas favorite card to date.
"Again, on this particular year, we weren't able to take the picture until after Thanksgiving," Mike wrote. "So the JC Penney photo studio was bustling, and we had to wait for an hour to get in. Understandably so, Laura was nervous about walking around the Westminster Mall looking like we did, but I reassured her by saying, 'Seriously? Look at us… nobody is going to fuck with us!' I was right… not a single person would even make eye contact with us."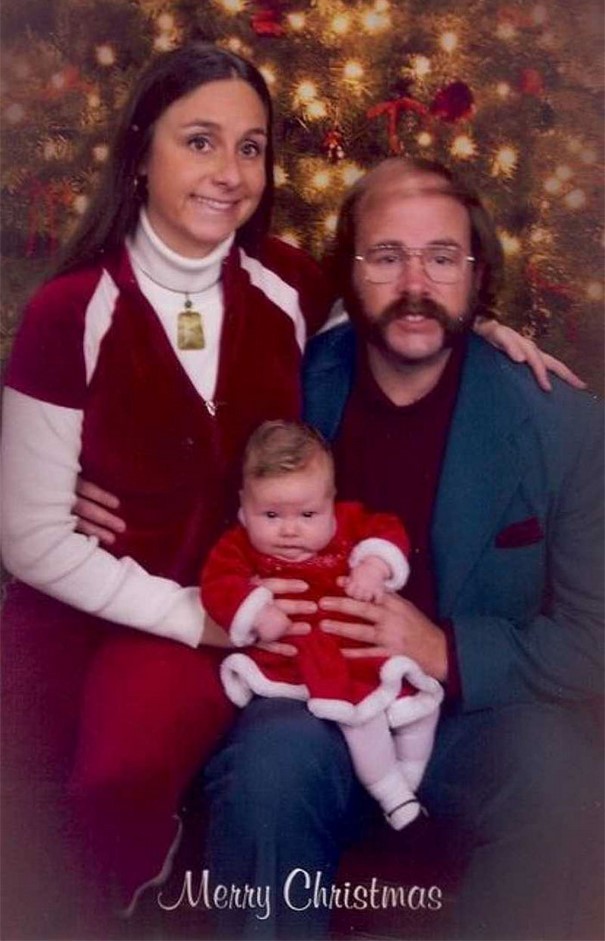 2010 – Olin Mills Family Portrait from 1981
Not only did this year ramp up the horrible awkwardness to all new heights, but it was also "Gigi's" first ridiculous Christmas card experience.
"On a side note," Mike explains. "As a bald man who has known his entire life that he would grow up to be bald, it had been a longtime aspiration of mine to sport a combover at some point because they are so fascinating in their ridiculousness! So, this particular card allowed me to not only fulfill a lifelong dream but also to capture it in all of its glory for the ages."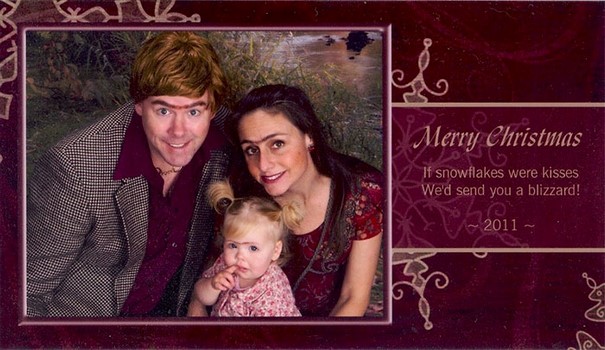 2011 – The Unibrows
Despite the inherent greatness of a thick unibrow, Mike belives things could have gone better in 2011.
"Don't get me wrong, we look funny and Gigi really gives the card a whole other dynamic with her incredible cuteness, but I think this concept had the potential to be our best card ever, if we had done it right."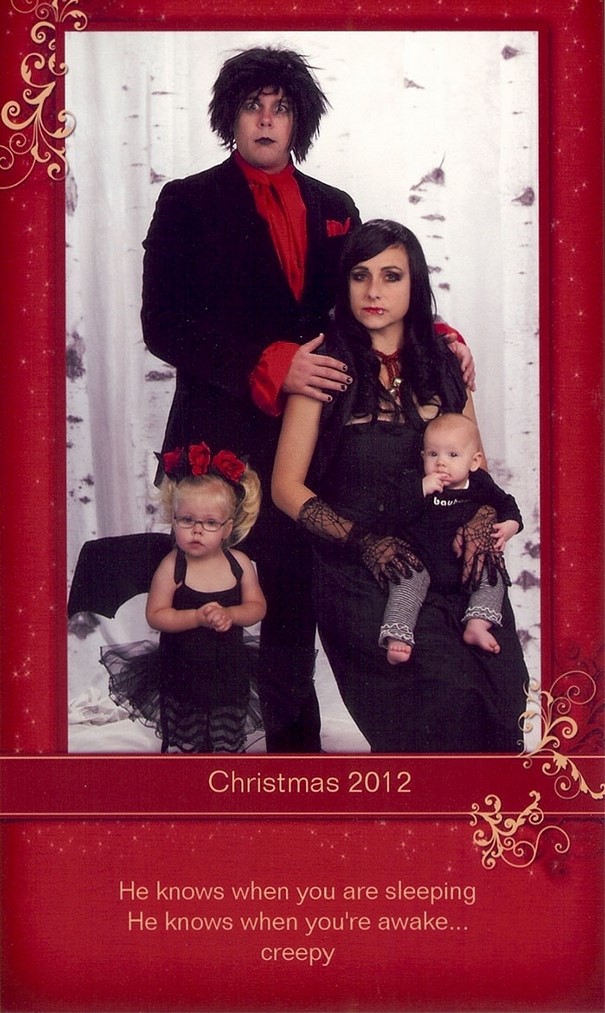 2012 – Goth Xmas
No explanation needed. Just take it in.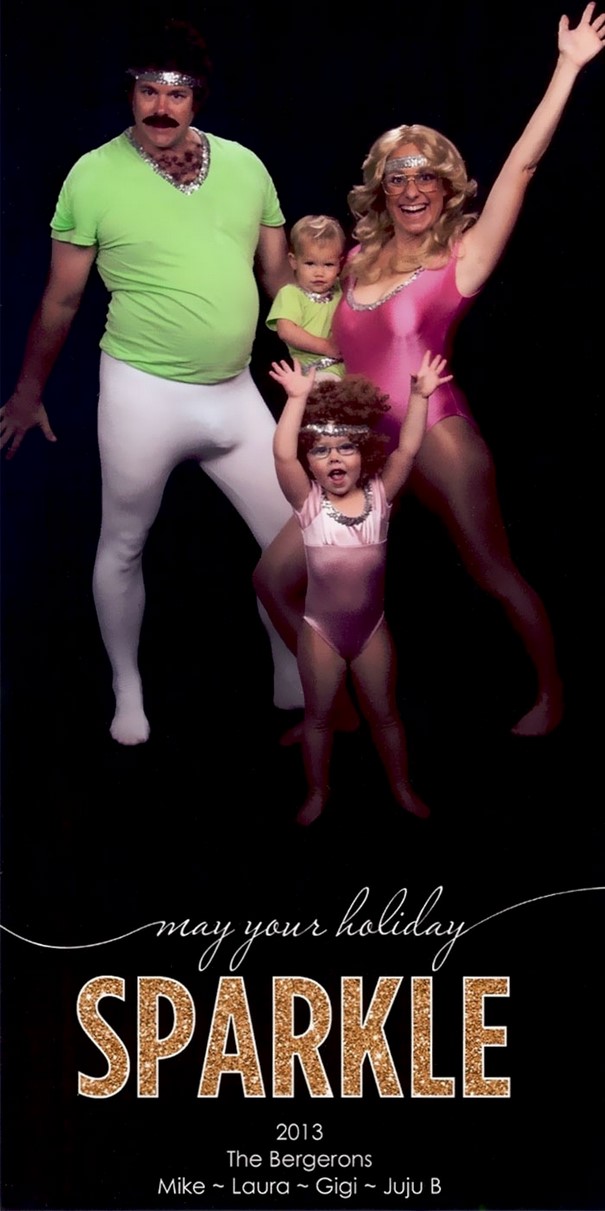 2013 – Jazz Hands
Oh boy. 2013 was a year of spirit, shine, and awkward bulges.
"Sometimes you catch lightning in a bottle," Mike wrote. "Look at Laura… bringing it! Look at Gigi… bringing it! Look at Juju… well, protesting (at least she's consistent). I am truly blessed."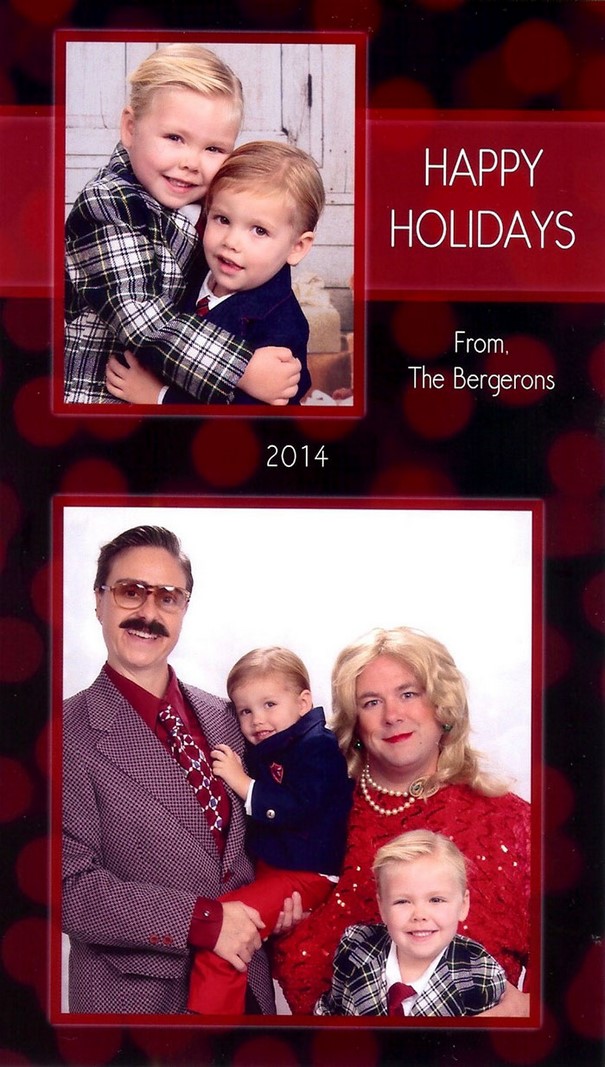 2014 – The Holidays Are Such a Drag
Sometimes you witness something so special, few words can be said that can truly encapsulate the magic.
"I had to hunt high and low for shoes that would fit me (thanks Lane Bryant) and, of course, I shaved my legs, so you can imagine how excited I was that we wound up choosing a shot from the waist up. And, seriously, how friggin' cute are those boys? If we had given Gigi glasses, I think she would've looked an awful lot like Ralphie!"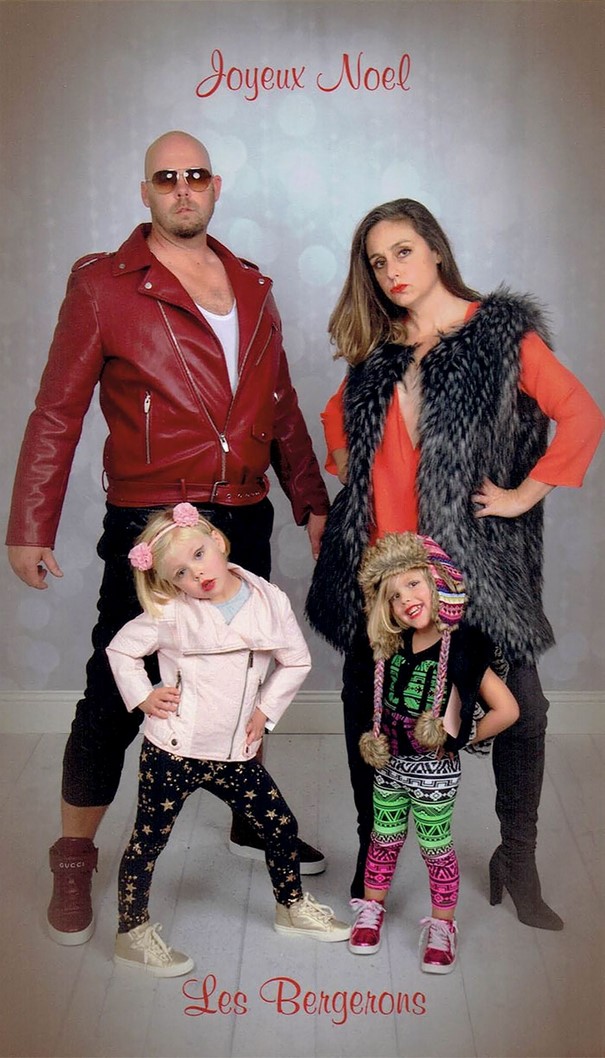 2015 – Les Modèles (AKA Fashionistas, AKA Euro Trash)
Some years, you look goofy. Other years, you just look fly as hell.
Mike summed it up best:
"His shoes – $850, her shoes – $950, spending your holiday with the Bergerons – priceless.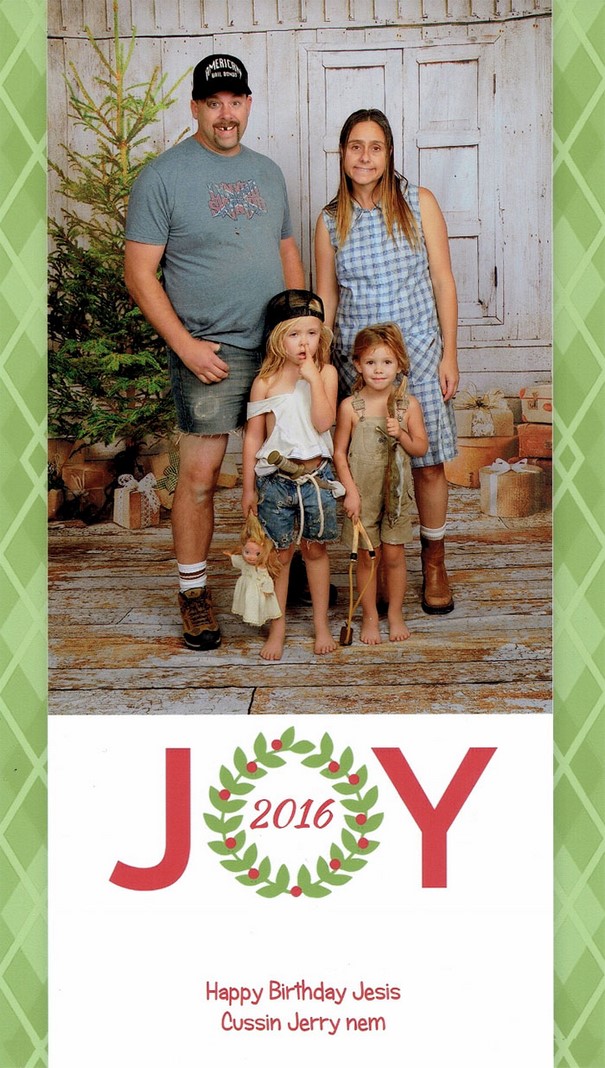 2016 – Cussin Jerry Nem
"A little over a year ago, Gigi started calling me 'Cousin Jerry,'" Mike explained. "It caught on with her little sister and, after a while, I started talking to them as I imagined Cousin Jerry would. Since then, he has become a regular visitor in our household, so it seemed fitting to share him with all of you this holiday season."
He probably has a metal plate in his head and a propensity for the phrase, "Shitter's full."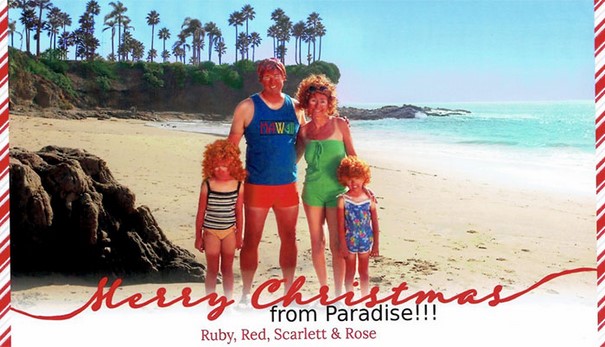 2017 – Gingers in Paradise
A rare year that didn't include JC Penney's portrait studio, the Bergeron's didn't let that stop them from going all out.
"This was our nod to the ever-so-popular holiday card theme that says, 'Look at us soaking up the sun's rays in a beautiful tropical paradise while you're freezing your nuts off… don't you wish you were us?'"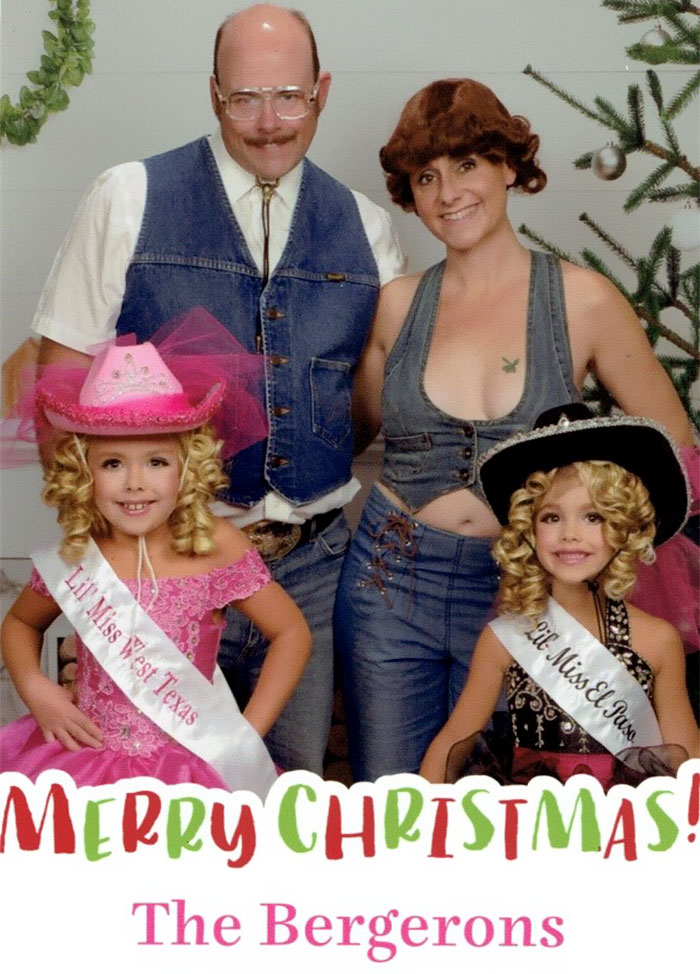 2018 – The West Texans
This year, the Bergeron girls got all "prettied up" while leaving the creepy awkwardness to Mom and Dad. Clearly feeling confident in her duds, Gigi had no problem telling everyone at JC Penney exactly who runs their portrait studio every Christmas.
"Gigi was quick to let the staff know that we are famous," Mike wrote. "Laura then told Gigi that, 'You're not famous if you have to tell people that you are famous.'"
"After we did our various poses and finished the photo shoot, I showed the staff our catalog of cards on my phone and, sure enough, one of them said with a smile, 'Oh yeah, I've seen these before!' So, Gigi was right. We are famous… it's just that nobody knows what any of us looks like since we're pretending to be different people in all of our cards. So, it seems that we Bergerons have our own unique brand of fame – to be seen by many, yet recognizable to no one!"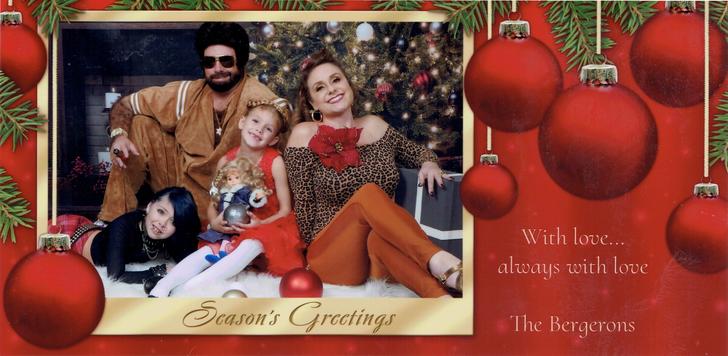 2019 – A Bookie's Family Holiday
"The concept for this card originated with my deep-seated desire to rock a gold Star of David resting upon a chest full of hair (shout out to David Menuck). I came up with the idea of being a Jewish bookie and then we just brainstormed about what his wife and kids would look like."
2020 – The Floating Head
"What a year, huh? A friend told me recently that with all of the ammunition that 2020 has given us, the expectations for the card this year are pretty high. Sure, there has been no shortage of topical inspiration as of late, but it just sort of felt to us like the right concept for a year like this would be something more timeless and classic."
Bergerons, we salute you. See you in 2021!