NFL Coach Battling Cancer Surprised With 400 Cutouts of Friends and Family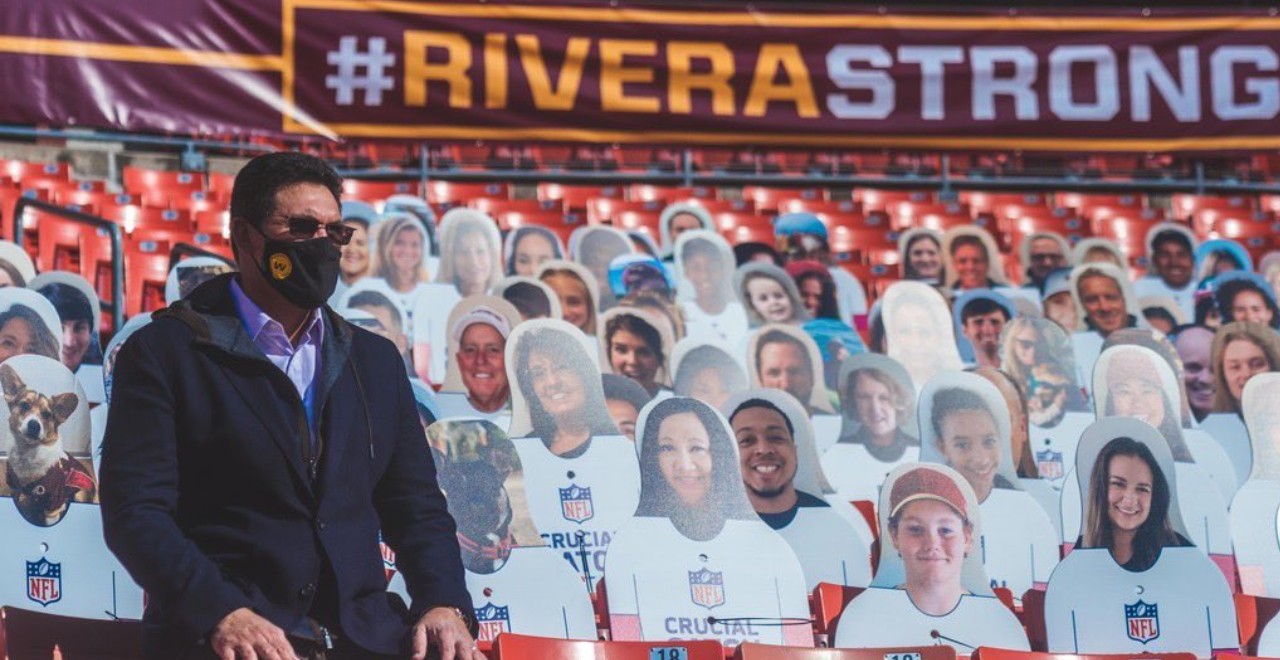 The Washington Football Team's head coach Ron Rivera got the most 2020 show of support for his ongoing battle with cancer over the weekend. The coach was surprised by an entire section of cardboard cutouts of friends and family members put together as a "Coach's Corner" to give him a boost after a hard week.
The cardboard cutout thing is fun. I mean yeah, obviously sports is better if fans can be there in person. But when they can't, thanks to the world's lamest coronavirus? Then at least have some fun with your cutouts. Or do something meaningful. The Ravens put hundreds of cutouts of a young superfan who lost his battle with cancer. The Denver Broncos filled their stands with the entire town from South Park. There are definitely ways to be unique and take advantage of a bad situation.
For Rivera, it was a classy move as the team filled the section of FedEx Field with hundreds of cutouts of his family and friends. Several NFL colleagues were included along with former players, such as Greg Olsen, Luke Kuechly, and Steve Smith Sr.
We salute you and stand with you in your corner @RiverboatRonHC! #RiveraStrong https://t.co/et7SwYFoJF

— Washington Salute (@WasNFLSalute) October 4, 2020
Welcome to Coach's Corner!

Friends, family and former coworkers are here to support @RiverboatRonHC ❤️#RiveraStrong pic.twitter.com/uhNCxcQYuP

— Washington Football Team (@WashingtonNFL) October 4, 2020
"When you see things like this and people that support you and the notes I got and the letters I got, the notes I got from friends. Tremendous," Rivera said to ESPN about the display. "It shows that you're not doing this by yourself, that there's a whole bunch of people helping you."
The Washington players also rocked Rivera Strong t-shirts in a show of support for their coach.
Get the vibes going 🔥 pic.twitter.com/VjHZHcUrYZ

— Washington Football Team (@WashingtonNFL) October 4, 2020
Rivera was diagnosed with skin cancer earlier this year and said his doctors are optimistic about his treatment since they caught it early.