Denver Broncos Fills Stands With Cardboard Cutouts of the Entire Town of South Park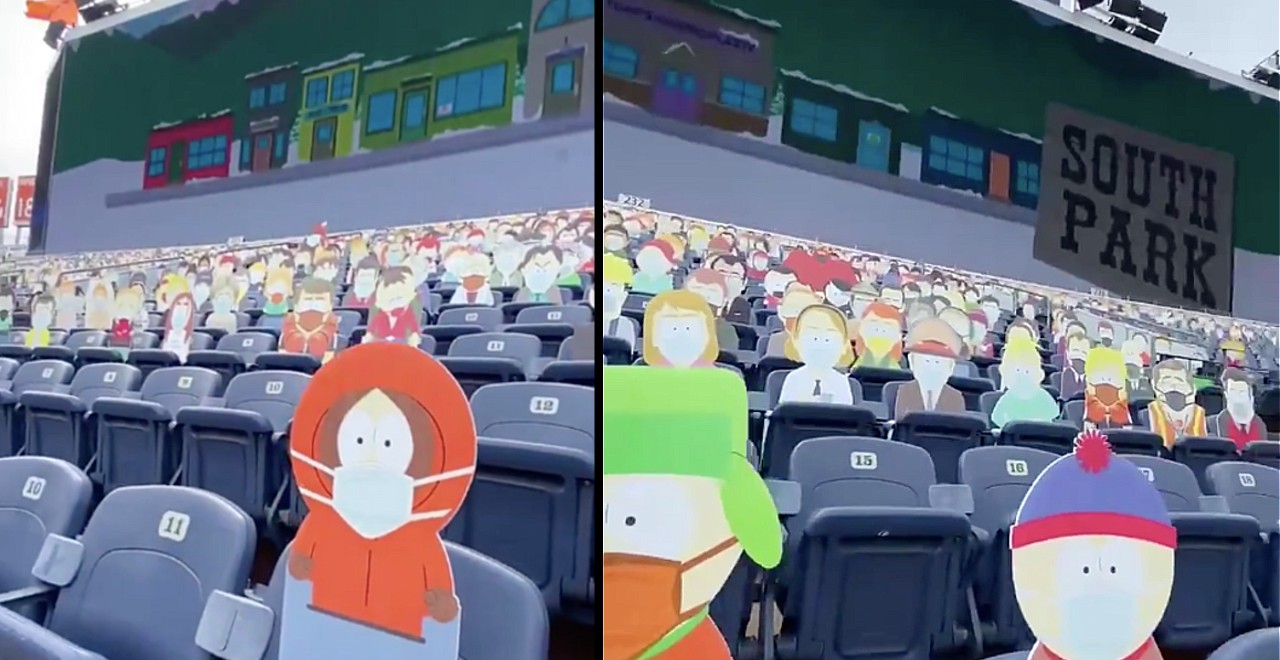 Oh my god, they built Kenny!
Happy gameday, friendly neighbors!@SouthPark | @ComedyCentral pic.twitter.com/06JepLZnI3

— Denver Broncos (@Broncos) September 27, 2020
You know, out of cardboard. In fact, the Denver Broncos made the entire town of South Park out of cardboard and filled their stadium seats in the coolest possible way. The Denver Broncos are far from the first team to get creative with their empty stadiums, trying to fill the void left by formerly packed arenas and energetic crowds. They aren't even the first to jump on the cardboard cutout train, but they took a different (*ahem* cooler) route than many other teams.
In addition to the 5700 or so live socially distanced fans, the #Broncos will have the entire town of "South Park" in the stands today… pic.twitter.com/QN1cEKfQpa

— Benjamin Allbright (@AllbrightNFL) September 27, 2020
No matter where you live, South Park is iconic. Going into season 24, Trey Parker and Matt Stone have created one of the most consistently funny animated shows in the history of TV. What really sets South Park apart is that it somehow manages to weave complex social issues in with poop jokes, and it works.
Trey Parker and Matt Stone grew up in Colorado, even meeting and coming up with the idea for South Park while attending the University of Colorado. Both are big fans of their home team, throwing Denver Bronco references into their hit show on a fairly regular basis.
Now, it's the Denver Broncos's turn to make a South Park reference – and they freaking nailed it.
"Gang's all here," the Broncos tweeted with an incredible video panning the stands. They even created the South Park backdrop for full effect.
Gang's all here. 😅@SouthPark | @ComedyCentral pic.twitter.com/3OLVXQSK12

— Denver Broncos (@Broncos) September 27, 2020
South Park tweeted out a message of support for their favorite team, taking a clip from season 3 episode "Spontaneous Combustion," where a priest leads his congregation in a prayer for the Broncos. This time, they wove in clips of the cardboard South Park characters as if they were all praying for the Broncos to defeat the Tampa Bay Buccaneers on Sunday.
Let's go @Broncos! pic.twitter.com/NF5NwjK0yO

— South Park (@SouthPark) September 27, 2020
The only small detail amiss is that Randy is fully clothed and not trying to start a fight – though maybe that's only a little league baseball thing.