Dad Goes Viral After Buying Plane Seats To Recreate Flying at Home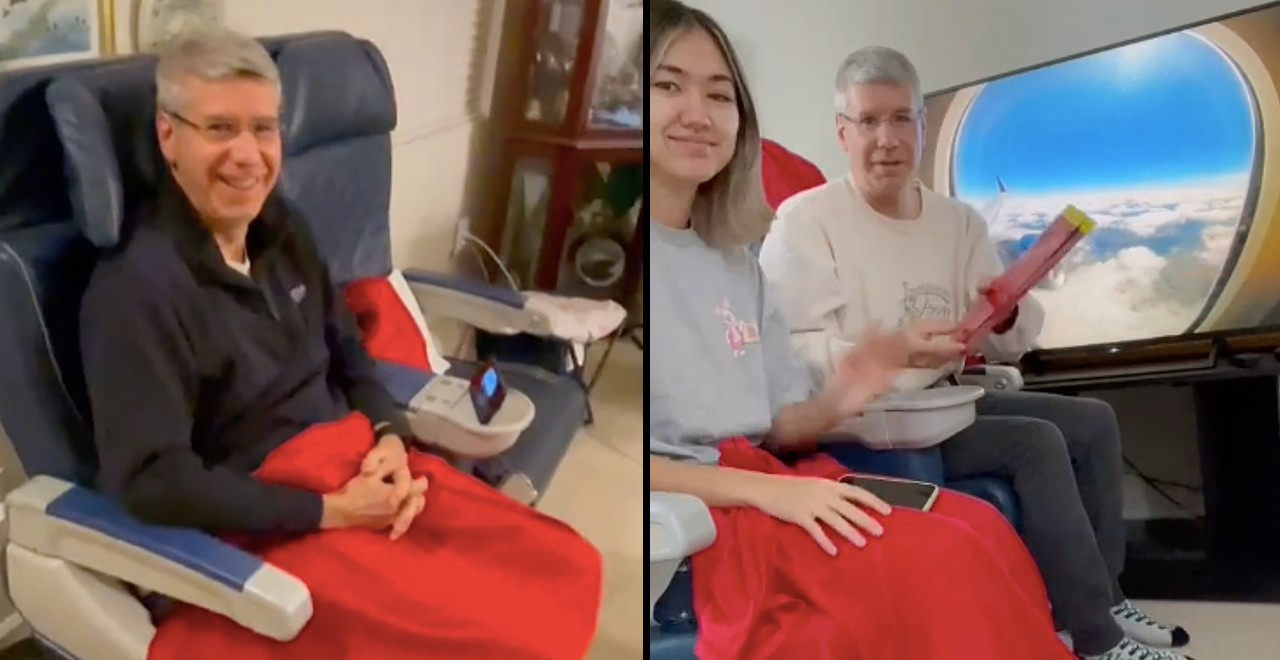 Most dads have their weird, endearing obsessions that add to their overall "dadness." Some are really into beer, while others fill that spot in their hearts with cheesesteaks. One TikTok dad named Steve Simao has a sky-high love of Delta Air Lines, and COVID's impact on travel left him heartbroken – that is, until he came up with a unique solution.
Most of us miss traveling, but probably not quite as much as Steve. In fact, Steve Simao missed flying so much that he built himself a makeshift flight simulator right in his living room. Steve's daughter Anissa Simao shared a video of her dad in his happy place on TikTok, a video that quickly went viral for all the right reasons.
Of course, this Delta Dad misses the adventures that come with traveling, but he also missed the routine. While surfing the internet, Steve stumbled upon a for-sale listing that he couldn't pass up. It was as if the gods of reasonably-priced air travel smiled upon this forlorn dad, and he could hardly believe his good fortune.
Two first-class Delta seats were being sold to the highest bidder, and Steve was first in line (he honestly may have been the only one in line, but we digress). Steve purchased the seats without a second thought and installed them in his home.
For the full Delta experience, Steve fastens his seatbelt and reads through the Delta information card. He watches safety videos from the airline on his phone as he gets cozy under his Delta blanket, queuing up sounds up turbulence for whenever he decides his flight has begun.
Anissa's video gained so much traction that it landed in the lap of Delta's CEO, who was just as delighted as the rest of us. In a follow-up video, the dad and daughter showed off their first class setup and shared Delta CEO Ed Bastian's video response.
"I understand that your dad really misses travel on Delta during this crazy year we've been through," Bastian replied. "I'm glad he's enjoying those First Class seats in your home. And we've got First Class seats waiting for him when he's ready to start traveling again."
The company gifted their biggest fans with three round-trip seats to use as soon as they're ready to get back in the air. First-class seats, of course. Although the Simao family isn't quite ready to redeem their gift, they're most definitely going to keep practicing from the comfort of their own home.