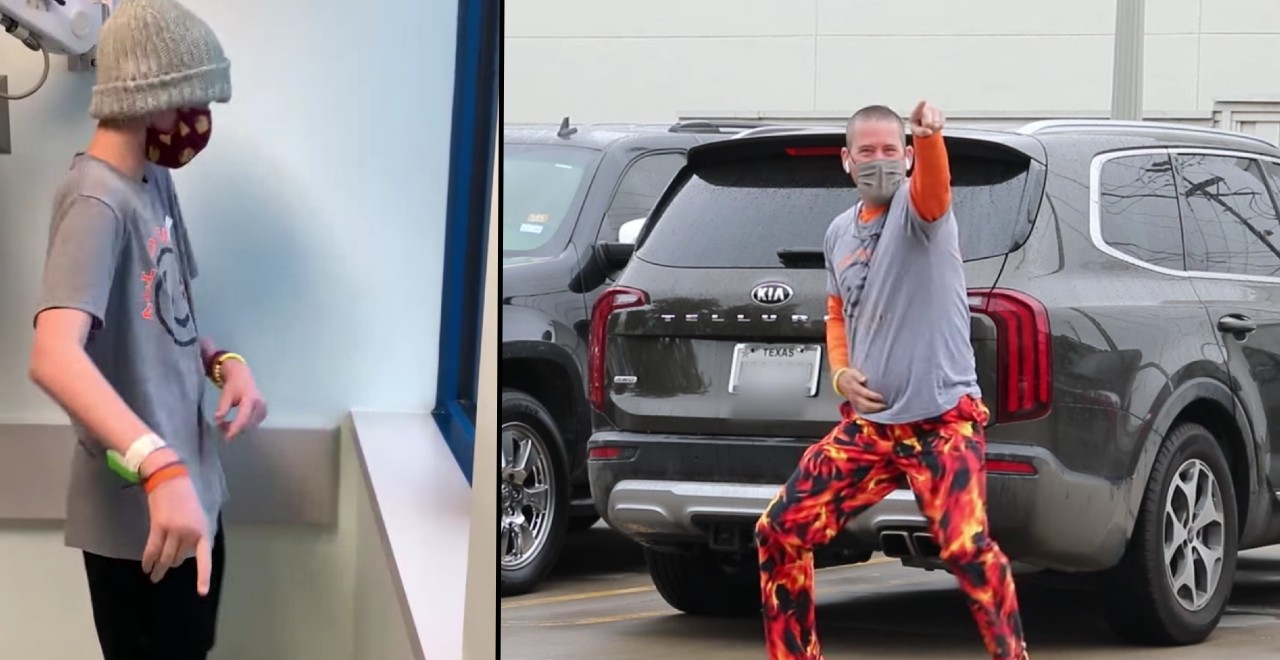 Credit: Facebook/Cook Children's
Having a kid fall seriously ill is one of the most brutal experiences a parent can experience. You want to do anything you can to help your child get through the experience. Even if that means putting on full-fledged dance performances in a hospital parking lot.
Hospitals can be a scary place for kids, and that's why any effort to make it suck less needs to be lifted up and applauded. Like the hospital that lets kids drive mini cars to their surgery or the dad who kept dancing until his son was out of the NICU.
A dad in Texas took a different approach, with the same attitude behind it, to brighten his son's hospital visits. Chuck Yielding's 14-year-old son Aiden has been receiving chemotherapy treatments for leukemia for much of the year. When Chuck and his wife found out only one of them could accompany Aiden for his treatments (thanks to COVID), it made sense for his mom to be there (she's a healthcare worker).
But that didn't mean his dad wasn't going to show up. He's been there for his son in a different way…dancing in the parking lot. While his son gets his weekly chemo treatments, he can take a break to look out his window to see his dad dancing in the parking lot below.
His dad doesn't hold back, pulling out all the stops to put a smile on his son's face.
I mean come on, it's tough to watch that and not have a smile on your face. That is peak dad we all aspire to.
Aiden told a local news station he thinks its funny and it cheers him up. Chuck said he's doing anything he can to brighten his day.
"Just anything to brighten his spirits up a little bit and let him know he is not alone. We are with him," he said.
This might be one of the few times in dad history that a kid is actually happy to see his dad break out the embarrassing dance moves, a skill every dad is born with. And props to Chuck for bringing those skillz on the road, turning a parking lot into a weekly dance party.