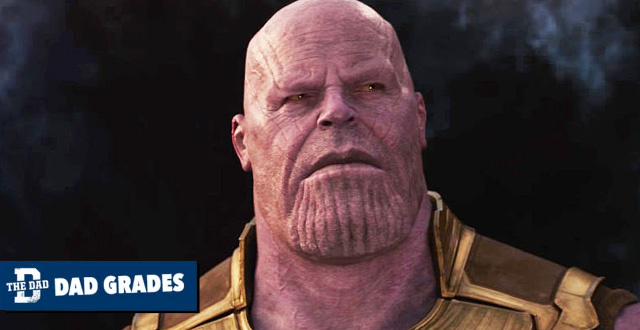 Credit: Disney
Heads-up! The following post contains no End Game spoilers but does reference Infinity War.
We made it, baby. After 22 Marvel movies, we've finally reached end game. Not just any end game. Marvel's The Avengers: End Game. The antagonist of which is the one dad we've been so anxious to take our fat red marker to: Thanos.
SPOILER NON-WARNING: Relax. This edition of Dad Grades will only contain plot points from Avengers: Infinity War. We assume you've seen this. There are no End Game spoilers within.
Onward. Thanos. Purple guy.
STRENGTHS
"Strength" is a funny word. Sometimes it can mean finding the courage to admit to a loved one you have a gambling problem. Maybe strength is pulling the trigger on that swimsuit photo you've always wanted to post. Sometimes strength is punching really hard. Thanos is the third thing.
Gamora's dad is capable of great strength. He stands at a hulking 8 feet. That's almost as tall as the Hulk! According to the Marvel Dictionary, Thanos is at least Class 100 strength, enabling him to lift over 100 tons. Blue whales weigh 115 tons, and that's the largest mammal to ever exist. It doesn't get much stronger than that. One would assume, however, Thanos is the kind of dude who grunts and drops the blue whale.
With your knees, Thanos!
Oh, and lest we forget that whole Infinity Stone glove shit. Wiping out half the population with a mere snap of the fingers? Major strength. Cheating, but a strength nonetheless.
However, this is The Dad, so we're seeking out strengths of non-physical nature. How does Thanos stack up against other fictional dads in terms of paternal instinct? Is he a good provider? Does he lead by example? Is he patient? Ope, he just threw his daughter off a cliff.
WEAKNESSES
Alright. Welp. That about wraps it up for this edition of Dad Grades. Really no recourse for this guy, having done that. We're gonna give a hard and fast "no" to throwing your kid off a cliff, even if a stipulation for procuring an Infinity Stone is the sacrifice a loved one.
Nope, not even if you shed a tear afterward.
You just don't do that, pal.
We could easily make light of this. Sure, we could allude his cameo in the first Avenger's credits and joke about him not showing up until the very end of young Gamora's piano recitals.
We could probably get in a shot or two at this pathetic excuse for a dad chair.
Or maybe said something to the effect of,
"And you thought it was scary when your parents snapped at you."
But we're taking the high ground here. Flinging your child off some big pointy rock is never okay. We're done here.
VERDICT
You were probably expecting us to find some silly, roundabout way of heaping praise upon this guy, huh. Think again. We already gave Homer Simpson, beloved TV icon and verifiable child-strangler, our lowest grade possible. But a simple F isn't enough for the unforgivable act of chucking your daughter to her rocky death. We're gonna have to go much cruel than F.
FINAL GRADE: THE AVENGERS (THE BAD 1998 ONE)
Check out our previous Dad Grades when we ranked the best and worst fathers on Game of Thrones.