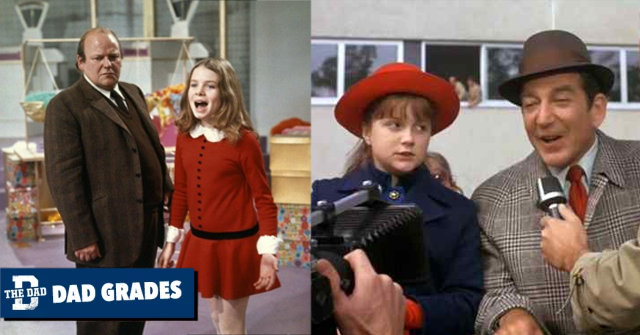 Credit: Paramount
♪ Come with me
And you'll be
In a wooorld where we take dads and grade them ♪
Welcome to the Dad Grades for the two dads from Willy Wonka & The Chocolate Factory.
HENRY SALT
Meet Mr. Salt. Mr. Salt has a daughter, nay, a demon named Veruca. She is demanding, greedy, and impatient. You're probably thinking, but wait, isn't that most kids? Okay. Listen. We're sure your toddler is a handful in the toy aisle, but we're talking unprecedented levels of entitlement here. Observe:
Amazing. She was such an unlikable child that she plummeted into a furnace and no one showed an iota of concern. How did she get this way? Look no further than the register in the back of daddy's checkbook.
Henry Salt is quite possibly the biggest pushover ever committed to film stock. He's a man of wealth, fully convinced that a child's love can and should be purchased. He owns a nut factory, although this is initially unclear, as the workers are instead tasked with unwrapping thousands of Wonka Bars until a golden ticket is found.
We've yet to see paternal incompetence of this nature. Frank Costanza may shout, and Thanos may halve humankind with the snap of a finger, but we've yet to see a dad compromise his own livelihood in order to briefly sate his insatiable brat of a daughter. As he says in the book:
"As soon as my little girl told me that she simply had to have one of those Golden tickets, I went out into the town and started buying up all the Wonka bars I could lay my hands on. Thousands of them, I must have bought. Hundreds of thousands!"
Pathetic. We're big advocates of keeping your kid happy, but a spoiling of this magnitude can bring about significant developmental issues, including social isolation and low self-esteem. Put the checkbook down and learn to braid hair or something, pal.
SAM BEAUREGARDE
Also along for the tour is Sam Beauregarde. Sam is a local politician and car dealership owner. Clearly an upstanding member of his community. His daughter is a disrespectful know-it-all named Violet. She's obsessed with chewing gum.
Her insolence eventually gets the best of her when, despite Wonka's half-hearted objection, she takes and chews a piece of experimental gum. Mr. Beauregarde then watches in abject horror as his daughter rapidly transforms into a human blueberry.
We'd love to chalk this bizarre fate up to shitty parenting, but we can't. From what we see of Sam Beauregarde, he appears to be a friendly, generally likable man. This affability could be disingenuous given his background as both a politician and used car salesman, but we'll let that slide for now. I mean, what other dad is this encouraging about career ambitions in gum-chewing?
None. No dad is excited about that because that's not a career anyone goes into. Or exists. It'd take a pretty solid dad to entertain such foolish aspirations for so long. This is a guy who loves seeing his kid happy, and he doesn't have to leverage his wealth to do so. That fact alone makes him the superior Wonka Tour Dad.
FINAL GRADES
MR. BEAUREGARDE: D
MR. SALT: B
Check out our previous edition where we graded George McFly from Back to the Future.