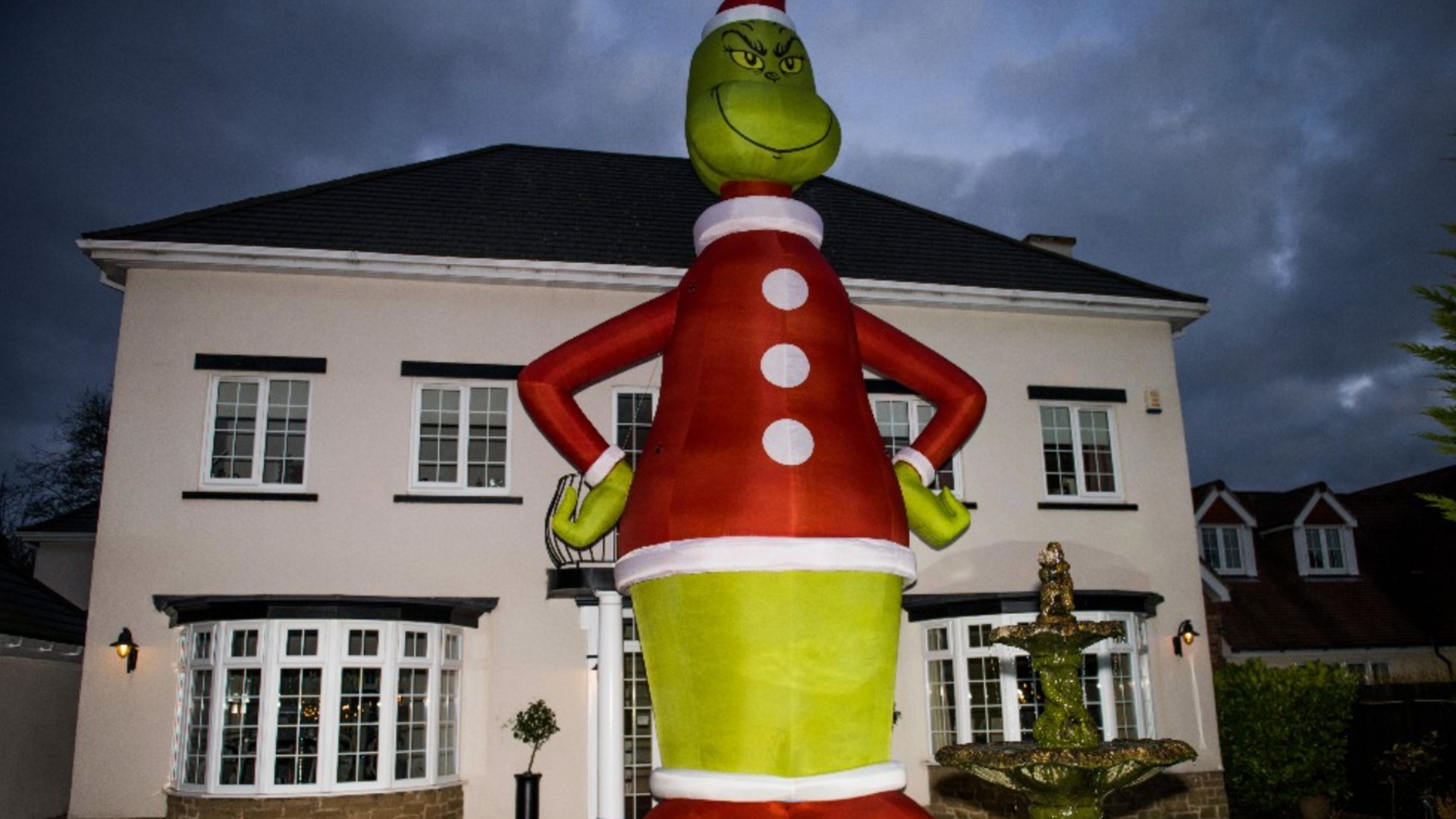 Credit: JustGiving/GrowYourHart
Dads always do things to impress their kids and sometimes those efforts turn into happy little, errr, big accidents. You can't blame a dad for trying to ramp up the excitement during the holidays by surprising their kids. That's exactly what one dad in the U.K. was going for when he surprised his daughter, who loves the Grinch, with an inflatable decoration of her favorite Christmas character. Only one problem; he accidentally bought an inflatable LARGER THAN HIS FREAKING HOUSE.
The Grinch inflatable is actually 35-feet tall and is one of only five in the world, reportedly. And the dad just wanted to cheer up his seven-year-old daughter with the purchase, which he naturally didn't realize was quite so large. Hey, mishaps happen, OK? But there is a happy twist.
A few people started stopping in front of the house to grab a picture with the giant Grinch. And a few more. And then the dad decided to capitalize on his mistake and turn it into a fundraiser for the hospice house that cared for his dying father earlier this year. So, he took a giant Grinch and used it to make people happy, while also raising money for the people who cared for his father in his final days after battling COVID-19.
Nice Saturday morning walk, why not visit this chap? A local family from Park Avenue, are raising money for Alice House for the support and care received earlier this year. Mad about The Grinch, their daughter now has a 35ft inflatable one in the garden.https://t.co/Bgvo91LDzF

— Alice House Hospice (@AliceHouseHosp) November 28, 2020
A giant inflatable #Grinch – one of only five in the world – is attracting visitors to #Hartlepool from across the #NorthEast – and raising vital charity cash too. Here's the story: https://t.co/q0hHr4gjaX @TheGrinch2000 @AliceHouseHosp pic.twitter.com/My1kqKWpJz

— Gavin Ledwith (@GLedwi) December 5, 2020
So far, he's raised more than $20,000 for the Alice House Hospice as the "Grow your Heart" campaign.
Well done that family in Hartlepool ! ! Total respect !! Good luck #GrowYourHeartFund @AliceHouseHosp @TeessideLive @TeesTweets @HartlepoolHubs @NorthEastTweets @BBCBreakfast #TheGrinch @carolkirkwood pic.twitter.com/e9yvQibtMU

— Stuart Wright (@Stuart_Wright_) December 2, 2020
The man said he was surprised when someone offered him money for a photo in front of it and then thought it could be a way to raise money for the hospice house. He said they took great care of his dad, and that he always 'wanted to do something as a thank you.'
He was thrilled just as the response of his daughter at the sight of the giant Grinch but has been blown away by the thousands that have visited.
"I just want everyone to enjoy it…it's really heart-warming," he told a local newspaper.
This is the type of dad content that just makes your heart grow three sizes.